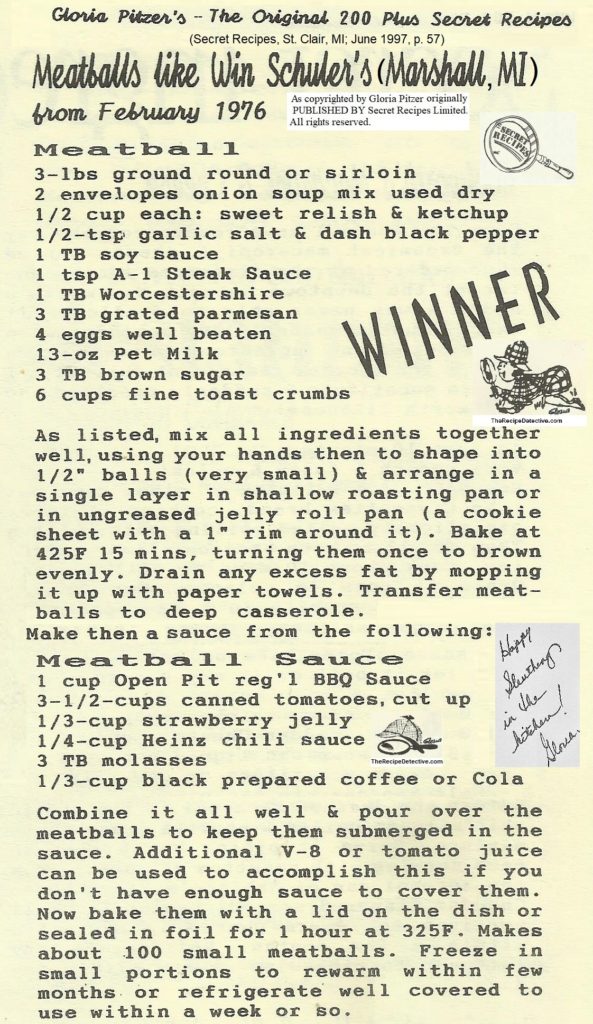 MEATBALLS LIKE WIN SCHULER'S (MARSHALL, MI)
By Gloria Pitzer
As first seen in… Gloria Pitzer's National Homemaker's Newsletter (Issue No. 26; February 1976)
Reprinted in… The Original 200 Plus Secret Recipes© Book (Secret RecipesTM, St. Clair, MI; June 1997, p. 57)
MEATBALLS – INGREDIENTS:
3-lbs. ground round or sirloin
2 envelopes dry, onion soup mix
½ C. relish
½ C. ketchup
½ tsp. garlic salt
Dash black pepper
1 TB soy sauce
1 tsp. A-1 Steak Sauce
1 TB Worcestershire sauce
3 TB grated parmesan
4 eggs, well-beaten
13-oz. canned Pet Milk
3 TB brown sugar
6 C. fine toast crumbs
INSTRUCTIONS:
As listed, mix all ingredients together well, using your hands then to shape into very small, ½-inch balls; and arrange in a single layer in a shallow roasting pan or an ungreased jelly roll pan (a cookie sheet with a 1-inch rim around it).
Bake at 425°F for 15 minutes, turning once to brown evenly. Drain any excess fat and "mop up" with paper towels. Transfer meatballs to a deep casserole dish and make the following sauce.
SAUCE INGREDIENTS:
1 C. Open Pit Original BBQ Sauce
3 ½ C. canned tomatoes, diced
1/3 C. strawberry jelly
¼ C. Heinz Chili Sauce
3 TB molasses
1/3 C. black (prepared) coffee or cola
INSTRUCTIONS:
Combine it all well and pour it over the meatballs to keep them submerged in the sauce. V-8 or tomato juice can be added to accomplish this if you don't have enough sauce to cover them.
Cover casserole dish with lid or tin foil and continue baking meatballs for 1 more hour (still at 325°F).
Makes about 100 small meatballs. Freeze in small portions to re-warm within a few months or refrigerate well-covered to use within a week or so.