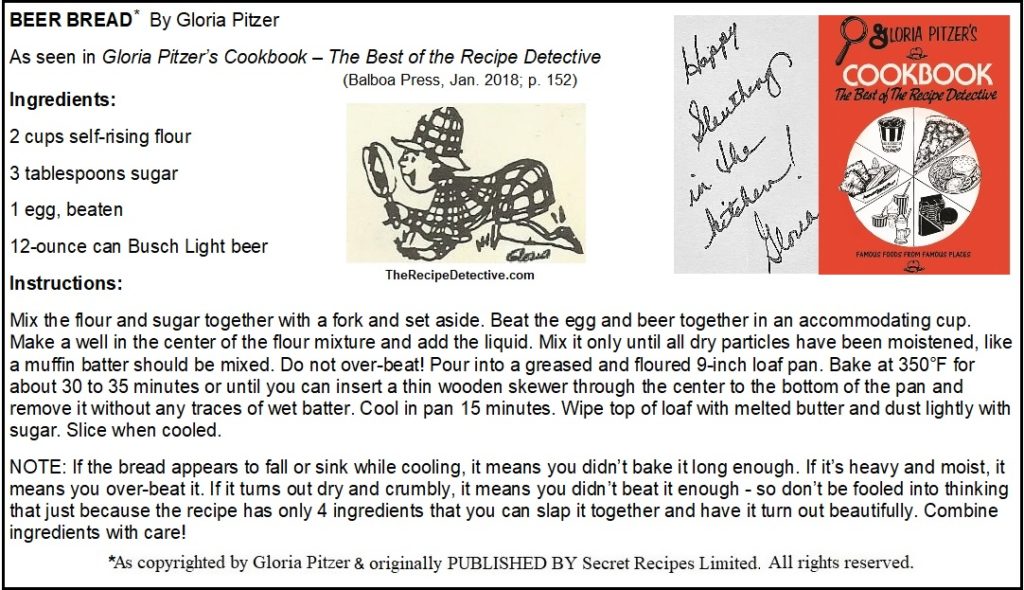 BEER BREAD By Gloria Pitzer
As seen in Gloria Pitzer's Cookbook – The Best of the Recipe Detective (Balboa Press, Jan. 2018; p. 152)
Ingredients:
2 cups self-rising flour
3 tablespoons sugar
1 egg, beaten
12-ounce can Busch Light beer
Instructions:
Mix the flour and sugar together with a fork and set aside. Beat the egg and beer together in an accommodating cup. Make a well in the center of the flour mixture and add the liquid. Mix it only until all dry particles have been moistened, like a muffin batter should be mixed. Do not over-beat!
Pour into a greased and floured 9-inch loaf pan. Bake at 350°F for about 30 to 35 minutes or until you can insert a thin wooden skewer through the center to the bottom of the pan and remove it without any traces of wet batter. Cool in pan 15 minutes. Wipe top of loaf with melted butter and dust lightly with sugar. Slice when cooled.
*NOTES & TIPS: If the bread appears to fall or sink while cooling, it means you didn't bake it long enough. If it's heavy and moist, it means you over-beat it. If it turns out dry and crumbly, it means you didn't beat it enough – so don't be fooled into thinking that just because the recipe has only 4 ingredients that you can slap it together and have it turn out beautifully. Combine ingredients with care!