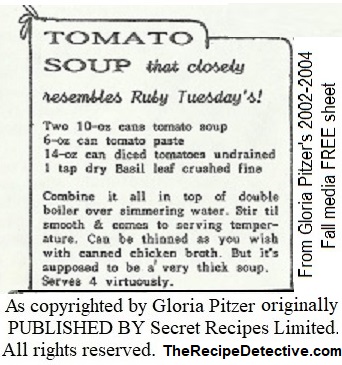 TOMATO SOUP, LIKE RUBY TUESDAY'S
By Gloria Pitzer, as seen in her 2002-2004 (fall) media free recipes sheet (Secret Recipes, Marysville, MI).
Ingredients:
2 cans (10-oz. each) tomato soup
6-oz. can tomato paste
14-oz. can diced tomatoes, undrained
1 tsp. dry basil leaf, crushed fine
Instructions:
Combine everything in top of double-boiler, over simmering water. Stir until smooth and comes to a serving temperature. It can be thinned, as you wish, with canned chicken broth; but it's supposed to be a very thick soup. Serves 4, virtuously.