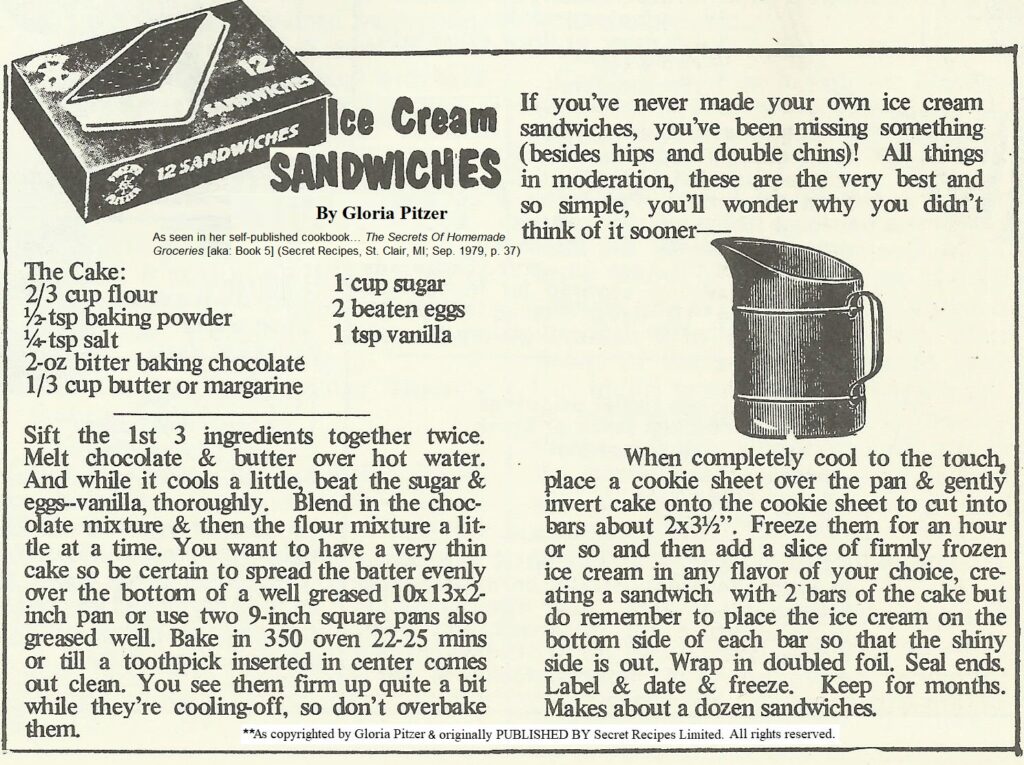 ICE CREAM SANDWICHES
By Gloria Pitzer, as seen in her self-published cookbook… The Secrets Of Homemade Groceries (Secret RecipesTM, St. Clair, MI; Sept. 1979, p. 37)
If you've never made your own ice cream sandwiches, you've been missing something (besides hips and double chins)! All things in moderation. These are the very best and so simple, you'll wonder why you didn't think of it sooner…
INGREDIENTS:
The Cake:
2/3 cup flour
½ tsp baking powder
¼ tsp salt
2-oz bitter baking chocolate
1/3 cup butter or margarine
1 cup sugar
2 beaten eggs
1 tsp vanilla
INSTRUCTIONS:
Stir the first three ingredients together, twice. Melt chocolate and butter [in a double boiler] over hot water. While it cools a little, beat the sugar, eggs, and vanilla [together], thoroughly. Blend in the chocolate mixture and then the flour mixture, a little at a time.
You want to have a very thin cake, so be certain to spread the batter evenly over the bottom of a well-greased 10x13x2-inch pan or use two 9-inch-square pans, also greased well. Bake in 350°F oven for 22-25 minutes or until a toothpick inserted in the center comes out clean.
You'll see them firming up quite a bit while they're cooling off, so don't over-bake them. When completely cool to the touch, place a cookie sheet over the pan and gently invert cake onto the cookie sheet to cut into [24] bars, about 2×3½-inches each.
Freeze them for an hour or so and then add a slice of firmly frozen ice cream [same size] in any flavor of your choice, creating a sandwich, with two bars of cake; remembering to place the ice cream on the bottom side of each bar so the shiny side is out.
Wrap in double foil and seal ends. Label, date, and freeze. Keep for months. Makes about a dozen sandwiches.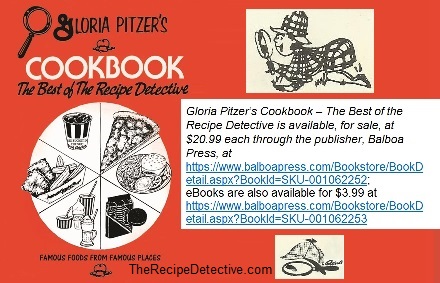 See also…