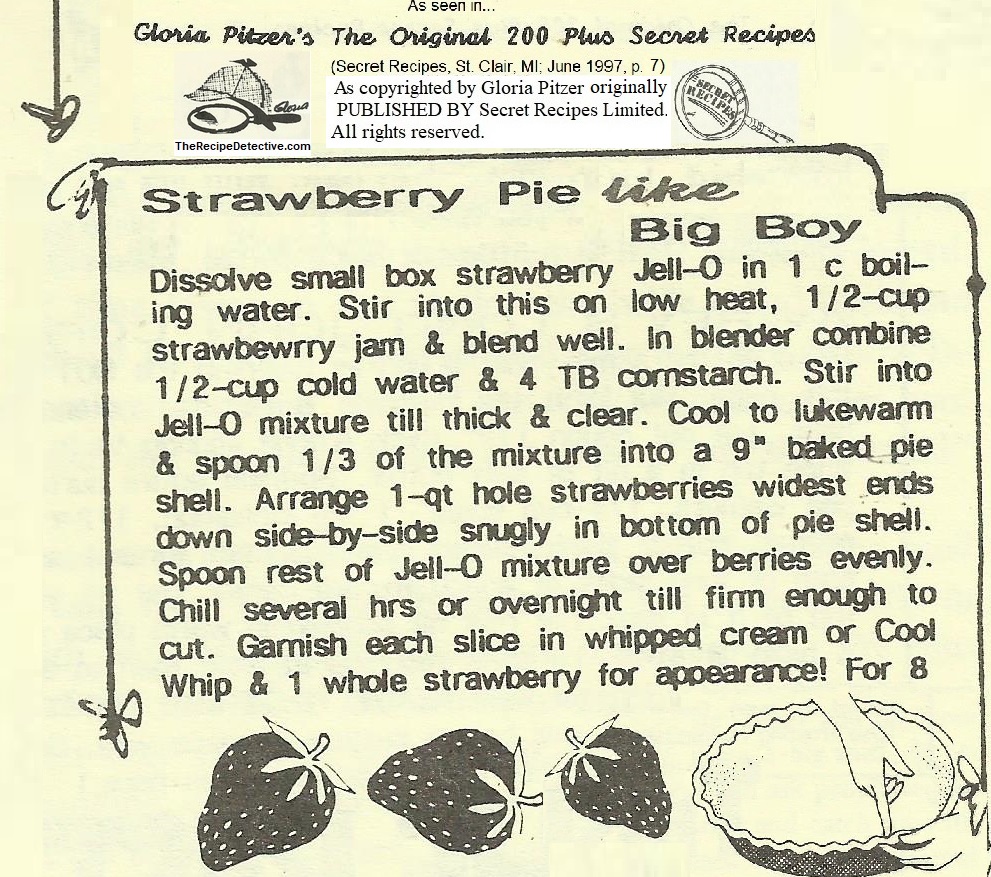 STRAWBERRY PIE, LIKE BIG BOY'S
By Gloria Pitzer
INGREDIENTS:
1 small box strawberry Jell-O [mix]
1 cup boiling water
½ cup strawberry jam
½ cup cold water
4 TB cornstarch
1-qt whole strawberries
9-inch baked pie shell
[Whipped cream and additional whole strawberries for garnish]
INSTRUCTIONS:
Dissolve Jell-O powder in the boiling water. Over low heat, add the jam and blend well. In a blender, combine cold water and cornstarch. Pour this mixture into the Jell-O mixture until thick and clear. Cool to lukewarm and spoon 1/3 into baked pie shell.
Arrange strawberries, widest ends down, side-by-side, snugly in bottom of pie shell. Spoon rest of Jell-O mixture evenly over the berries. Chill several hours or overnight, until firm enough to cut. Garnish with whipped cream and whole strawberries. Makes 8 slices.
[*As seen in… The Original 200 Plus Secret Recipes© Book (Secret RecipesTM, St. Clair, MI; June 1997, p. 7).]
[**Seen, similarly, in… Gloria Pitzer's Cookbook – The Best of the Recipe Detective (Balboa Press; Jan. 2018, p. 241). [A revised reprint of Gloria Pitzer's Better Cookery Cookbook (Secret RecipesTM, St. Clair, MI; May 1983, 3rd Edition).]