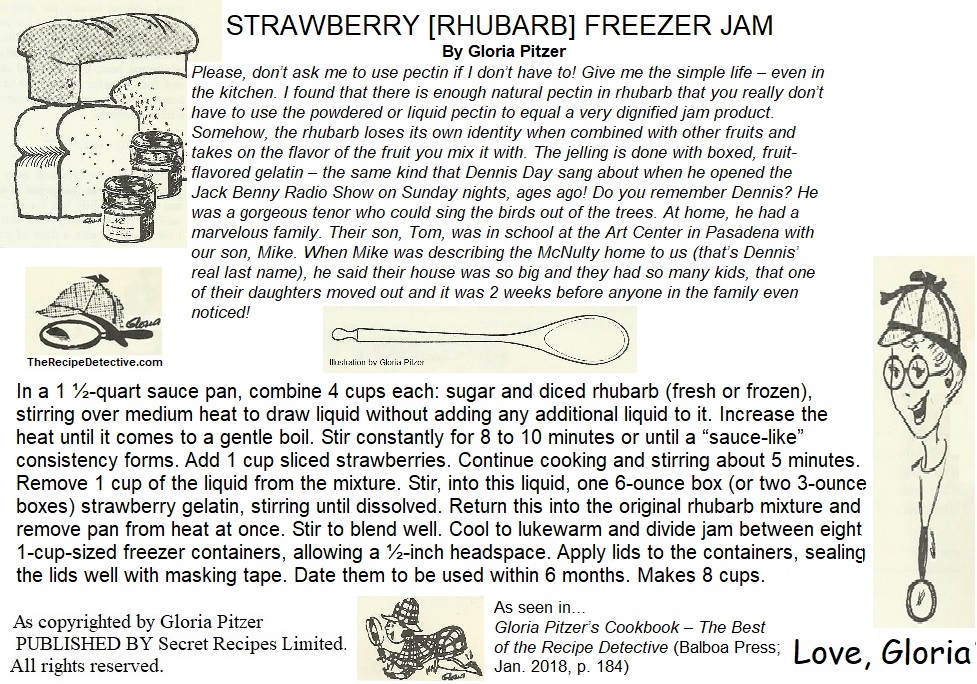 STRAWBERRY FREEZER JAM
By Gloria Pitzer
Please, don't ask me to use pectin if I don't have to! Give me the simple life – even in the kitchen. I found that there is enough natural pectin in rhubarb that you really don't have to use the powdered or liquid pectin to equal a very dignified jam product.
Somehow, the rhubarb loses its own identity when combined with other fruits and takes on the flavor of the fruit you mix it with. The jelling is done with boxed, fruit-flavored gelatin – the same kind that Dennis Day sang about when he opened the Jack Benny Radio Show on Sunday nights, ages ago!
Do you remember Dennis? He was a gorgeous tenor who could sing the birds out of the trees. At home, he had a marvelous family. Their son, Tom, was in school at the Art Center in Pasadena with our son, Mike.
When Mike was describing the McNulty home to us (that's Dennis' real last name), he said their house was so big and they had so many kids, that one of their daughters moved out and it was 2 weeks before anyone in the family even noticed!
INGREDIENTS:
4 cups sugar
4 cups diced rhubarb (fresh or frozen)
1 cup sliced strawberries
one 6-ounce box (or two 3-ounce boxes) strawberry gelatin
INSTRUCTIONS:
In a 1 ½-quart sauce pan, combine sugar and rhubarb, stirring over medium heat to draw liquid without adding any additional liquid to it. Increase the heat until it comes to a gentle boil. Stir constantly for 8 to 10 minutes or until a "sauce-like" consistency forms.
Add strawberries. Continue cooking and stirring about 5 minutes. Remove 1 cup of the liquid from the mixture. Add gelatin to this liquid, stirring until dissolved.
Return this into the original rhubarb mixture and remove pan from heat at once. Stir to blend well.
Cool to lukewarm and divide jam between eight 1-cup-sized freezer containers, allowing a ½-inch headspace. Apply lids to the containers, sealing the lids well with masking tape. Date them to be used within 6 months. Makes 8 cups.
*As seen in… Gloria Pitzer's Cookbook – The Best of the Recipe Detective (Balboa Press; Jan. 2018, p. 184). [A revised reprint of Gloria Pitzer's Better Cookery Cookbook (Secret RecipesTM, St. Clair, MI; May 1983, 3rd Edition).]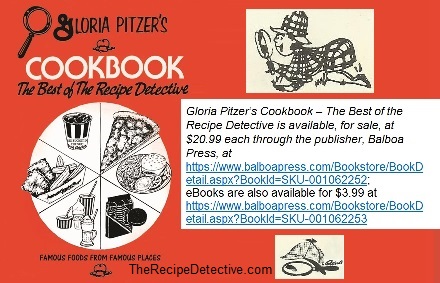 **See also…