Happy Monday, everyone, and #TGIM! I always look forward to Mondays because they are my #52Chances a year, in which I can share Memories of My Mom with all of you!
Still happening during this month of October is National Pretzel Month… Not to be confused with April's National SOFT Pretzel Month, as October encompasses ALL pretzel styles and types.
Pretzels come in a multitude of ways – soft, hard, knotted, twisted, and straight, just to name some of the most common styles. For best flavor, soft pretzels should be eaten shortly after they're made, while hard-baked pretzels have a long shelf-life.
Additionally, pretzel dough, itself, has captured the imagination of bakers, over the centuries; as it can be found in many different flavors, shapes and other forms – like bread, rolls and buns. Pretzels have had a long history and large influence on the American food industry. Supposedly, the pretzel is the oldest known snack food in America.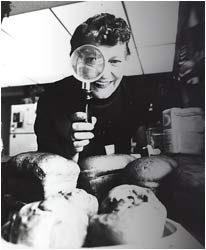 FROM MOM'S MEMORIES…
As seen in…
Gloria Pitzer's Cookbook – The Best of the Recipe Detective (Balboa Press; Jan. 2018, p. 264)
DRINKS AND SNACKS have given an unlikely edge to a suffering food industry that was never anticipated as being possibly successful. Potato chips, pretzels, dips and appetizers have been more than well-received by a public that the industry was once certain had tried everything they could have been offered and will probably not buy another new idea! How wrong!
Whenever a new snack item or beverage has been introduced to the public, it has been received with enthusiasm, until proven unworthy of patronage, because we have become an on-the-run generation of picky eaters.
Some just don't want to get involved any longer with a big meal experience. Some don't want to take the time to make the foods and then, serve them and, finally, clean up afterward. We look for snacks and beverages to serve our guests and to enjoy individually in our most private and leisurely moments.
FROM THE OFFERINGS OF THE FOOD INDUSTRY have come some relatively good ideas, such as the baked potato chip product. Pretzels have gone from the 200-year-old tradition of hard and dry-baked to a soft, bread-like product, liberally sprinkled in salt and topped with prepared mustard and, as a fast food enterprise, has been one of the leading money-makers in the industry.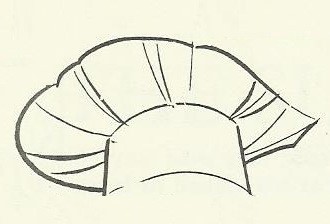 Historically, food has usually been a comfort source for most people, especially in a common response to stress and anxiety. Science has shown, time and again, that emotions and food are linked together. It's widely believed that, in times of stress, "comfort foods" will often make you feel better, at least temporarily.
Pretzels are considered to be "comfort foods", as these types of foods provide a nostalgic or sentimental value but have very little nutritional value, if any at all.
According to an article at Delish.com, pretzels "had inherent religious associations [regarding the legend that it was first invented by Italian Monks in 610 A.D.], but they also came to be associated with Lent because they didn't use eggs or dairy products, which were traditionally prohibited during the period of fasting and restriction."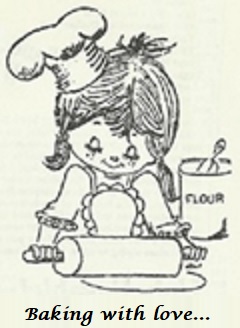 When German immigrants began settling in Pennsylvania, around 1710, they brought their pretzels and recipes with them. German home-bakers who lacked eggs or lard could still bake this relatively filling, concentrated "bread" with only three easy ingredients – flour, water, and salt.
According to an article I read at History.com, on the pretzel's history, here, in America: "In 1861, Julius Sturgis founded the first commercial pretzel bakery in the town of Lititz in Lancaster County, Pennsylvania." Continuing on, the article also said: "Sturgis also claimed credit for developing the first hard pretzels – or at least, for being the first to intentionally bake hard pretzels (rather than leave the soft ones in the oven too long by accident)."
There is another great article, also explaining some of the history and significance of the pretzel, by Carole Christman Koch at BerksMontNews.com. She claims, in her article, that "Pennsylvania is the center of pretzel production in the U.S., making 80 percent of the nation's supply."
As I mentioned a few weeks ago, Michigan has a quite large population of German-Americans in Frankenmuth, where the German heritage emanates from all of the breweries, restaurants, bakeries, fudge/candy shops, cheese houses, and even the little souvenir stores. Frankenmuth's Bavarian style pretzels are a classic Octoberfest snack, which are baked fresh, daily!
Mom was always a big fan of pretzels (in any form or fashion), as well as recipes with only a few ingredients! She was a firm believer that "three, four and five ingredient recipes that are totally reliable, are sufficient to satisfy even the most reluctant cook" – as she wrote in many of her editorials on "short-cut cookery".
Additionally, Mom wrote that the short recipes, with which she enjoyed working, while quite basic, had endless options "for expanding each into fancier dishes or…different flavorings than [for which] the original [recipe] calls." Below is Mom's own 4-ingredient recipe for Soft Pretzels, as seen in her last cookbook, Gloria Pitzer's Cookbook – The Best of the Recipe Detective (Balboa Press; Jan. 2018, p. 274).
Don't forget that October is also National Cookbook Month!
MORE FROM MOM'S MEMORIES…
As seen in, the introduction of…
Gloria Pitzer's Reliable Recipes For Reluctant Cooks (Secret RecipesTM, St. Clair, MI; Oct. 1983, p. 2-3)
THE RELUCTANT COOK
DEAR FRIEND, the cook who meets every culinary challenge with confidence is one to be admired. They set an example to follow – impossible as that may be! For those of us who react to most recipes with reluctance, however, cooking [and baking] is an experience we muddle through, without mastering any of the myriad facets of fancy fare!
We want reliable recipes – rather than cookbook complications! We want successful results, without ridiculous rules! We want simple procedures, without pitfalls, when we put our prescriptions into practice!…
The problem with most recipes is the awesome number of ingredients required. You [may] wonder, looking at a bowl of batter, 'Did [I] put in four cups of flour – or did the phone ring just then and it was only three?' Did you remember the salt and, if you didn't, was it that important that you left it out – because somebody interrupted you at that point and your last memory of adding an ingredient was erased by the interruption!
Of course, the confident cook never worries about things like that. They forge ahead brilliantly, creating cuisine that would make you and I faint at the mere thought of trying it. And even when you and I DO finally achieve a success, we're not sure it's supposed to turn out that way – that easily – because our record of near-misses, far out-weigh our scores of success!
THE RELUCTANT COOK isn't looking for absolute perfection! We want only to create the illusion that we can cope with culinary accomplishments, riding the surfboard of certainty over the sea of success!
A RECIPE IS ONLY AS GOOD AS THE COOK WHO PREPARES IT!
No matter how wonderful a recipe is rated to be, no two people are going to have identical results with the same formula. This is enough to throw any reluctant cook into a tither – anticipating failure before you even pick up a spatula or get out the mixing bowls!
However, this fact should not come as a surprise to the experienced cook. Even experience in the kitchen has not been enough to relieve you of ALL reluctance! …No two dishes ever come out exactly alike… This is the option each cook has to take with every recipe. You always put a little more into the making of a dish than the recipe requires.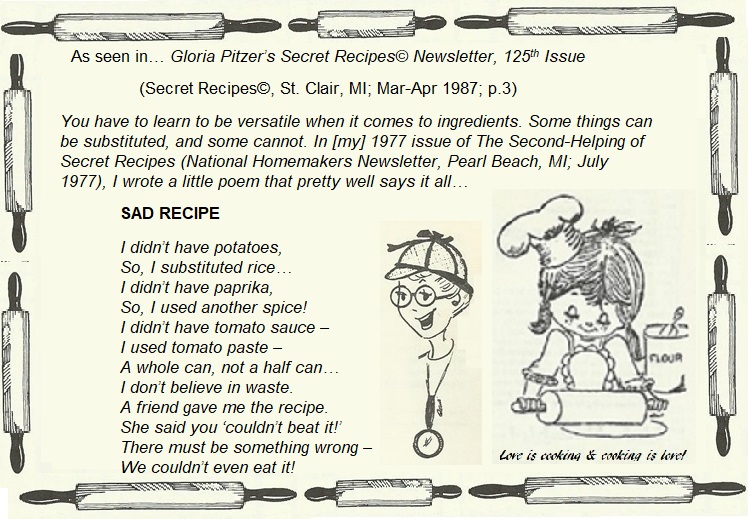 AGAIN, MORE FROM MOM'S MEMORIES…
As seen in…
The Joy Of Not Cooking Any More Than You Have To (Secret RecipesTM, St. Clair, MI; Nov. 1983, p. 109)
LIKE AN EXPERT
SOME COOKS WHO FIND JOY IN N-O-T COOKING – Anymore Than You Have To, don't mind at all baking their own bread, biscuits, rolls, muffins and cakes. It's a strange thing that baking is a kind of therapy for the same cooks who don't like to pamper a roux, stir a sauce nor baste a roast.
Bread-baking gives one a sense of real accomplishment in the kitchen, especially when you can't do other things well in the realm of creative cuisine. It's hard to muff a muffin batter when you don't even have to get out your electric mixer to put it together.
It's gratifying to dig your knuckles into a pillow of yeast dough and work off your frustrations by kneading the dough into elasticity, suitable for yielding one heck-of-a good loaf of bread.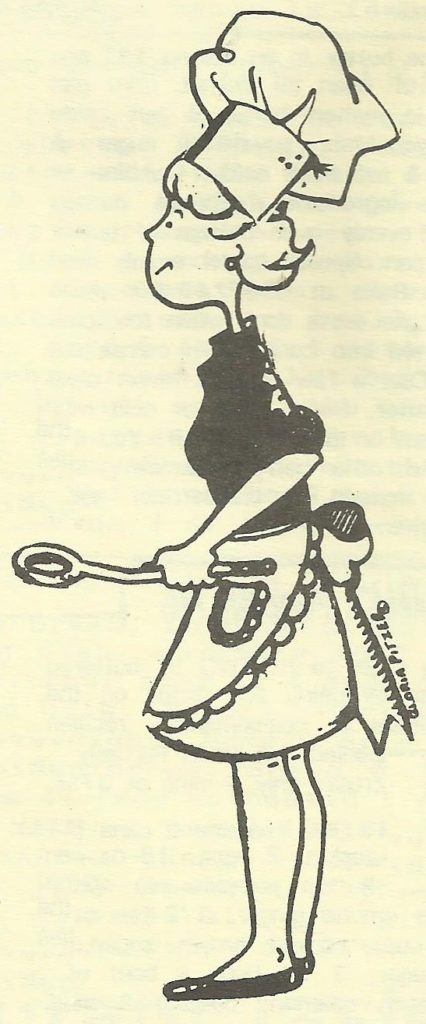 Among other food-related things that the month of October is also celebrating (and I haven't already mentioned, yet, this month) are the following 10 "foodie" occasions, from one of my favorite sources – NationalDayCalendar.com:
National Caramel Month, National Cookie Month, National Popcorn Poppin' Month, National Seafood Month, Pear and Pineapple Month, Rhubarb Month, Spinach Lovers Month, National Pork Month, National Sausage Month – as well as National Polish-American Heritage Month (another fabulous source of some really great "comfort foods" that I'll write about next week)!
'I believe that one of the most dignified ways we are capable of, to assert and then reassert our dignity in the face of poverty and war's fears and pains, is to nourish ourselves with all possible skill, delicacy and ever-increasing enjoyment.'– M.F.K. Fisher, How to Cook a Wolf (1942).
IN CLOSING…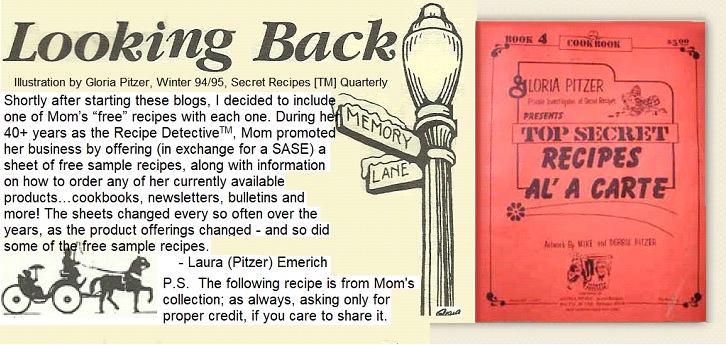 In honor of tomorrow, being National Brandied Fruit Day, here is Mom's "secret" recipe for Brandied Fruit… As seen in her self-published cookbook, Top Secret Recipes Al' A Carte (Secret RecipesTM, St. Clair, MI; Sept. 1979, p. 9).
P.S. Food-for-thought until we meet again, next Monday…
Since Wednesday is National Pumpkin Cheesecake Day, here is a special repeat of Mom's Sugar-Free Pumpkin Cheesecake Pie! Enjoy!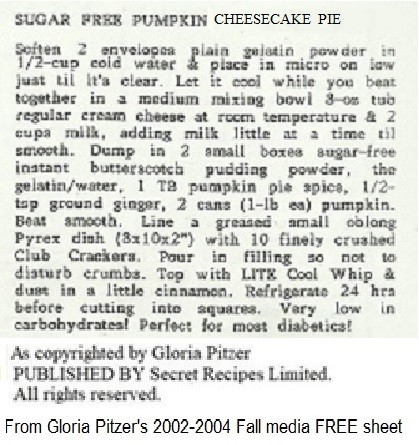 Next Monday, will be my regular monthly visit on the "Good Neighbor" show; with host, Kathy Keene, at WHBY in Wisconsin! We'll be sharing our memories of Mom as the Recipe DetectiveTM and one or two of her recipes as well. Tune in at 11:08 AM (Central)/12:08 PM (Eastern). In case you miss it, there will also be a link on WHBY's website at https://www.whby.com/goodneighbor/ so you can listen to it at your leisure!

…42 down, 10 to go!