Happy Monday AND happy summer! I hope all the dads out there had an awesome, memory-making Father's Day with their kids yesterday! As always, #TGIM – I always look forward to Mondays because they are my #52Chances a year to share these memories of my mom with all of you!
Summer officially arrived over the weekend! I hope everyone got out – in the "Great Outdoors" – and celebrated the Summer Solstice! I've been writing a lot about June, being National Country Cooking Month. But, did you know June is also National Great Outdoors Month and National Camping Month, as well?
After being cooped up, to some degree, as usual, for the winter months, (which, in Michigan, is usually 4 months long instead of 3 – all of December through all of March) people are usually "biting-at-the-bit" to get out and enjoy spring! But this spring turned out to be a 3-month-long (and more extreme) extension of our "winter hibernation", because of all the pandemic restrictions and closures. So, I ask: "Who isn't ready to get outside now and explore the "Great Outdoors"?
My husband and I love to enjoy the outdoors by going on a nature hike, or by taking a long scenic drive around Michigan's "Thumb Area" and having a picnic by the lake or checking out a small village eatery. We also enjoy camping whenever we can get away for the weekend – Michigan has a lot of beautiful campgrounds, parks, and state land to enjoy and explore.
I, myself, have been spending more quality time outdoors, this month, going for long walks or working in my gardens, as the weather has been getting warmer. I pulled out our cushions for the backyard furniture and made it "visitor-ready". In fact, we had a backyard campfire with a few friends to welcome in the summer solstice.
I've also started organizing all of our camping gear and going over my checklist so it's "ready to go" (except for filling our coolers) whenever we are ready to go. We usually go camping a few times a year – spring, summer, and fall. We missed our usual springtime excursion – so we're really looking forward to our annual summer get-away! How do you like to enjoy your summer?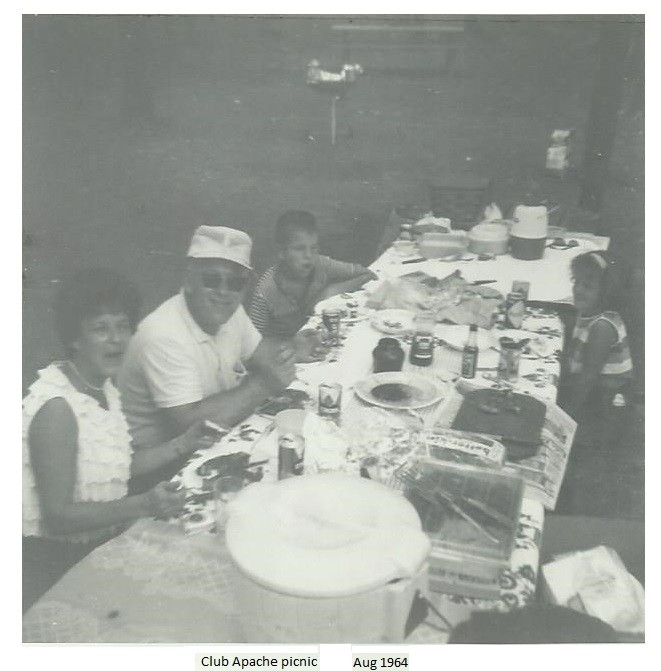 An online survey of Americans, conducted four years ago, in 2016, by the National Recreation and Park Association, found that the three most commonly preferred summer activities, among all the different age groups, were walking/hiking, going to the beach and having a picnic/barbecue. That sounds about right, still, today! It was interesting, though, that the survey had also found that Millennials preferred going swimming in a pool over walking/hiking.
If you're one of those who are working out of their home all the time, like Mom and Dad did – or as many have been doing, temporarily, for the past 3 or 4 months because of the Covid-19 restrictions – that can also make you want to "get out and about" every once in a while.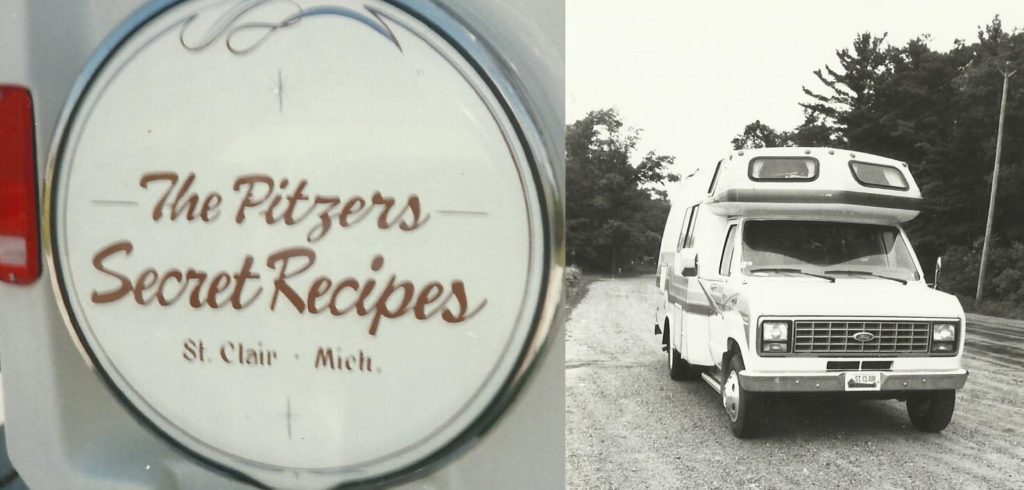 Mom and Dad loved to take a day just to go on a scenic road trip to unwind from the workload at home and refresh themselves. Sometimes, however, work would manage to creep back in whenever they stopped for a bite to eat. Mom always managed to find something good that she wanted to analyze and duplicate when she got back home.
FRIENDS ARE A TREASURE and, when we count our blessings, we count our friends twice! It's not possible to have a full and happy life without others to share with, to help when help is needed, to be helped when help is offered. – Gloria Pitzer
Mom and Dad seemed to make friends everywhere they went. Some trips were just for relaxation and fun. But other trips involved some Secret RecipesTM work too, as Mom really did enjoy what she did and it was easy to incorporate a restaurant review and an imitation of a dish (or two); even an occasional, in-studio, radio show interview, instead of through the phone lines, as Mom usually did.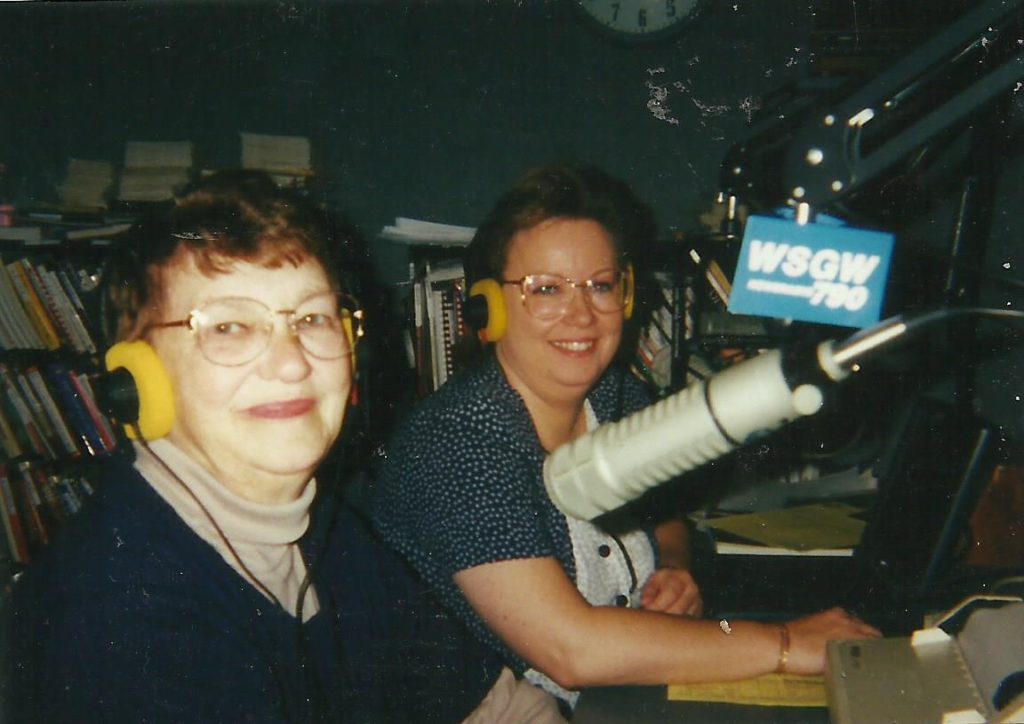 Mom and Dad also loved to spend a weekend, here and there, camping with their "Good Sam" friends around Michigan, Ohio, and Indiana. In fact, Mom wrote about that in her book, My Cup Runneth Over and I Can't Find My Mop (Secret RecipesTM, St. Clair, MI; Dec. 1989, p. 61); saying: "Recipe seminars that I have conducted for the Good Sam RV organization in, both, Michigan and Ohio, have given me the opportunity to meet with and talk to people from all over the country relative to their recipe interests and food needs."
Mom often said that her writing made living worthwhile. But her legacy of Secret RecipesTM gave her so much joy that, for the most part, it wasn't like "working" at all.
FROM MOM'S MEMORIES…
As seen in…
My Cup Runneth Over and I Can't Find My Mop (Secret RecipesTM, St. Clair, MI; Dec. 1989, p. 100)
MORE THAN FRIENDS
Some of our best ideas that come from our friends and we happily share the good they have offered. But even before the recipes were a part of our livelihood, I was learning from friends, holding dear the wonderful ideas they offered. From Dolores Garavaglia, one of my first friends when Paul and I were married, I learned how to make a terrific Italian spaghetti sauce.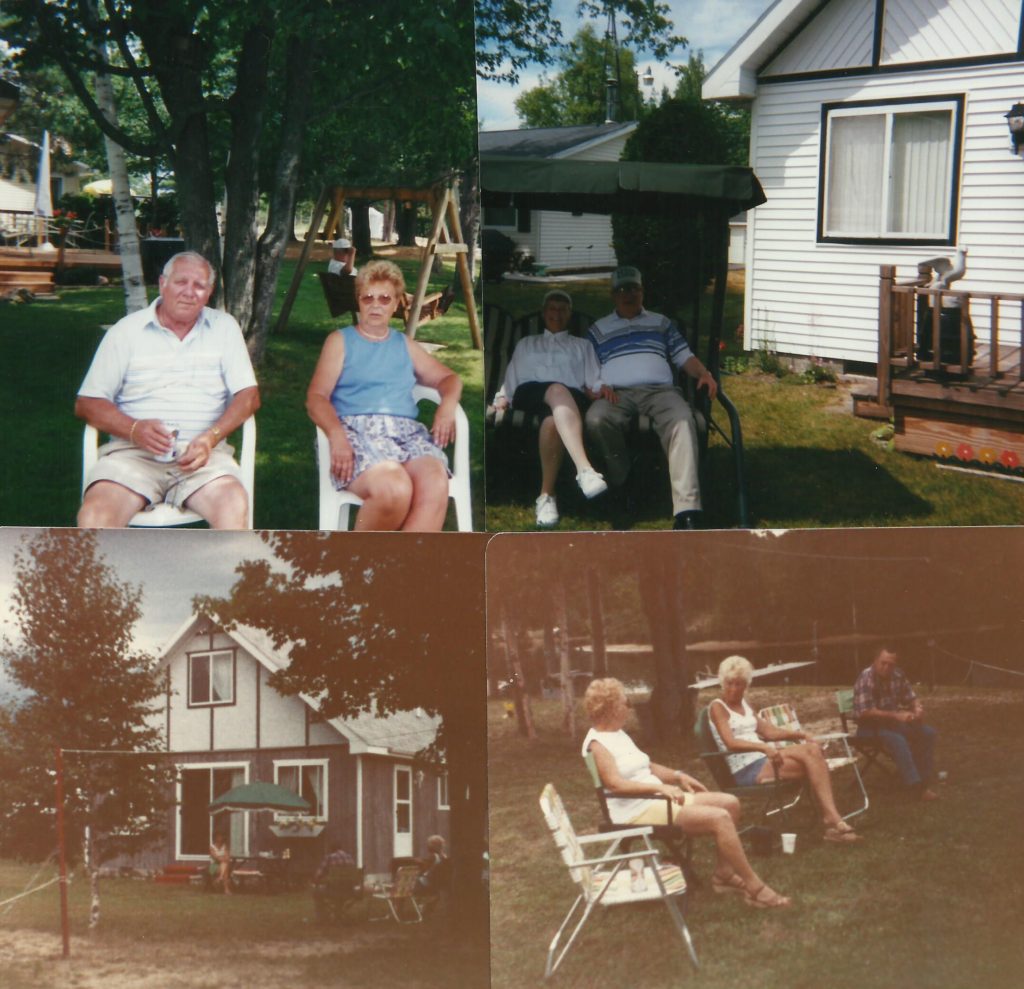 We were visiting Ray and Dolores at their cottage, recently, near Houghton Lake [MI], and laughing over the dramatic shortcuts we've learned to take since those days, over 30 years ago, when we cooked 'from scratch' and thought nothing of an 18-ingredient recipe. From Harold and Anna Muzzi, we have derived a sense of appreciation for a friendship that goes back to Paul's childhood when Harold [Muzzi] and Ray Garavaglia were his best friends and neighbors.
Julia Bulgarelli, another long-time dear friend, has always given me good ideas and she came from the cottage next door to Ray and Dolores to share an 'oven stew' recipe with me that we used in our January-February 1990 issue of our newsletter. Our files are full of such wonderful dishes. But, in addition to that, we learn about living and about loving from our friends. There is a reciprocation that blooms with affectionate exchanges, whether by mail or with personal visits.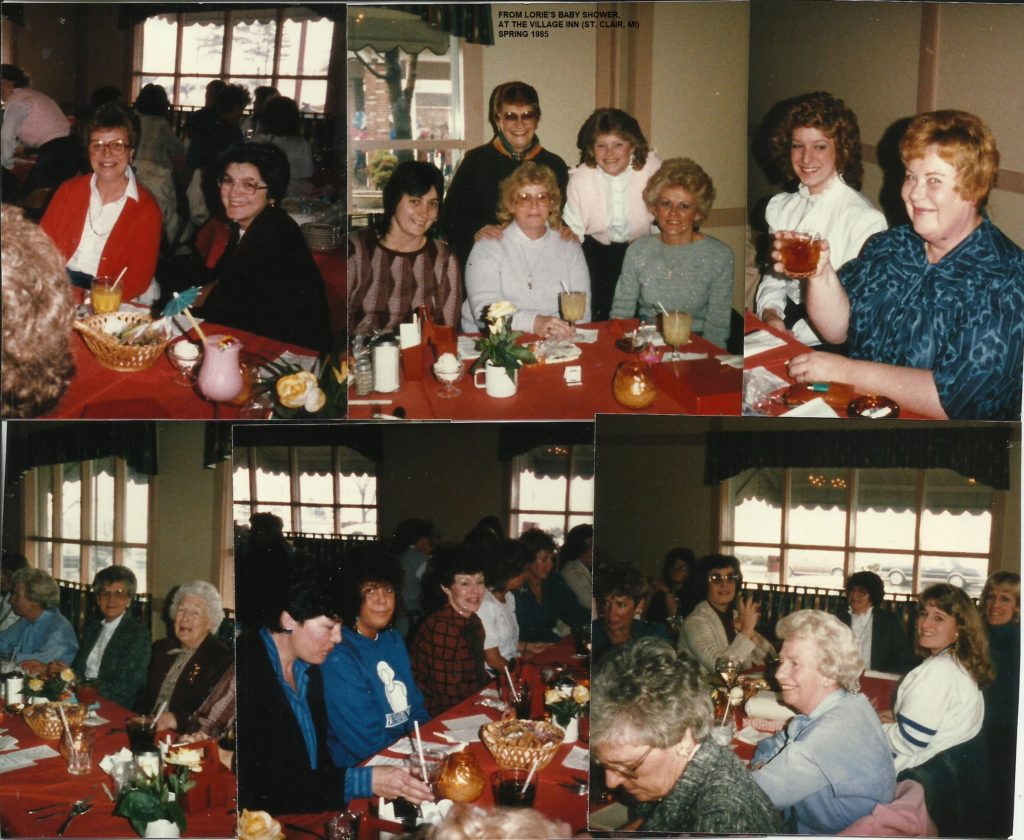 Sherry Ellis came to my aid more than once when I was bogged down and needed another pair of hands. I appreciate her sparkle and enthusiasm for just about everything. Sophie Wesley and I have been super friends since we bowled together years ago and, when I least expect it, and needed it the most, a card would come in the mail from Sophie, reflecting the beautiful thoughts that comfort when comfort is needed.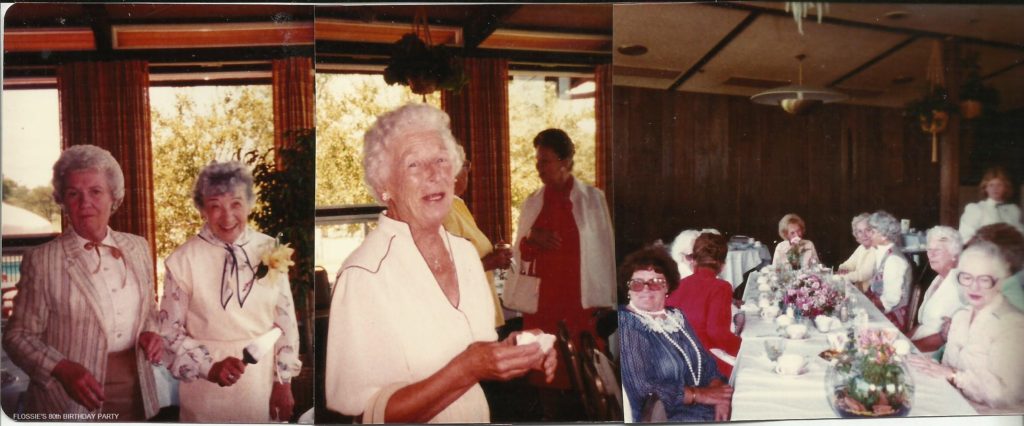 Betty Pumford and I became friends through Flossie Taylor, who passed away a few years ago. Flossie [also] introduced me to Elsie Masterton's cookbooks, which I truly treasure. Some of Flossie's recipes dated back to her childhood when she remembered visiting her Aunt Clara and Uncle Henry [Ford] at 'Fairlane', their home in Dearborn, Michigan. Betty and I had wonderful lunches with Flossie and after Flossie was gone, carried on the happy tradition, also exchanging some great recipes along the way, as well as understanding and happy conversations.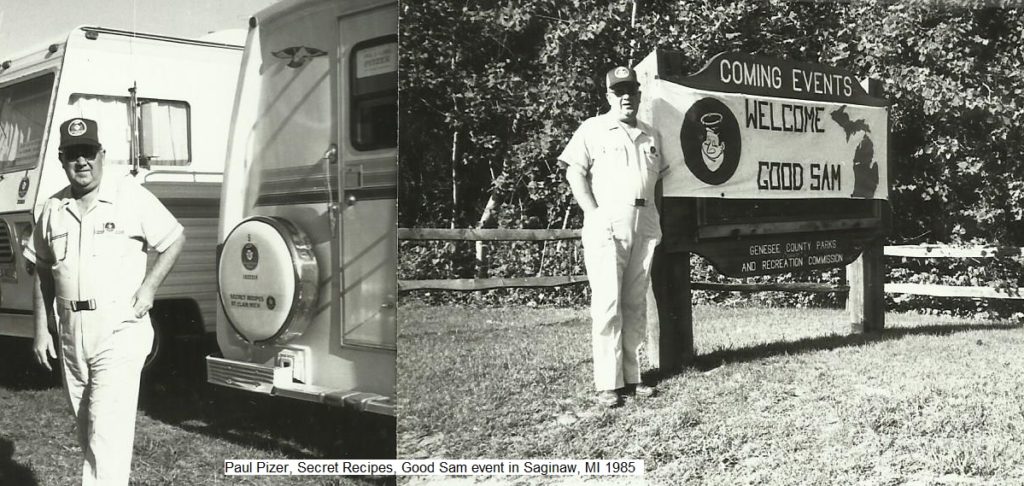 Since our camping experiences with the national RV organization, 'Good Sam', we have truly adopted their slogan… 'In Good Sam there are no strangers – only friends you haven't met yet!' How very true. What would we have done had we not been blessed with meeting Irv and Helen Henze [or] Helen and Chuck Mogg? How much we miss Chuck since he passed away. Friends are those people who know everything there is to know about you, but like you anyhow!
Needless to say, I can't wait until we can begin our 'motor-home camping' again with our Good Sam friends. It's our weekend vacation pleasure, May through October. Becoming part of the Good Sam organization is the best thing that has ever happened to us, where we could both enjoy mutual friendships and activities. Wonderful, caring people, who constantly remind us that 'there are no strangers in Good Sam – only friends we haven't met, yet!' [From "GOOD SAM – CARING AND CAMPING" by Gloria Pitzer, as seen in Gloria Pitzer's Secret RecipesTM Newsletter (Secret RecipesTM, St. Clair, MI; May-June 1987, 126th issue, p. 3)]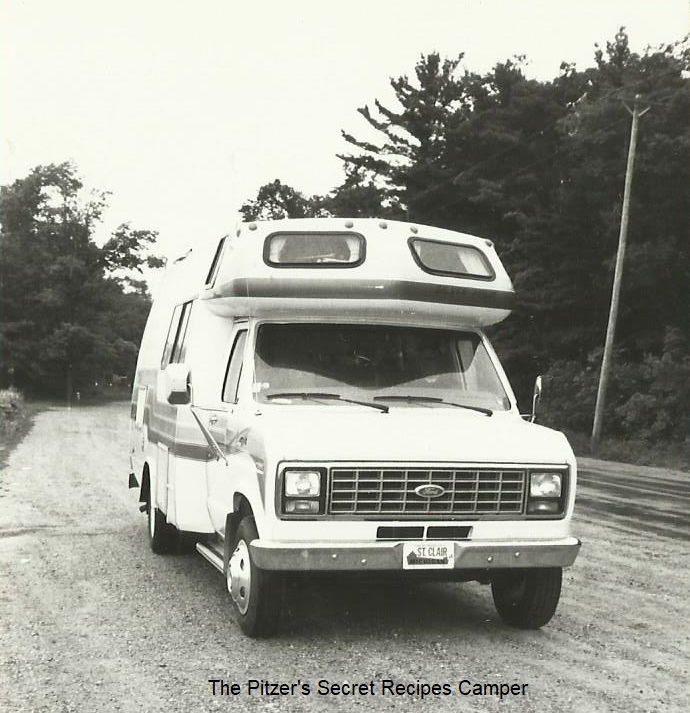 To Good Sam RV Club (MI & OH Branches): Thank you for giving me the opportunity to meet with and talk to people from all over the country, relative to their recipe interests and food needs… Since our camping experiences with…'Good Sam', [Paul and I] have truly adopted their slogan, 'In Good Sam, there are no strangers – only friends we haven't met yet! – from Gloria Pitzer (1989)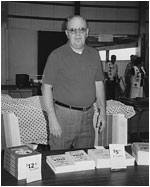 FOOD-FOR-THOUGHT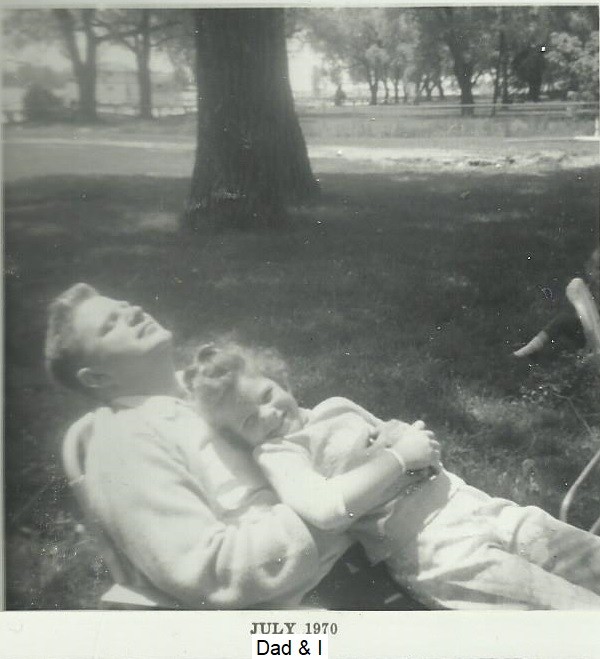 Since my dad passed away in the fall of 2014, Father's Day has become one of those days when I miss my dad more immensely than others! Like any daughter might feel, he was and will always be my hero! Thus, being that yesterday was Father's Day, I want to share with you an old, satirical editorial that Mom wrote about Dad called "Father's Day (or) the King and I!" Below is a photocopy of the article, which I found in Mom's June 1974 newsletter issue.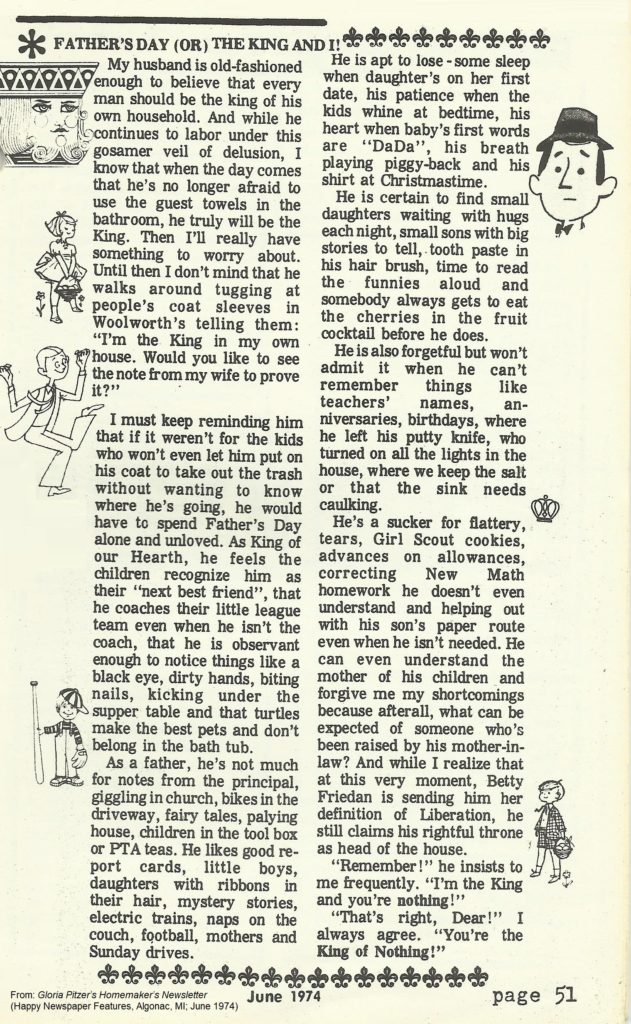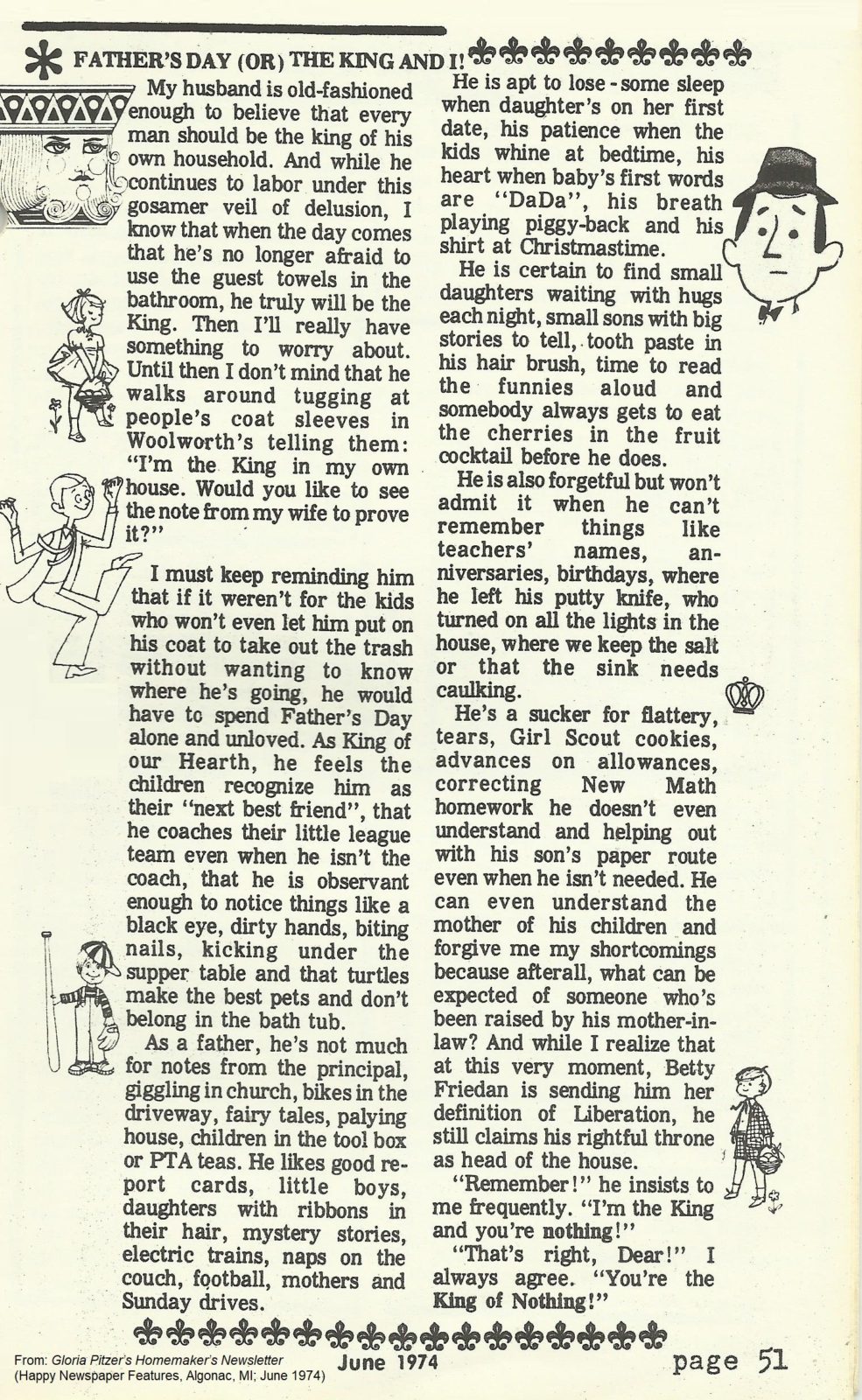 There weren't many things that stumped my mom more than understanding my dad's love of football.
MORE FOOD-FOR-THOUGHT
When I shared the following passage in last week's blog post, I knew something about it sounded familiar. The "Texas Fruitcake" and "Horton's…family" referred to in Mom's story were that of Puddin Hill fame.
Grandpa was holding a full house, trying to beat the town's commercial Baker, and Grandma's competitor. When Grandpa 'called' him, Hartwig Horton was holding a flush of diamonds, but confessed he couldn't pay Grandpa in cash. However, he would call the debt squared, if Grandpa would agree to take, instead of cash, a much-coveted recipe for his family's 'Texas Fruitcake' that Grandma had been trying to duplicate for years; the secret formula closely guarded by Horton's Texas family [as in 'Puddin Hill']. Grandpa agreed. – Gloria Pitzer, Eating Out At Home Cookbook (Secret RecipesTM, St. Clair, MI; Sep. 1981, 12th Printing, p. 42)
Mom's "imitation" of this famous fruitcake was in her last cookbook, Gloria Pitzer's Cookbook – The Best of the Recipe Detective (Balboa Press; Jan. 2018, p. 279); which was a rewrite of her famous, self-published cookbook, Gloria Pitzer's Better Cookery Cookbook (Secret RecipesTM, St. Clair, MI; May 1983, 3rd Edition).
It's unclear if Mom developed this recipe, herself; or if she may have gotten it from "Grandma's Kitchen Journal", which she has mentioned a number of times in her "family folklore" stories that I've been sharing with you the last few weeks. I'm sure Mom would like to spin another yarn about this being THE recipe, won in a West Virginia saloon poker game! But I'm pretty sure it's Mom's own development.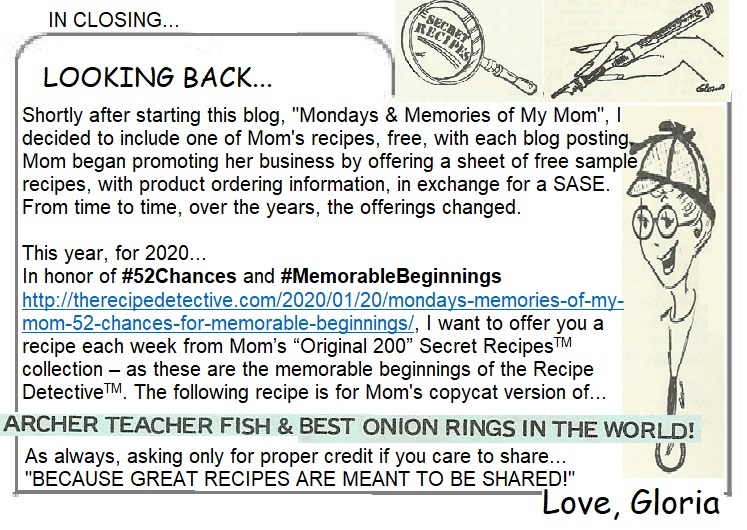 These recipes, pictured below, are worth repeating. In honor of today, being National Onion Rings Day – here is Mom's copycat recipe for the BEST ONION RINGS IN THE WORLD! It's the same batter she used for her imitation of Arthur Treacher's fish. Both of the recipes, in the photo below, were on Mom's sample sheet of recipes that she gave away years ago in exchange for a SASE. They were also among Mom's "Original 200" recipes – the cornerstones of her Secret RecipesTM legacy. Enjoy!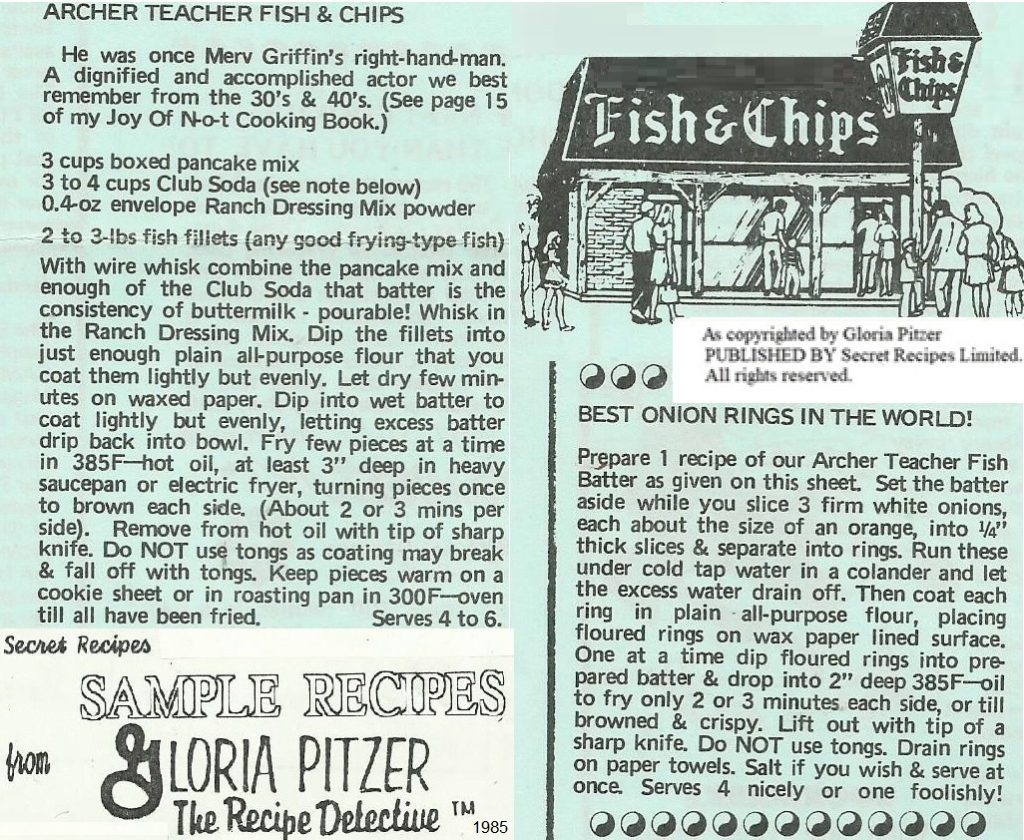 P.S. Food-for-thought until we meet again, next Monday…
THIS IS COMING UP NEXT WEEK…


…25 DOWN, 27 TO GO!