Happy Monday, everybody!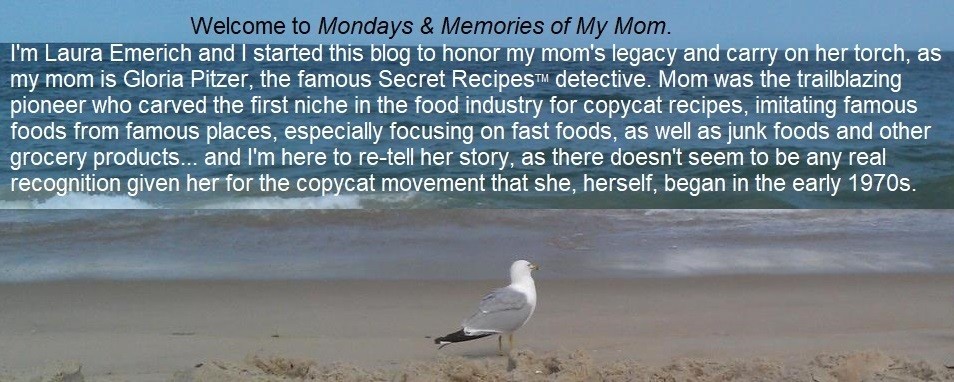 Tomorrow is the 1-year anniversary of my launching this blog, Mondays & Memories of My Mom. I started this to honor my mom's legacy as the ORIGINAL Secret RecipesTM Detective. The title, Recipe DetectiveTM, which Mom eventually trademarked, was bestowed on her in the mid-1970s by the Detroit area radio listeners of Bob Allison's "Ask Your Neighbor" show, as she continuously called in with answers to recipe quandaries on how to make just about anything; and she, forever, savored the honor!
Early on, as a mother of five ravenous, young children on a tight household budget, Mom had a knack for discovering ways to imitate fast food and junk food, as well as famous restaurant dishes and grocery items right at home, in her own kitchen, with what she had on hand – no fancy gadgets or expensive, hard-to-find ingredients. Mom liked to claim that her gadgets were always hard to find because we kids would take them for playing with in the sand box.
But, I think Mom's pioneer trailblazing of the copycat recipes movement for imitating fast food and junk food, in particular, was the ultimate carving out of a totally unique niche that no other person, at that time, had ever attempted. For decades, great restaurants have put out cookbooks of recipes of their famous dishes – The Blueberry Hills Cookbook by Elsie Masterton was probably Mom's favorite – but, no one else was doing recipes to mimic the fast food and junk food markets that were considered taboo by the food critics!

Mom's copycat recipes revolution took the nation by storm and washed over the world – thanks to the Phil Donahue Show – like a tidal wave! Ever since her early cookbooks on the subject were first released in the mid-1970s, Mom referred to her copycat imitations as her solutions to "eating out – at home", and that, she'd add, no longer meant hot dogs on the grill, outside, in the yard!
Word spread like a wildfire that a small town, Michigan housewife was duplicating famous foods from famous places and sharing her secrets in her self-published newsletter issues and cookbooks! Radio stations, newspapers, magazines and television – they all picked up on the story and it snowballed from there.
Sometimes, Mom received letters from her readers, people across the country and around the world, who didn't have the same products in their area that Mom used in some of her recipes, asking what they should use in its place. That inspired her to create even more recipes for ingredients that were expensive or hard to find in certain regions. She was always focused on saving families money because that also benefitted her own family.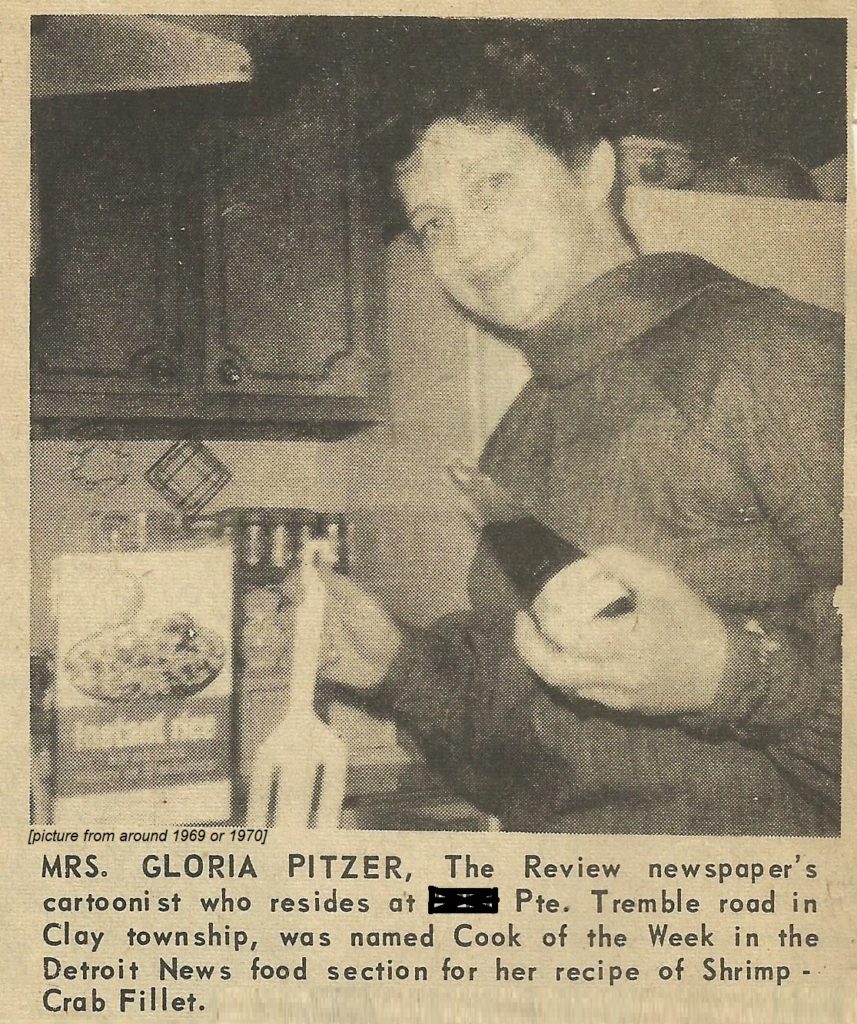 Secret RecipesTM was Mom's legacy of love – even before it actually became Secret RecipesTM. It all stemmed from her passion for writing. Although, Mom's original writing aspirations, when she was a young girl (influenced by a movie about the Bronte sisters), was to write a great American novel; she believed that Devine Intervention detoured her to write about other things, but never away from writing, itself.
Every success Mom had in writing, was usually centered around cooking and homemaking – from the many essay contests that she entered and won to her multiple careers in the newspaper field to writing her own columns and cartoon panels and, then, her own newsletter publication, along with multitudes of cookbooks (which she also published and promoted herself).
Writing was never a hobby to Mom. She used to say that being a writer isn't what she did but, rather, who she was! In a lot of her publishings, Mom loved to say that, while she made a worthwhile living at writing, it was her writing that made living worthwhile. My mom had a special talent for combining food for thought with food for the soul, as well as food for the table – usually sprinkled with a dash of sarcastic humor – in almost all of her publishings.
FROM MOM'S MEMORIES…
As seen in…
Gloria Pitzer's Cookbook – The Best of the Recipe Detective (Balboa Press; Jan. 2018, p. 6)
IT ALL STARTED WITH THE STROKE OF A PEN
I DO, WITH RECIPES, WHAT RICH LITTLE DOES WITH VOICES! Imitating the 'Secret Recipes' of the food industry has been an exciting experience for me. The critics felt that "fast foods" and restaurant dishes were not worth the effort to duplicate at home, when you can just as easily buy the products already prepared!
The critics who contend that 'fast foods' are 'junk foods' and not good for us, have probably never prepared these foods themselves. Certainly, they have no access to the closely guarded recipes from the food companies that created these dishes, as there are only a few people in each operation that are permitted the privilege of such information! So, 99% of the critics' speculations are based on their own opinions.
To know what these dishes contained, they'd have to be better chemists than I, as I have tested over 20,000 recipes with only the finished product as my guide to determine what each contained. 'Fast foods' are not 'junk foods' unless they're not properly prepared. Any food that is poorly prepared (and just as badly presented) is junk!

Unfortunately, 'fast food' has carried a reputation, by default, of containing ingredients that are 'harmful' to us. Yet, they contain the same ingredients as those foods served in the 'finer' restaurants with wine stewards, linen tablecloths, candlelight, coat-check attendants, and parking valets; which separate the plastic palaces of 'fast food' from the expensive dining establishments.
One 'eats' at McDonald's, but 'dines' at The Four Seasons. Steak and potato or hamburger and French fries – the ingredients are practically the same. How they are prepared makes the difference!
In the early 70s, I was trying to juggle marriage, motherhood, homemaking and a newspaper column syndicated through Columbia Features, when it seemed obvious to me that there wasn't a single cookbook on the market that could help me take the monotony out of mealtime. There was not a single recipe in the newspaper's food section that did not smack of down-home dullness!
'Okay,' they said at the newspaper I worked for, 'YOU write the column on foods and recipes that YOU think would really excite the readers and make them happy!' I did, but that didn't make the Editors happy, because it made their [food industry] advertisers miserable. When I was told that I'd have to go back to monotonous meatloaf and uninteresting side-dishes that made mealtime a ritual rather than a celebration or pick up my check, I told them to 'MAIL it to me!' I went home to start my own paper!
It was probably a dumb thing to do, amid an economic recession with the highest rate of unemployment I had ever experienced, but it was worth the risk. I was a dedicated writer that new someone had to give homemakers something more than what they were being given in the colored glossy magazines, where a bowl of library paste could even be photographed to look appetizing!
…THEY LAUGHED! THEY DOUBTED! They even tried to take me to court when some famous food companies insisted that I stop giving away their secrets. They couldn't believe me when I said that I did NOT know, nor did I want to know, what they put in their so-called secret recipes. I did know that there are very few recipes that can't be duplicated or imitated at home. And we could do them for much less than purchasing the original product. I proved…it can be and should be done!
FAMOUS FOODS FROM FAMOUS PLACES have intrigued good cooks for a long time… There is speculation among the critics as to the virtues of re-creating, at home, the foods that you can buy 'eating out', such as the fast food fares of the popular franchise restaurants. To each, his own! Who would want to imitate 'fast food' at home?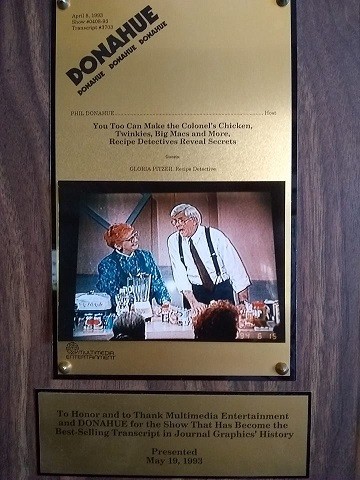 I found that over a million people who saw me demonstrate replicating some famous fast food products [the FIRST time I was] on The Phil Donahue Show (July 7, 1981) DID – and their letters poured in at a rate of over 15,000 a day for months on end! And while I have investigated the recipes, dishes, and cooking techniques of 'fine' dining rooms around the world, I received more requests from people who wanted to know how to make things like McDonald's Special Sauce or General Foods Shake-N-Bake coating mix or White Castle's hamburgers than I received for those things like Club 21's Coq Au Vin.
I inherited Mom's love for writing (among other things) and, now, that has become my legacy of love also, as I carry on her torch, telling her story in this blog. It really became my own legacy of love in 2015, when I began helping Mom rewrite her favorite, self-published cookbook, Gloria Pitzer's Better Cookery Cookbook. Shortly before Mom passed away in January 2018, it was published by Balboa Press, under the title Gloria Pitzer's Cookbook – The Best of the Recipe Detective, in hopes to inspire a new generation – especially the digital generation, as it's now available as an eBook too!
I can only hope that I've made my mom proud of how I've been keeping her torch lit and shining bright by telling her story… her legacy of love… with regards especially to this blog series, as well as to the website and her last cookbook; developing and promoting them, in her memory and honor, with all of the love and passion that she inspires in me.
Mom was such a huge influence on who I grew to be that I feel compelled to keep her torch lit and shining bright! Her love of writing and cooking and inspiring others in the same was, to me, one of the biggest parts of her legacy. It wasn't something she did just for our family, but for all families.

My mom continues to inspire me every time I read her works… every time I write an entry for this blog… every time I hear from a reader who remembers Mom and has a story to tell me about their memories of her. It all inspires me to take this blog and her website to new heights in her honor. It's still a work in progress. I'll be honest – it'll probably always be a work in progress, as I'll always continue to evolve as a writer/blogger.
One of my favorite and youngest memories of Mom & I is from the summer before I turned 4 and she was teaching me how to write my name and address before I went to school that September – from showing me how to hold the pencil in my little fingers to how to draw the letters and form the words by putting those wonderful letters together…I can remember it well.
Something else Mom inspired in me is my passion to continually learn new things. Besides being grateful for something every day, Mom would also promote learning something new every day. From that, I've determined, every day is a defining moment for each and every one of us, in which experience, faith and knowledge, all together, influence our personal evolutions. That's why we should seize those moments and those days and do our best to make the most out of them!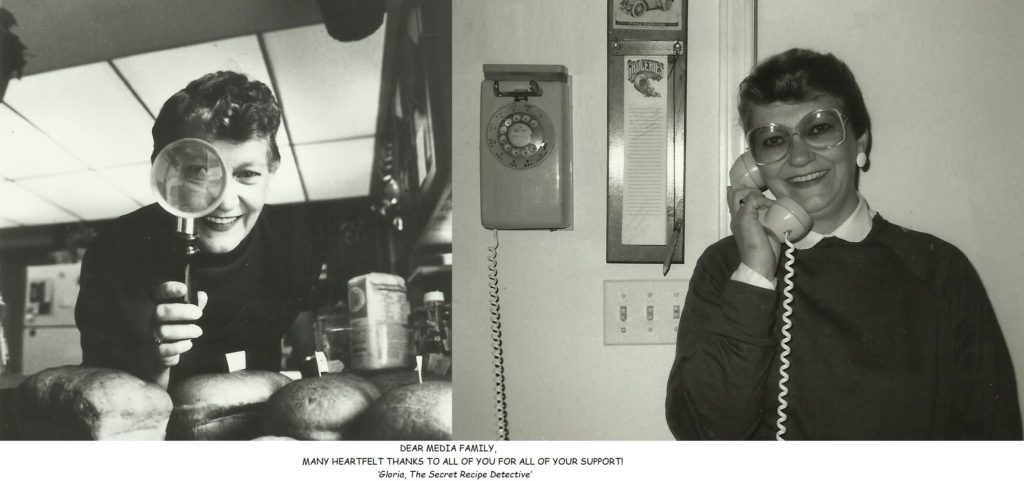 IN CLOSING…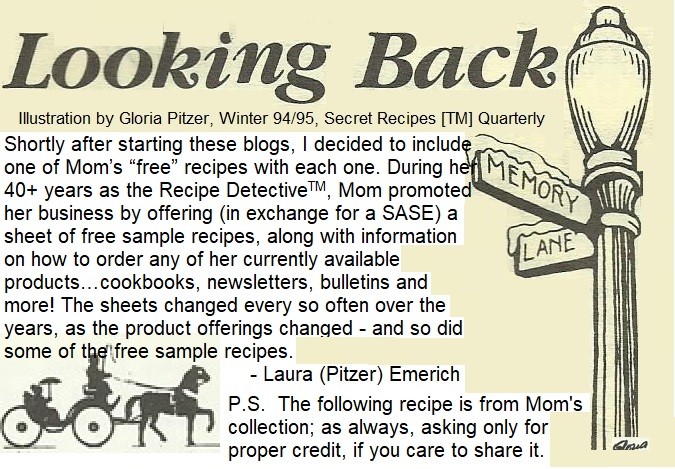 Although, Labor Day was a couple weeks ago, marking the unofficial start to the fall season; next Monday is actually the official first day of Autumn 2019! When I think of the fall season, I think of warm, slow-cooker meals, soups and chili. With that in mind, I want to share Mom's recipe for a potato-cheese soup like Bennigan's, which Mom called "Beginagain's Awesome Potato Cheese Soup".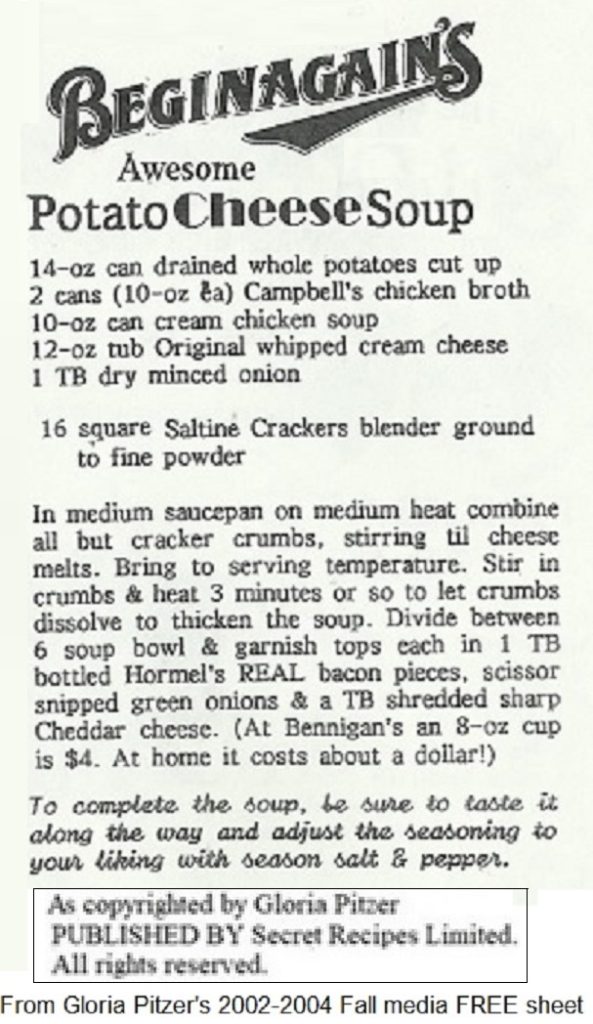 Gloria Pitzer's Cookbook – The Best of the Recipe Detective is available for sale, at $20.99 each, through the publisher, Balboa Press, at https://www.balboapress.com/Bookstore/BookDetail.aspx?BookId=SKU-001062252; it's also available in eBook form, for $3.99, at https://www.balboapress.com/Bookstore/BookDetail.aspx?BookId=SKU-001062253