Happy Monday and happy National "I Love Food" Day!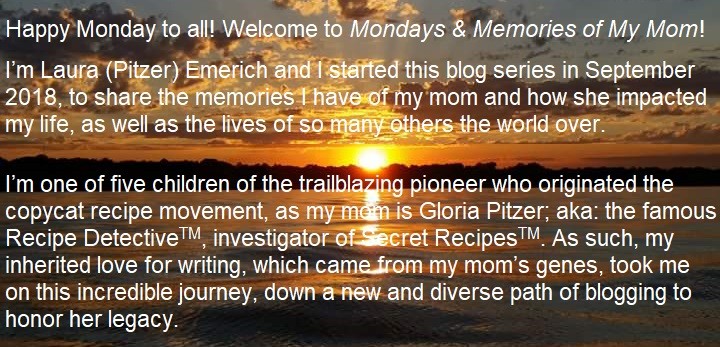 I haven't found a lot of information on this national celebration of food, so I'm not sure how wide-spread it is, but it's out there, nonetheless. And, why not celebrate food? It's a basic necessity, as we sure wouldn't live very long without it! However, food has evolved over the centuries from just "basic necessities" to "works of art".
Consequently, on National "I Love Food" Day, we should all revel in having such an array and an abundance of great foods (and beverages) from which to choose. What's your favorite food? Can you even choose just one food item or one, single, favorite dish?
'Food is more than a physical substance. It has an intangible quality that nourishes our spirits. A good dish, lovingly prepared, at some point in the process of tasting and blending, becomes more than the sum of its ingredients.' – Gloria Pitzer, Eating Out at Home Cookbook (Nat'l Home News, St. Clair, MI; Sep. 1978, p. 1)
While searching for "American's top favorite foods" on Bing, I found a rather large consensus of choices for hamburgers, fries, soda pop, cookies (particularly chocolate chip) and pizza among most of the top 10 choices. As Reference.com says, "From entrees and desserts to soft drinks, Americans have a definite love of foods heavy in fat and sugars."
I LOVE bacon! It's something of which I will NEVER tire, and I can enjoy a lot of it in my new low-carb lifestyle. But, I don't know if that's my number-one-favorite food of all. If I was to categorize my foods and choose my favorite carb-based food – even though I don't eat them anymore – the one I miss the most is probably potatoes. But, that's in a very close running with flour-based foods, like pasta.
To put a new twist on the old adage "we are what we eat", I found another great, timeless article at HuffPost.com called "What Your Favorite Food Says About You" by Nile Cappello (10/31/2013). It precisely described me, given my personal, top three choices (above) for bacon, potatoes and pasta (represented by "macaroni and cheese" in the article), which were among the many other choices listed. I don't know how accurate it is for other people, but it's a fun read, nonetheless!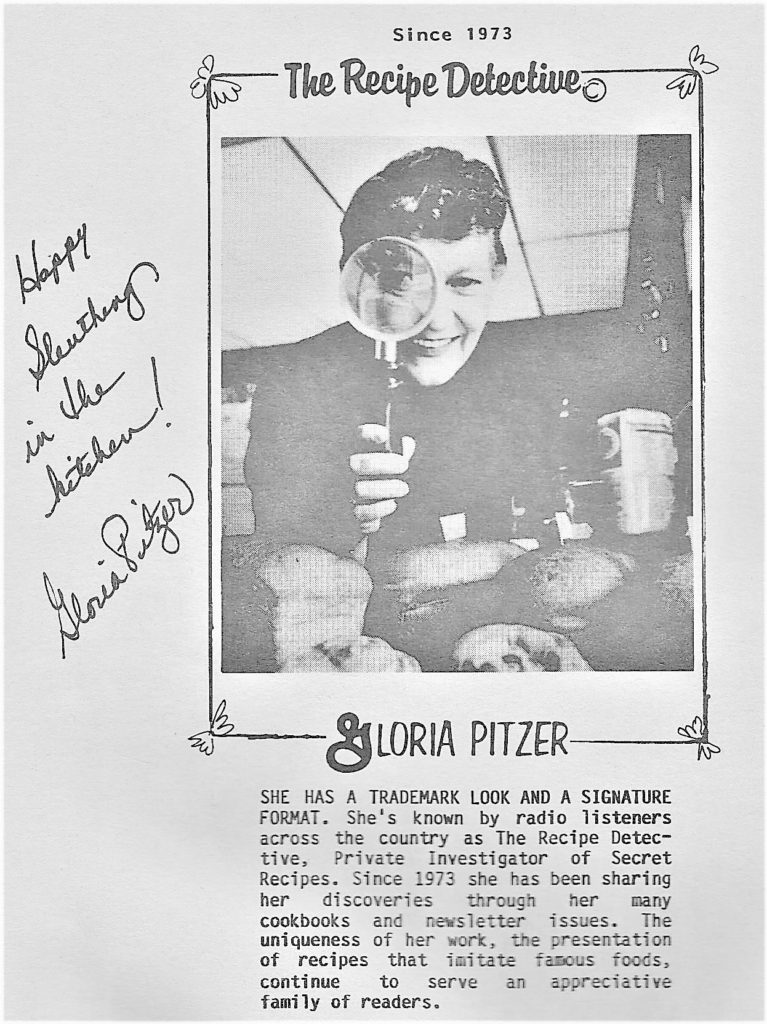 There's always a favorite something when you start to categorize and sub-categorize food options. We've been learning about the five basic food groups of health and nutrition since we were toddlers, watching Sesame Street; and the various blends of them combined in dishes and meals made to please our palettes and comfort our hunger pangs. There's a great article and slide show called "America's Best Comfort Foods", by Emma Sloley (Nov. 28, 2016), at TravelAndLeisure.com. But, I must warn you that it's practically impossible to read it without getting hungry! Speaking of great articles, here are some "FOOD FOR THOUGHT" articles that Mom wrote, in some of her cookbooks, on the subject of "loving food"…
FROM MOM'S MEMORIES…
As seen in…
The Secrets of Homemade Groceries (Secret Recipes, St. Clair, MI; Aug. 1980; p. 1)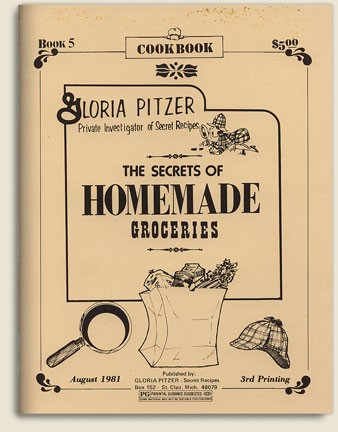 Many people feel that life is up hill all the way. They fail to look at the things that are good, enjoyable and worthwhile. They are conscious, only, of the climb. No road is ever uphill forever! We should, soon, learn the importance of being able to, also, come down hill without fear AND be able to notice the scenery along the road, too.
Going through life, without noticing the scenery and trying to see some of the beauty that is there – waiting to be recognized – reminds me of running helter-skelter up and down supermarket aisles, without seeing the ABUNDANCE that is there.
Just take a moment to look at the heart-breaking plight of starving people in many parts of the world; and take a good look at the aisles and aisles of food available in this country! We have so much available to us, here…
MORE FROM MOM'S MEMORIES…
As seen in…
The Secret Restaurant Recipes Book (National Homemakers Newsletter, Pearl Beach, MI; January 1977, pp. 1 & 6)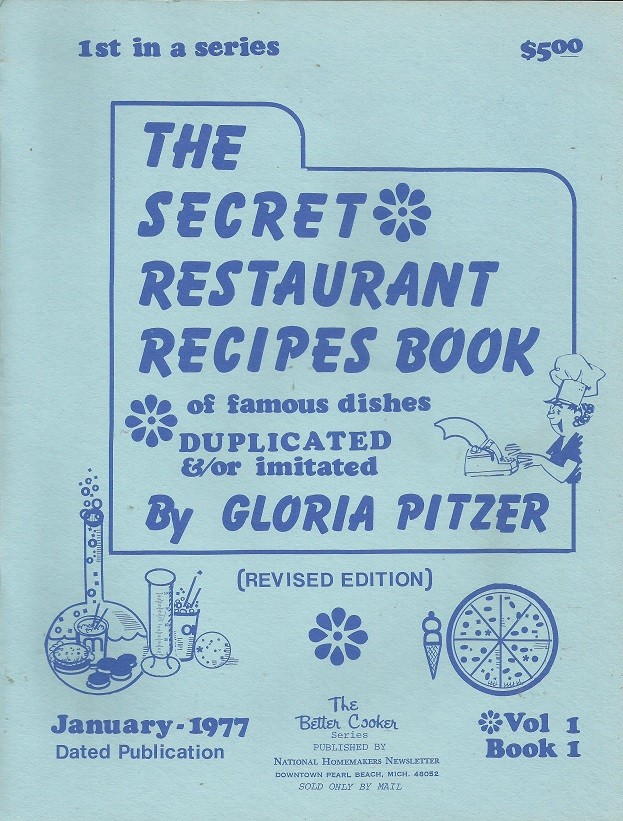 COOKING IS BOTH, ART & SCIENCE
Cooking is not only an art, but also a science; and, when you're trying to imitate the recipe secrets of famous restaurant and fast food chain dishes, you must work like a chemist – not a cook! You don't have to have a background in food chemistry to identify various ingredients. The only thing I have in common with a chemist is curiosity…
Some of the famous dishes of the food industry, today [1976-1977], are vastly oversold to a very gullible public. We've become a television oriented society and, because the commercials are, sometimes, so much better than the programs they sponsor…
While the products don't really come out of test tubes and laboratory beakers, they do come from combinations of ingredients that produce desired results. What you have to strive for, in imitating any recipe, is the right combination. Trial and error is the only way to arrive at a satisfactory result!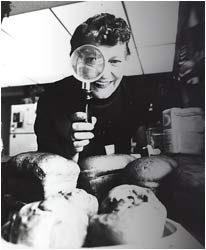 FAMOUS DISHES AREN'T REALLY ALL THAT DIFFICULT TO DUPLICATE
The first thing you have to do is stop thinking of yourself as a COOK and start thinking as a CHEMIST! You want to take a substance and try to discover its individual components – whereas, most cooks make the mistake of starting with one ingredient and building around it.
Your task is to take the final result and break it down… working backwards from the creations of the skilled cook, who usually stirs up a piece of culinary artistry with just a 'pinch' of this and a 'dollop' of that and a 'dash' of something else.
Start with questioning yourself about the food you wish to duplicate… What color is it? What's the texture like? How is it flavored? And, how is it prepared? [Also,] you must have something to which you can compare it – a basic recipe from which you can draw the ingredients that lay the groundwork for a duplicated masterpiece.
[At that point,] the only way to duplicate a dish is, really, to taste and test – over and over, until you eventually achieve what you feel are satisfactory results.
MORE FROM MOM'S MEMORIES, CONTINUED…
As seen in…
Eating Out at Home Cookbook (Nat'l Home News, St. Clair, MI; Sep. 1978, p. 1)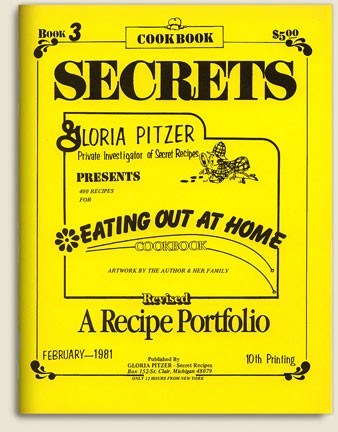 A PHILOSOPHY
A whole approach to life, can be expressed in a bowl of soup. For 'cooking', as everyone is so fond of saying, 'is an art.'
It's an art we all can learn. As with the other arts, practicing it competently requires care, patience and the skill that comes with experience. But, above all else, to be a good cook, you must WANT to.
At one time or another, most of us have had the experience of cooking when we really didn't feel like doing it, Then, even our tried-and-true recipes are apt to be disappointing [and] lifeless. Something just isn't there.
What's missing is the spirit of the cook. For food is more than a physical substance. It has an intangible quality that nourishes our spirits. A good dish, lovingly prepared, at some point in the process of tasting and blending, becomes more than the sum of its ingredients. Its flavor [and] its uniqueness are created by the cook.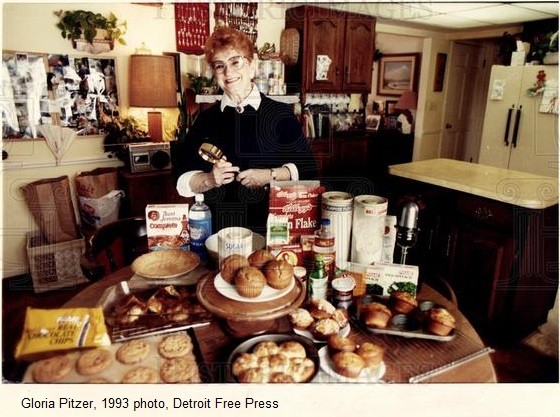 YOU WILL FIND PLEASURE AND EXCITEMENT IN COOKING, IF YOU PUT THEM INTO IT.
There's no limit to the satisfaction you can gain. Taste as you go. Experiment with a little with seasonings. Try new foods and new combinations [of food]. The results will have 'you' in them. You will face the job with a feeling of freedom, with a feeling of creativeness; and, both, you and your family will be constantly increasing the enjoyment of living.
When you cook this way, with warmth and active pleasure, your meals will be more than just food. Your zest and your spirit will be in them – and some of the radiance of Life, itself.
Mom always made my experiences with food and learning to cook so exciting and self-satisfying! I rarely ever cook the same dish the same way, twice. I love to experiment with different seasoning combinations; and have yet to hear a complaint from my family that something hasn't tasted good. I'm so proud to have learned from the best! I love you, Mom!
IN CLOSING…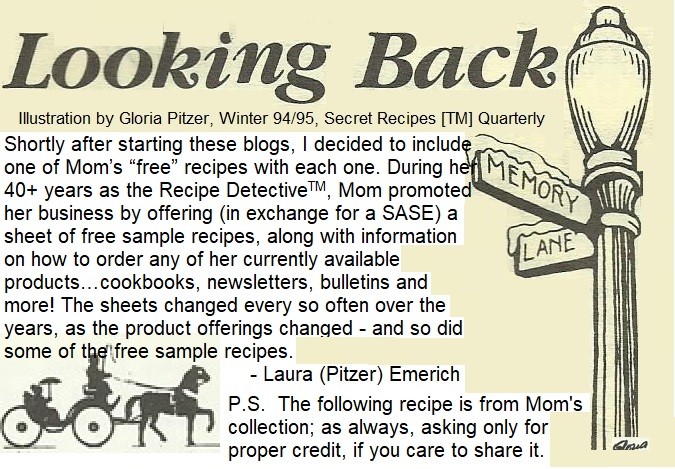 #ILoveFoodDay
In honor of "top food favorites" and National "I Love Food" Day, here is a photo copy of one of Mom's copycat recipes. This is her version of a Mrs. Field's product, which she called "Mrs. Meadow's Chocolate Chip Cookies", as well as a couple of different options, and gave away for free on her product-ordering information sheets.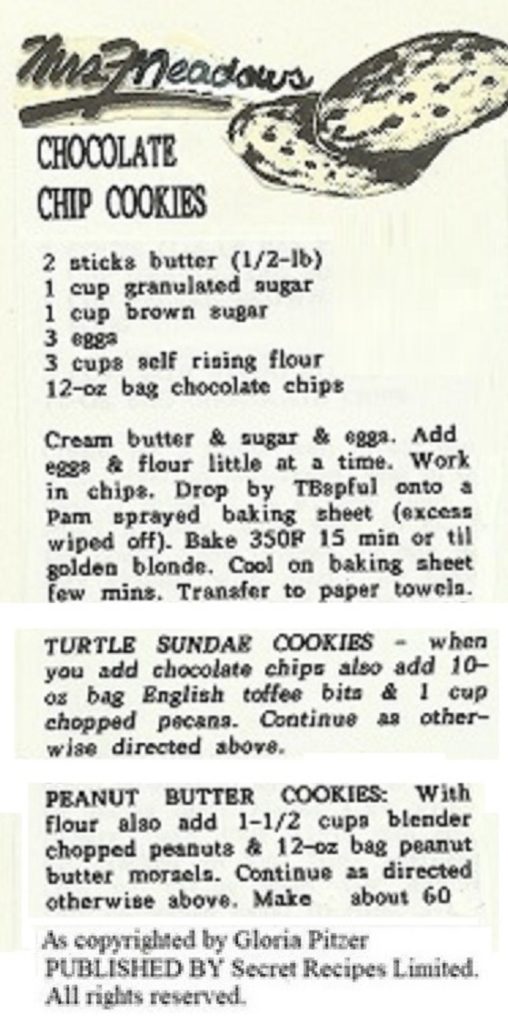 To order Mom's last cookbook, Gloria Pitzer's Cookbook – The Best of the Recipe Detective, it is available for $20.99 each through the publisher, Balboa Press, at https://www.balboapress.com/Bookstore/BookDetail.aspx?BookId=SKU-001062252; eBooks are also available for $3.99 each at https://www.balboapress.com/Bookstore/BookDetail.aspx?BookId=SKU-001062253.