Hi, everyone, and happy Monday! Welcome to my blog, Mondays & Memories of My Mom!
If you're new to here – my name is Laura Emerich and I started this blog last year to celebrate my mom's life and legacy. My mom is Gloria Pitzer; known to millions of people around the world as the ORIGINAL "Recipe Detective"TM, private investigator of the secrets of the food industry! Mom passed away 14 months ago, leaving behind an extensive legacy; from her love of life, family and faith to her creative writing, cartooning and "Secret Recipes"TM professions. She was often heard on radio talk shows all around North America and even overseas. She also did a few TV appearances, including the Phil Donahue Show – twice!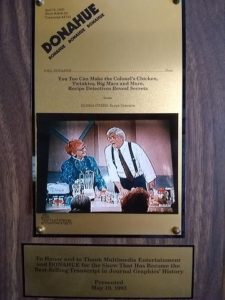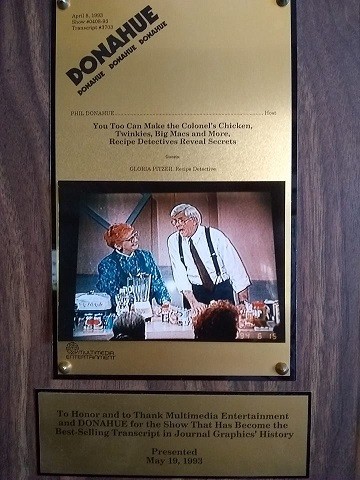 Mom wrote, illustrated and self-published about 40 books (+/-) and penned hundreds of her own newsletter issues; as well, she wrote and syndicated thousands of columns across the country and for local newspapers during her 60-year-plus writing career. However, my mom is best known as the pioneer who started the "fast food" and "junk food" copycat recipes movement back in the early 1970s! When times were tough and we were on the edge of another recession, Mom created the concept of "eating out at home"! It was not only for her own struggling family, but also, for all the others from whom she saw and heard, as they were struggling and looking for answers too!
One of my personal favorites of Mom's cookbooks is called, The Secrets of Homemade Groceries (Secret Recipes, St. Clair, MI; Sep. 1979). This book is no longer in print, but I've seen used copies on eBay and Amazon. When I was a young and struggling mother of three, money was tight, and the pantry was often close to bare! This book taught me how to make some grocery products from scratch, at home; and how to stretch/extend other products, saving me quite a bit of money on my monthly groceries expense! Now, there's a renewed movement to make a lot of things at home, where you can control the ingredients – and save money too! That is, basically, what initially inspired Mom to write this particular cookbook (aka: "Book 5") in 1979.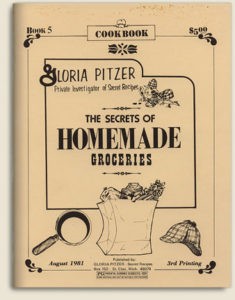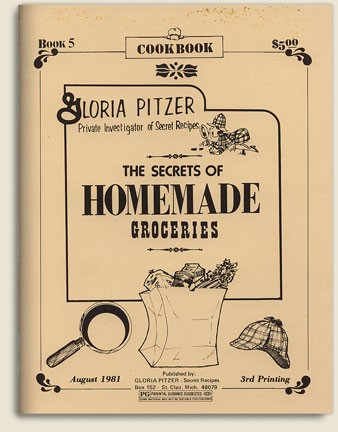 It's currently maple sugaring time in Michigan. A great article about it, March is Maple Syrup Season in Michigan, can be found at Michigan State University Extension's website (a part of MSU.edu). I just learned, this weekend, on my local morning news program, how to collect a few gallons of the sweet maple tree sap and then cook it down for a day or so in a slow cooker, yielding about a half cup of homemade syrup when done! Two gallons of sap doesn't render a lot of syrup, but it's fun to try. Check out the story and video at Fox2Detroit.com.
Vegetable gardening time is also approaching quickly and many growers are starting their seeds indoors, right now, to transplant in the garden in about 6-8 weeks. I remember when I was young, helping Mom do the seasonal harvesting of our little garden and orchard for tomatoes, apples, pears, strawberries, raspberries and rhubarb for sauces and pies and such. Besides the nutritional aspect of growing your own food, it's also healthy in that you burn a lot of calories tending a garden – planting, weeding, mulching, composting, watering and harvesting – there are so many aspects involved! I'm really looking forward to getting back into my garden this spring.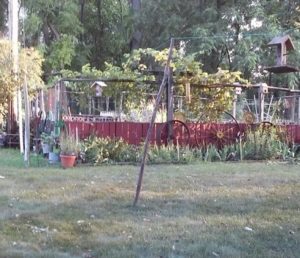 We've all heard the old adage about what to do when life gives you lemons; but don't stop at making lemonade! There are so many groceries (maybe as much as 75%) you can make at home with what life gives you – if you plant the seeds! Homesteading has found a new revival movement, as health and wellness are coming back towards the top of the fundamental "priorities list". More and more people are regaining interest in making their own food and OTC health and beauty products. Many even going into business, selling their homemade products to those who don't have the time or talents for it.
As I said, homemade is one way you can control the ingredients, if you're concerned with all the additives that are put into today's convenient, shelf-stable groceries; plus, you can also save money – as long as you don't add the value of your time into the equation!
WAY BACK WHEN, about the only things purchased for the homestead kitchen at the "General Store" were the items we, now, refer to as "staples" – the pantry dry goods most people didn't make, themselves, such as flour, sugar, baking soda, salt, cornstarch, etc.
Even later, still pre-supermarket era, if we didn't "kill it & grill it" ourselves, fish was purchased at the fish market and other meats were bought at the butcher shop. If we couldn't have our own vegetable/fruit patch, we went to the farmer's market for garden-fresh produce. Also, since we can't all be bakers, fresh baked goods were often purchased at the local bakery. And, if you didn't have your own cow or goat to milk or a hen from which to gather your own eggs, fresh dairy products were delivered right to your home!
The most valuable of all education is the ability to make yourself do the thing you have to do when it has to be done, whether you like it or not. – Aldous Huxley
What happened? We've become such a too-busy-with-other-things, convenience-laden society! Just walking down the aisles of my local grocery store and looking at all of the products on the shelves, I would say over 75% of them are convenience foods and mixes – boxed, canned and packaged for our expedient ease that can simply be made at home, from scratch and for less of a cost. Also, take into account that these shelf-stable products are filled with unnatural and unpronounceable preservatives and synthetic additives, in order to last for years on our grocers' shelves and in our pantries.
These are the items we used to make from scratch – usually, because money was scarce and needed to be spent on more important things that weren't easily homemade. But, then, we came into times where both parents in a family unit had to work to make ends meet. Many families still struggle to survive this way. There isn't enough time to make things from scratch anymore; so, we opened the door for convenient, processed foods in order to save us some time (instead of money), as time suddenly became a more valuable commodity.
Any change, even change for the better, is always accompanied by drawbacks and discomforts. – Arnold Bennett, English Novelist (b.1867, d.1931)
The "overhead costs" and "expected profits" that are added to "convenience" food products are what kill us at the grocery store check-outs! The lack of real nutrition that's missing from these manufactured goods are not benefitting our health any either, as they're loaded with unnatural shelf-life stabilizers, none of which are found in homemade groceries, where YOU control the ingredients!
Most of Mom's cookbooks focused on imitating fast food, junk food and restaurant dishes at home – except for "Book 5", which deals exclusively with homemade grocery products and "extenders". This exceptional cookbook includes some principles of canning and freezing foods, as well as making your own mixes, sauces and seasonings at a great financial savings compared to buying them at the store! Although, sometimes, we just can't financially or physically afford convenience. The concept of homemade was hugely popular once and is, now, making another comeback. In fact, I found an unfinished sequel to Mom's "Book 5" among some of the things I got from her estate. I wish she would have finished it and published it. The following is a bit of Mom's Food-for-Thought from "Book 5":
Many people feel that life is uphill all the way. They fail to look at the things that are good, enjoyable and worthwhile. They are conscience only of the climb. No road is ever uphill forever! We should soon learn the importance of being able to also come downhill without fear and be able to notice the scenery along the road, too. 
Going through life without noticing the scenery and trying to see some of the beauty that is there – waiting to be recognized – reminds me of running helter-skelter up and down the supermarket aisles without seeing the ABUNDANCE that is there. Just take a moment to look at the heart-breaking plight of starving people in many parts of the world and, then, take a good look at the aisles and aisles of food available in this country!
We have so much available to us here…many people fill their backyards each spring with flowers and shrubs, when they could easily plant food-seeds instead, thus cutting something off that weekly grocery bill! – Gloria Pitzer, The Secrets of Homemade Groceries (Secret Recipes, St. Clair, MI; Sep. 1979)
In closing, I hope you've enjoyed my blog this week and will return, here, next Monday to read, "Spring into Cleaning", when I share more special memories of Mom and the calorie-burning benefits of cleaning, as it will be the beginning of Spring AND National Cleaning Week!
In keeping with homemade groceries AND make-alike "junk food", the following recipe is Mom's 1983 copycat version of Oreo-Style cookies, which she called "Gloreos", cookies – if you're watching your calories, many of the ingredients can be substituted with sugar-free versions – and can be found on this website in the "Recipes" tab. It was not one of her "free-information-sheet" recipes; but, it can be found in many of her various cookbooks. Additionally, it is on page 219 of her last cookbook, Gloria Pitzer's Cookbook – The Best of the Recipe Detective ( Balboa Press; January 2018) – a re-write by me, Laura Emerich, of her famous, self-published book, Gloria Pitzer's Better Cookery Cookbook (Secret Recipes, St. Clair, MI; May 1983, 3rd Printing), asking only for proper credit if you care to share it.
Oreo is a brand of cookie usually consisting of two chocolate wafers with a sweet crème filling, marketed as "Chocolate Sandwich Cookie". Introduced in 1912, Oreo is the bestselling cookie in the United States. As of 2018, the version sold in the U.S. is made by the Nabisco division of Mondelez International.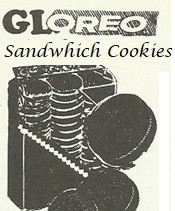 GLOREO SANDWICH COOKIES
When the Washington (DC) Post once interviewed the Nabisco people to ask how they felt about a Michigan housewife, claiming she could imitate their famous chocolate sandwich cookie at home, they were very insistent that it was impossible! Well, I felt if Hydroxy could come close, so could I – and I gave the big food company a taste of their own product! To my readers overseas, while I was publishing my monthly Secret Recipe Report, it was a blessing – or so they said!
The cookie dough:
18-ounce package devil's food cake mix
2 eggs, plus 2 tablespoons water
2 tablespoons cooking oil
½ cup bitter cocoa powder
Blend all ingredients together until you can shape the dough into a smooth ball. Let it stand 20 minutes, loosely covered. Form dough into marble-sized balls and place 2 inches apart on greased cookie sheets. Flatten each with smooth bottom of drinking glass, greased once and dipped into Nestlé's Quick powder. (Or use any sweetened, chocolate drink powder.) Bake at 400°F for 8 minutes. Remove cookies at once from baking sheet to paper towels – quickly, flatten each cookie with the back of pancake turner. Makes 96 cookies. Cool for 20 minutes. Prepare the following mixture as directed:
The cookie filling:
1 envelope unflavored gelatin
¼ cup cold water
1 cup Crisco
1 teaspoon vanilla
1 pound, plus 1 cup powdered sugar
Soften gelatin in cold water. Place in a heat-proof cup, in pan of hot water, until gelatin is transparent. Meanwhile, beat Crisco until fluffy, adding vanilla and sugar a little at a time. Beat in gelatin mixture when it is completely cooled, but not "set" or firm. This is used to give the filling stability – as well as protein! When cooled, shape filling into 1-inch balls. Place each between 2 bottom-sides of cooled cookies, pressing gently until filling has spread to the edge of the cookies and rounded-out like the originals. Makes 4 dozen sandwich cookies.
If you have a comment or question, please email me at therecipedetect[email protected] – I will get back to you as quickly as possible!