Happy Monday, everybody! Welcome to my blog!
I'm Laura Emerich and this blog home is dedicated to my mom, Gloria Pitzer, the famously renowned "Recipe Detective"TM. I started writing these blogs to honor my mom's memory and the legacy she left, not just for me, but also for the world – from her life-long writing affair to her secret recipes profession to her other personal loves of life, family and faith.
As I've often mentioned in my blogs, Mom was a trailblazer and pioneer of the "fast food copycat" movement. She was reportedly included in the 1976 Guinness Book of World Records for being the first to recreate "fast foods" at home. They were particularly interested in her make-alike versions of "The Colonel's" secret spices, McDonald's-style "special sauce" and Arthur Treacher's-style fish batter; all of which were among Mom's first deduced, "fast food", secret recipe imitations, starting back in the early 1970s. You'll find copies of those recipes in some of my other blogs on this website, as well as under the "Recipes" tab.
This week's blog subject is inspired by all the nutritional and get-fit type of celebrations going on right now. In fact, there's so much to write about on this topic that I find myself writing a lot more than the normal blog length should contain. Therefore, this subject will be continued on next week's blog, "A 2nd Helping of Not Losing It!"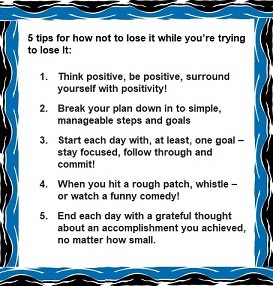 According to the National Day Calendar website , some of the things being celebrated today, this week and this month include many food/nutrition and fitness related things – such as today, March 4th, is National Pound Cake Day among other things.
The NDC website offers visitors the full, "traditional" recipe and this little fact: "the traditional recipe for pound cake makes a cake much larger than most families can consume, as it calls for a pound each of flour, butter, eggs and sugar. Hence the name Pound Cake." Okay – so, pound cake is not exactly nutritional; but, it is food related, therefore, I couldn't help mentioning it. Plus, after all, it is "Fat Tuesday Eve"! Thus, if you want to get the temptation out of your system now…Enjoy! For tomorrow is another day – but, obviously, so is the next one! Just remember the old adage, "everything in moderation!"
The first full week of March is recognized as, among other events, national "Read an eBook Week"  – in case you didn't know, Mom's last cookbook, Gloria Pitzer's Cookbook – The Best of the Recipe Detective (Balboa Press, January 2018), which has over 300 pages full of great reads as well as over 500 index listings of "secret" fast food and grocery imitations, is also available as an eBook for only $3.99 at: https://www.balboapress.com/Bookstore/BookDetail.aspx?BookId=SKU-001062253.
In addition, the country is also observing National Procrastination Week, which is actually observed for the first two weeks in March –  According to the website link, "the goal for [National Procrastination Week] is to celebrate the act of procrastinating by leaving necessary tasks to be done at a later time… However, the holiday does not advocate sloth, laziness or inaction. Instead, it emphasizes accomplishing tasks, and leisurely activities that could not be completed while one had other responsibilities. These may include reading, cooking, cleaning, and exercising."
In other words, if you've put off reading a good book because you're so busy with responsibilities; then, you can "have your cake and eat it too" by procrastinating on a responsibility this week and reading an eBook instead! This can also have a hidden advantage as a stress reliever!
Another double-benefited activity includes: if you've put off initiating a "get fit/exercise" type of plan, now is a great time to procrastinate on the "excuse" or "conflicting responsibilities" and just do it. Correspondingly, share it on social media with the hashtag: #NationalNutritionMonth, because it's also National Nutrition Month , among other things!
According to the NDC website, emphasis of this month long, March event focuses on… "the significance of physical fitness as well as eating nourishing meals. Taking charge of your health contributes to overall well-being; as well as losing weight…which reduces risks of chronic illness such as heart disease and diabetes… This year's theme is 'Bite into a Healthy Lifestyle', focusing on exercising regularly and making the best food choices…"
As mentioned above, the website also recommends that everyone who observes and participates in this event: "use #NationalNutritionMonth to post on social media. Spread the word about how you are boosting your nutrition this month! Eat healthy and get exercising… You'll be glad you did!" Even if you've already started a diet and/or exercise routine but failed to follow it through – remember the old adage, "if, at first, you don't succeed, try and try again!" Now, this sounds like a worthwhile challenge to have go viral on social media, as opposed to some of the dangerous challenges that go around on there!
"Success is not in never failing, but in never fearing to begin again." – Gloria Pitzer, This is not a Cook Book! It's Gloria Pitzer's Food for Thought (Secret Recipes, St. Clair, MI; Oct. 1986, p. 14)
The most common New Year's resolutions are, more often than not, to lose weight and exercise more (or get healthy/fit). These decrees also happen to tie in with the National Nutrition Month observance. We're 9 weeks in to the new year now! How many resolutions do you think are already broken? If you've already given up on your own, it might feel comforting to know that it's extremely rare to keep a New Year's resolution all year, let alone all Winter. In fact, according to The U.S. News (Dec. 29, 2015) , around 80% of resolutions fail by mid-February. So, if you're still sticking to your New Year's resolution as of today, then you're further ahead of the game than most of us; therefore, rejoice!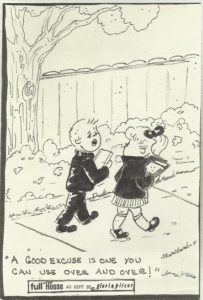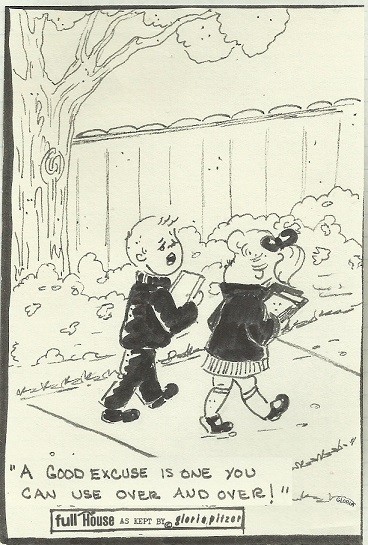 One of Mom's cartoon panels from her syndicated series, "Full House as Kept by Gloria Pitzer"
Stress and anxiety often accompany lifestyle changes like starting a new diet or exercise regimen, which is why it's so important to be in the right frame of mind, so you don't lose it – whether "it" is your focus or your inspiration or your emotional stability – while you're trying to lose it (which could refer to weight or some other health issue)! Nowadays, in order to calm and focus myself, I just try to remember the silly term "goosfraba" from the hilarious movie, Anger Management (starring Jack Nicholson & Adam Sandler).
"Having a goal gives us hope and it's hope that keeps us going, enabling us each to meet whatever the world dishes out." – Gloria Pitzer [This is not a Cook Book! It's Gloria Pitzer's Food for Thought (Secret Recipes, St. Clair, MI; Oct. 1986, p.24)]
Furthermore, breaking my plan down into a manageable series of short, daily steps/goals seems like it will help make it simpler for me to remain better focused and more continuously motivated as I reach each step/goal and persevere in moving forward to the next one – one day at a time, one step at a time. Thus, relieving my stress to reach the final finish line, by stopping to smell each rose along the way and rejoice in it. At least, I think, the plan looks good on paper.
I also find comedy to be a huge stress reliever. I remember a funny example of one of Mom's positive thinking "one-liners" – in the face of tension or stress she'd say, "…be a tea kettle! I could be up to my neck in hot water and still be able to whistle!" For some reason, it makes me picture her as Mrs. Potts in Disney's movie, Beauty & the Beast, whistling the theme song to The Andy Griffith Show! I will draw on that comedic visual as often as I need a giggle and smiling thought.
"Start Now! Good thoughts and good feelings reinforce each other…When you hold on to one good thought, the better you'll do things that make you feel good about yourself…Nothing will work for you unless you work for it." – Gloria Pitzer [This is not a Cook Book! It's Gloria Pitzer's Food for Thought (Secret Recipes, St. Clair, MI; Oct. 1986, p.32)]
Mom and I, both, struggled most of our lives with yo-yo weight, going up and down. Diet after failed diet left us wondering why they seemed to work for other people, but not for us! Unfortunately, our mindsets (like many others') were to only diet until we got to our desired goals. Thus, once there (if we ever reached "there"), we'd slowly forget about the discipline and start allowing ourselves to slack a little. Before we knew it, we'd just sink back into our old habits; immediately regaining what we had lost, and sometimes more, as we further sabotaged ourselves for the failure.
Nevertheless, we found one diet that actually did help us – Dr. Atkins' Diet Revolution by Robert C. Atkins, M.D. (1972). We both found, from Dr. Atkins' description in his book, that we have a carbohydrate intolerance. Dr. Atkins' Diet Revolution is not a quick "weigh-fix" solution. It's actually a low-carb lifestyle commitment. Thus, it only works if you work it! And, truth be told, neither of us made the lifetime commitment to it.
 "Nothing worthwhile comes easily. Half effort does not produce half results. It produces no results! Work, continuous work and hard work, is the only way to accomplish results that last." – Hamilton Holt
Therefore, as I did when I quit smoking cigarettes on May 1, 2006 (based on Carr's book), I need to get my mind into a certain frame of thought – a commitment – one geared towards a new lifestyle of healthy living! Once I get that frame of mind set, then, I need to pick my change-of-life-style "start date" and just stick to it! Yes, it is easier said than done; but still doable! Consequently, I think, if I could use the mind-over-matter process to quit smoking and stay such for almost 13 years, so far; then, I should also be able to apply it to changing my lifestyle to a healthier one that includes regular exercise and better nutritional choices.
"Live up to the best you can see yourself to be, never compromising with excuses and examining every reason for not doing what you are capable of doing…If, every day, we find a way to contribute our best efforts in thought, in action and with no regrets, we'll never have to fear the future." – Gloria Pitzer, This is not a Cook Book! It's Gloria Pitzer's Food for Thought (Secret Recipes, St. Clair, MI; Oct. 1986, p. 14)
Positivity is believing that every day is a good day – some are just better than others. Mom wrote: "Keeping good thoughts is a healthy exercise all the way around; but, like any form of exercise, you do have to work at it. And, like any other exercise, the more you work at it, the better it works for you." – Gloria Pitzer [This is not a Cook Book! It's Gloria Pitzer's Food for Thought (Secret Recipes, St. Clair, MI; Oct. 1986, p. 32)] Mom also journaled, as opposed to saying, "have a good day", she suggested saying, "keep good thoughts", instead; deducing, "How can you not have a good day, if you're keeping good thoughts?"
I've tried the "fake it 'til you make it" approach many times – it just doesn't work for me in the long run. I've discovered within myself that I'm not going to change anything – not for very long anyway – if I don't truly want to change it in the first place (as it needs to be from myself and for myself.) It takes the power of positive thinking, among other things, to succeed. But, according to my Mom, it's not a "will" power that leads to that diet/fitness success, it's a "won't" power. I'll write more about that next week. I hope you come back and check it out!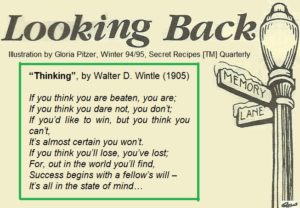 In closing, as I do each week, I'd like to leave you with one of the recipes that Mom gave out for free on her product-ordering information sheets. Mom often used the following low-carb, Olive Garden-Style, house dressing imitation when watching her carb intake. This updated version is from her "Free Recipes/Information" sheet (2000):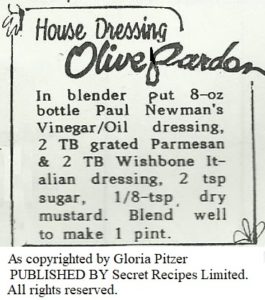 Note: This particular copycat recipe is not included in Mom's last book, Gloria Pitzer's Cookbook – The Best of the Recipe Detective (Balboa Press, January 2018); however, there is a whole selection of other wonderful copycat recipes in the "Salads and Salad Dressings" chapter of the book. Remember, this book is also available in eBook format AND it is national "Read an eBook Week"! Enjoy!
Totally unrelated, is this fun little fact about this date in history: