"Entertainment," according to YouTube, "is a form of activity that holds the attention and interest of an audience or gives pleasure and delight." – https://www.youtube.com/channel/UCi-g4cjqGV7jvU8aeSuj0jQ/about?disable_polymer=1
Hello to all! I'm Laura Emerich and my mom is Gloria Pitzer, the ORIGINAL Secret Recipe Detective. I started this blog in September (2018) to honor her legacy and to channel my cherished memories of her, and how she's influenced my life; as well as, to hear of others' memories of her, and how she may have influenced them and their lives. My subject this week is "entertaining", which can have so many derivatives from which to choose.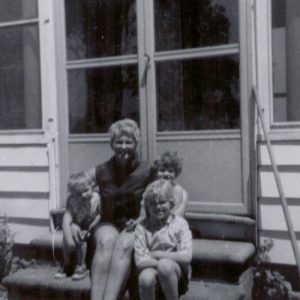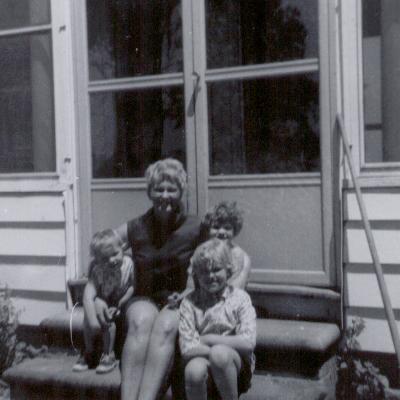 Growing up, as one of "The Recipe Detective's" children, I learned a lot from my mom about entertaining, especially during the Fall and Winter holiday seasons – when, like a magician pulling a rabbit out of her hat, Mom could whip up hors d'oeuvres, practically out of thin air, on a moment's notice for unexpected guests that popped in to say hello and visit a bit. She had a whole "Rolodex" of entertaining ideas in her head from which to draw.
Imagine how great it was when there was a planned, entertainment event such as a Halloween or birthday party or a Thanksgiving dinner with a dozen relatives and guests… Lists were made and checked and revised and checked again! It was a circus of juggling and magic acts all rolled into one! All 5 of us kids had to pitch-in and help on big events, especially us girls…sexist or not, that's just the way it was back then. We three girls helped Mom inside the house, while the 2 boys helped Dad outside the house.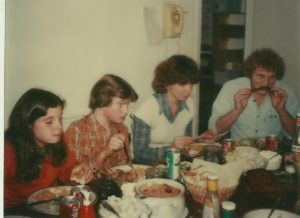 When it came to food, whether it was an hors d'oeuvre or a main dish, Mom never made "just enough"; because she never knew when, either, unexpected guests were joining us, or the dish was such a hit that we'd all want second and third helpings. If she over-planned and there were left-overs, she was the sorceress of re-inventing left-overs into a whole new meal. At least, that's how I remember it! I tried to do the same as a mom & wife, myself, because it made me feel good to make others feel good… through food and friendship and entertaining.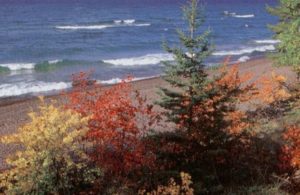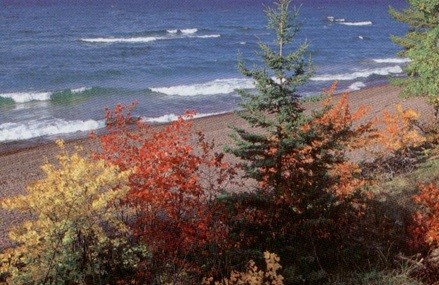 Fall is probably my favorite time of year. The beautiful color-change of the pure Michigan landscape is unbeaten in my book! The crisp cool nights and slightly-warm, sunny days are another reason, along with the entertaining celebrations of the Halloween and Thanksgiving holidays (and my birthday, too); not to mention – it's football season, which I happen to enjoy now! As a kid, I was with my mom, I did not like football at all – I didn't understand it and didn't care to learn about it. I was not a very competitive person – I wanted everyone to be winners! I more enjoyed being in the kitchen with my mom or playing outside with my friends, while Dad yelled intensively at the referees and players and coaches on the TV.
Hence, football was hardly one of my mom's joys in the Fall season. Here's a sample of a story regarding football season that she told in one of her old "Minding the Hearth" editorials, which was re-printed on page 301, in her last book, "Gloria Pitzer's Cookbook – The Best of the Recipe Detective" [published by Balboa Press (January 2018, 1st Printing) – a re-write, by Laura Emerich, of her famous, self-published book, "Gloria Pitzer's Better Cookery Cookbook" (May 1983, 3rd Printing)].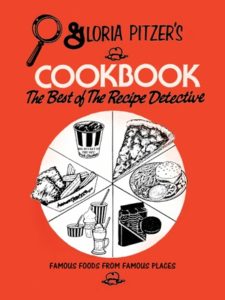 I am resigned to my life with an armchair quarterback, for I know that the garlic in our matrimonial gladiola patch is PRO FOOTBALL! From September to March, every year, there is always going to be a gigantic communication gap in our house. The art of conversation isn't really lost. It's merely hidden behind the pre-game warm-up, installing a power offense which will take advantage of decent, but not blinding, speed in the backfield in a right-handed attack with a lot of blocking in a size-out pass pattern. I guess the reason I'll never win an argument with my husband in the fall is that I can't understand one single word he says. I even tried to leave him once during an NFL game, but it wasn't until the Super Bowl was over (5 months later) that he even noticed I was gone.
   I admit, I don't know much about football, but I still insist it isn't quite fair that the fellow who worked so hard last season, doing a terrific job as quarterback, wasn't promoted to HALF-back this season! Anyway, the last time I tried to cultivate an interest in the game was the time my husband called me in to watch the last 2 minutes of an exciting game. (Mind you, I use the term "exciting" very loosely!) I guess it was exciting. Paul kept jumping up and down, hollering, "Look at them go!" All I learned from that experience, was that 2 minutes of football is equal to 20 minutes of Daylight Savings Time. An ordinary Sunday afternoon at our house would begin as he slipped into his George Blanda sweatshirt and punted his bottle of Ironized Yeast Tablets across the room, then he would step up to the TV set and announce, "Gloria, is there anything you'd like to say to me before football season begins?"
    Perhaps you understand why every fall I join Parents Without Partners. Because my husband would only notice me if I were to run through the living room with… a number on my back. I can forgive him a lot of faults, especially during football season, but… When he asked if I had anything to say to him before he turned on the set, it was no wonder I replied, "Do I have to say it all now?"
Mom never "learned to like it", herself; but, she learned to put up with my Dad's love of it. Eventually, as an adult, I learned about the game of football through one of my girlfriends, who enjoyed it immensely. The enjoyment she derived from it was entertaining and contagious in itself. I found myself wanting to learn more about it. Now, I look forward to the football season every year. My husband and I get together with friends, meeting at a different house each week to cheer on our team and yell at the Refs and just enjoy, together, our friendships along with some food and drinks – and other forms of entertainment when our team isn't doing well. I've learned a little about competition over the years, but that doesn't mean I enjoy it – winners and losers – I'd still rather have everyone win! But, I get the most enjoyment out of the entertainment of us all just getting together over a common interest.
Whenever it's my husband's and my turn to host a football party, or any party for that matter, I usually channel my mom to plan the meal and hors d'oeuvres – I have my own "Rolodex" of ideas inspired by her and her love to entertain. I, also like Mom, make more than enough…just in case. But, some of our friends look at the weekly hosting in terms of a competition (like the games we get together to watch), asking, "how can I compete with this when it's my turn to host a football party?" I always respond that "it's not a competition!" But, for them, it is – rather than just enjoying the pure entertainment of the unpretentious activity of getting together simply "for pleasure and delight." We each have our own ways and it's all good entertainment. I love what everybody else does! We all have good times at each other's homes – whether it's just friendly entertainment or a competition. It's like original art – no two are alike and, thus, none are enjoyed more than any another.
One of my favorite meals to prepare when entertaining in the Fall season is chili. I can make it from scratch and let it simmer all day in a slow cooker or I can whip it up from the left-overs of "taco night" or "spaghetti night" or "sloppy joe night" – you get the gist. I can also prepare it the day before an event, to re-heat the day of while I focus on other details. Chili is one of those few dishes that tastes even better the second day. I can "stretch it out" to feed more than expected by adding more meat or diced tomatoes or beans or sauce…also, by adding toppings like shredded cheddar or corn chips. Even by using smaller bowls or mugs and adding a side of inexpensive hot dogs, I can stretch it far!
As I've mentioned in previous blogs, before Mom hung up her hat and magnifying glass and fully retired, (in exchange for a self-addressed, stamped envelope) she was graciously giving away "free sheets" of 12-20 of her most popularly requested, recipes and information on what publications she had in print and how to get them. All her recipes are copyrighted; and one thing she always asked for, when she gave permission to copy, was to give her the proper credit for it. I've been sharing one of those recipes with you each week, here in my blog – some of these they also appear (sometimes in alternate versions of the same dish) in her last book, "Gloria Pitzer's Cookbook – The Best of the Recipe Detective" [published by Balboa Press (January 2018, 1st Printing) – a re-write by me, Laura Emerich, of her famous, self-published book, "Gloria Pitzer's Better Cookery Cookbook" (May 1983, 3rd Printing)], asking only for proper credit if you care to share it. The following is an alternate, 1983 version, as found on page 50 of her last book.
   CHILI IS JUST A KISSING COUSIN OF THE GREEK CONEY SAUCE and a second cousin, twice removed of the Italian pasta sauce. It's probably related, as well, to the Hungarian goulash sauce. With or without beans, chili has become very Americanized! Chili is more popular in Cincinnati than it is in San Diego. In fact, chili is to Cinci what beans are to Boston! It is served in many ways in the various "chili parlors" and is regarded as the only place in the United States where it is "properly" prepared and served. The fast food industry launched a new frontier devoted to expanding on the idea of Mexican cuisine with American-touches that makes it appeal to those who want a change from hamburgers.
  WHEN A VERY SUCCESSFUL HAMBURGER FRANCHISE decided to give the "Golden Arches" a little nudge in the marketplace, it won the public's approval by adding a velvety-textured, mildly-seasoned chili to its menu, which has not been duplicated by any other food chain. Today, it's the leading lady of Wendy's fast food menu. Here's my version.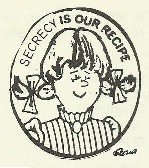 WEDNESDAY'S CHILI
1 ½ to 2 pounds ground round
2 tablespoons corn oil
½ teaspoon seasoned salt
10-ounce can Campbell's Onion Soup, undiluted
1 tablespoon chili powder
2 teaspoons cumin powder
½ teaspoon pepper
21-ounce can kidney beans, un-drained
6-ounce can tomato paste
8-ounce can tomato sauce
   Brown the beef in the oil and crumble it with the back of a fork until it resembles rice; then, sprinkle on the seasoned salt and turn the heat to low, covering the pan to let it simmer gently in its own juices. Put the onion soup through a blender on high-speed until it's smooth; then, add it to the beef mixture and mash it thoroughly again with the fork. Stir in the remaining ingredients and simmer gently for about 15 minutes or until the flavors are well-blended and the chili is piping hot! Makes about 6 servings. Left-overs keep well in a covered container in refrigerator for a week, or freeze up to 6 months, but it should be thawed/re-heated in the top of a double boiler over gently simmering water.
This is a copy of a later version from one of Mom's "free recipes sheets" (2000), again, asking only for proper credit if you care to share it: