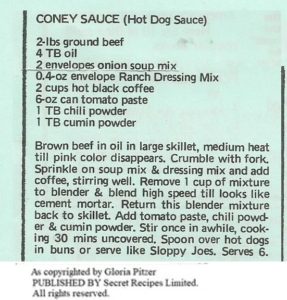 Coney-Style Hot Dog Sauce
By Gloria Pitzer, from her "Free Recipes & Ordering Information" sheets
Ingredients:
2 lbs. ground beef
4 TB oil
2 envelopes onion soup mix
0.4-oz. envelope ranch dressing mix
2 cups hot, black coffee
6-oz. can tomato paste
1 TB each: chili & cumin powders
Instructions:
Brown beef in oil, using a large skillet on medium heat and crumbling it with a fork, until pink color disappears. Sprinkle on soup mix and dressing mix, then, add the coffee and stir well. Remove 1 cup of mixture to blender and blend on high speed until it looks like cement mortar. Return blender mixture to skillet and add the rest of the ingredients. Continue cooking for 30 min., uncovered, stirring occasionally. Spoon over hot dogs or serve like sloppy joes. Serves 6.