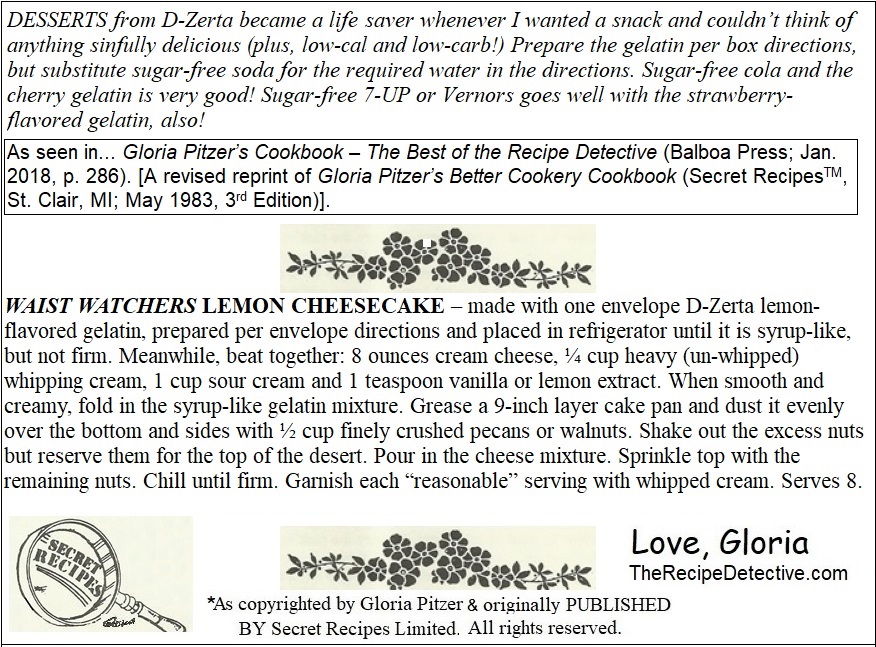 WAIST WATCHERS LEMON CEESECAKE
By Gloria Pitzer, as seen in… Gloria Pitzer's Cookbook – Best Of The Recipe Detective (Balboa Press; Jan. 2018) [A revised reprint of Gloria Pitzer's Better Cookery Cookbook (Secret RecipesTM, St. Clair, MI; May 1983, 3rd Edition).]
DESSERTS from D-Zerta became a life-saver whenever I wanted a snack and couldn't think of anything sinfully delicious (plus, low-cal and low-carb!) Prepare the gelatin per box directions, but substitute sugar-free soda for the required water in the directions. Sugar-free cola and cherry gelatin is very good! Sugar-free 7-UP or Vernors goes well with the strawberry-flavored gelatin, also!
INGREDIENTS:
1 envelope D-Zerta lemon-flavored gelatin
8 ounces cream cheese
¼ cup heavy (un-whipped) whipping cream
1 cup sour cream
1 teaspoon vanilla or lemon extract
½ cup finely crushed pecans or walnuts
INSTRUCTIONS:
Prepare gelatin per envelope directions [with sugar-free lemon-flavored soda rather than water] and placed in refrigerator until it is syrup-like, but not firm. Meanwhile, beat together the cream cheese, heavy (un-whipped) whipping cream, sour cream, and vanilla or lemon extract. When smooth and creamy, fold in the syrup-like gelatin mixture.
Grease a 9-inch layer cake pan and dust it evenly over the bottom and sides with pecans or walnuts. Shake out the excess nuts but reserve them for the top of the desert. Pour in the cheese mixture. Sprinkle top with the remaining nuts. Chill until firm. Garnish each "reasonable" serving with whipped cream. Serves 8.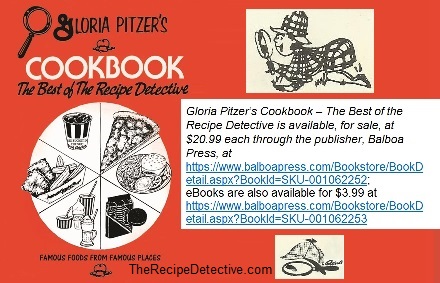 See also…
Mondays & Memories of My Mom – Decorate With Meaningful Colors