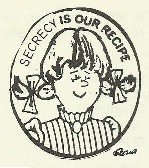 WEDNESDAY'S FROSTED DRINK
By Gloria Pitzer
[This recipe was originally printed in Gloria Pitzer's Better Cookery Cookbook(Secret RecipesTM, St. Clair, MI; May 1983, p. 329)]
Ingredients:
1 cup milk
½ cup Nestlé's quick chocolate drink powder
3 cups slightly soft vanilla ice cream
Instructions:
Put ingredients in blender, using on/off agitation and blending until smooth. Stop motor occasionally to scrape mixture away from blades and repeat blending until creamy. Makes one serving.
Mondays & Memories of My Mom – The Cookbooks I Collected were Collecting Dust!