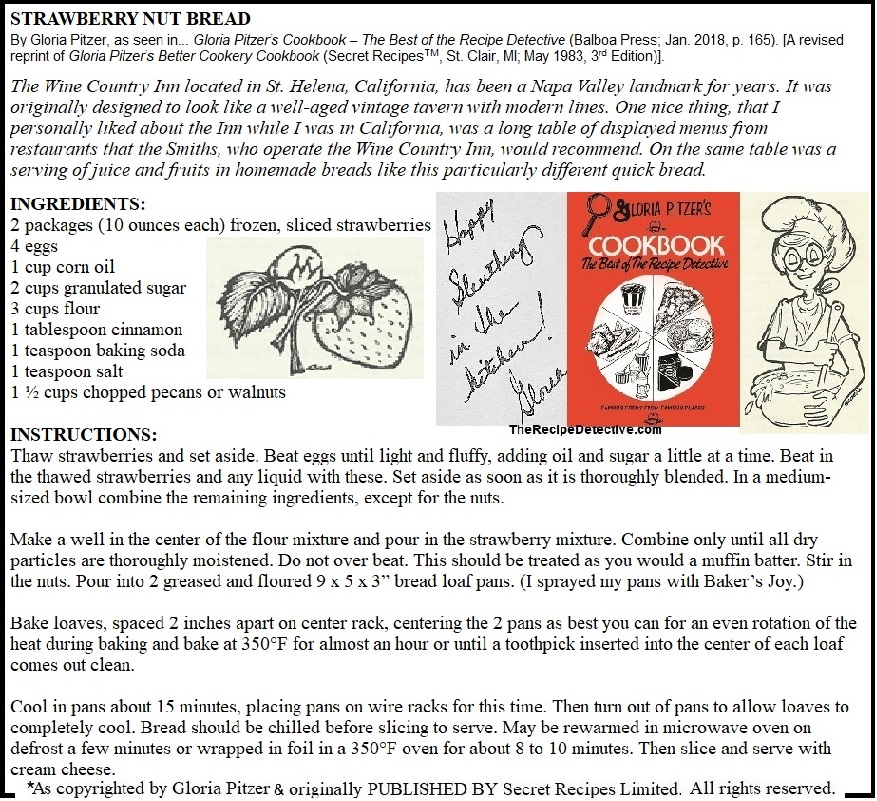 STRAWBERRY NUT BREAD
By Gloria Pitzer, as seen in… Gloria Pitzer's Cookbook – Best Of The Recipe Detective (Balboa Press; Jan. 2018, p. 165). [A revised reprint of Gloria Pitzer's Better Cookery Cookbook (Secret RecipesTM, St. Clair, MI; May 1983, 3rd Edition).]
The Wine Country Inn located in St. Helena, California, has been a Napa Valley landmark for years. It was originally designed to look like a well-aged vintage tavern with modern lines. One nice thing, that I personally liked about the Inn while I was in California, was a long table of displayed menus from restaurants that the Smiths, who operate the Wine Country Inn, would recommend. On the same table was a serving of juice and fruits in homemade breads like this particularly different quick bread.
INGREDIENTS:
2 packages (10 ounces each) frozen, sliced strawberries
4 eggs
1 cup corn oil
2 cups granulated sugar
3 cups flour
1 tablespoon cinnamon
1 teaspoon baking soda
1 teaspoon salt
1½ cups chopped pecans or walnuts
INSTRUCTIONS:
Thaw strawberries and set aside. Beat eggs until light and fluffy, adding oil and sugar a little at a time. Beat in the thawed strawberries and any liquid with these. Set aside as soon as it is thoroughly blended. In a medium-sized bowl combine the remaining ingredients, except for the nuts.
Make a well in the center of the flour mixture and pour in the strawberry mixture. Combine only until all dry particles are thoroughly moistened. Do not over beat. This should be treated as you would a muffin batter. Stir in the nuts. Pour into 2 greased and floured 9 x 5 x 3" bread loaf pans. (I sprayed my pans with Baker's Joy.)
Bake loaves, spaced 2 inches apart on center rack, centering the 2 pans as best you can for an even rotation of the heat during baking and bake at 350°F for almost an hour or until a toothpick inserted into the center of each loaf comes out clean. Cool in pans about 15 minutes, placing pans on wire racks for this time.
Then turn out of pans to allow loaves to completely cool. Bread should be chilled before slicing to serve. May be rewarmed in microwave oven on defrost a few minutes or wrapped in foil in a 350°F oven for about 8 to 10 minutes. Then slice and serve with cream cheese [or my "Strawberry Freezer Jam" (see "Recipes" tab)].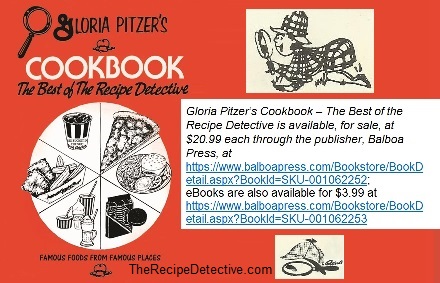 See also…