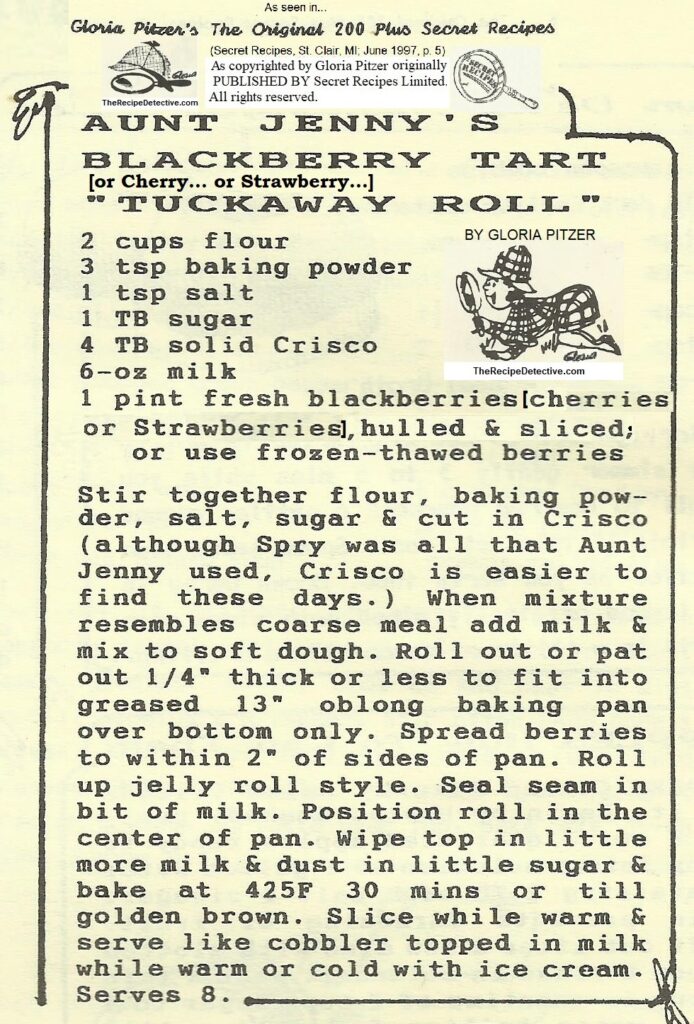 Aunt Jenny's Blackberry [or Cherry or Strawberry] Tart – aka: "Tuckaway Roll"
By Gloria Pitzer, as seen in… The Original 200 Plus Secret Recipes© Book (Secret RecipesTM, Marysville, MI; June 1997, p. 5)
INGREDIENTS:
2 cups flour
3 tsp baking powder
1 tsp salt
1 TB sugar
4 TB solid Crisco
6-oz milk
1 pint fresh blackberries [or cherries or strawberries, etc.], hulled and sliced; or use frozen-thawed berries
INSTRUCTIONS:
Stir together flour, baking powder, salt, and sugar. Cut in Crisco (although spry was all that Aunt Jenny used, Crisco is easier to find these days.) When mixture resembles coarse meal, add milk and mix to soft dough. Roll out or pat out to ¼" thick or less, to fit into a greased 13" oblong baking pan, over bottom only.
Spread berries to within 2 inches of sides of pan. Roll up, jelly roll style. Seal seam in bit of milk. Position roll [lengthwise] in the center of the pan. Wipe top in a little more milk and dust with a little sugar. Bake at 425°F, 30 minutes or until golden brown.
Slice while warm and serve like cobbler, topped in milk while warm or cold with ice cream. Serves 8.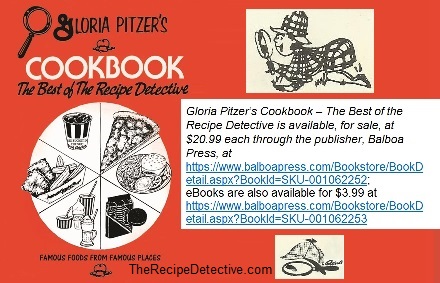 See also…