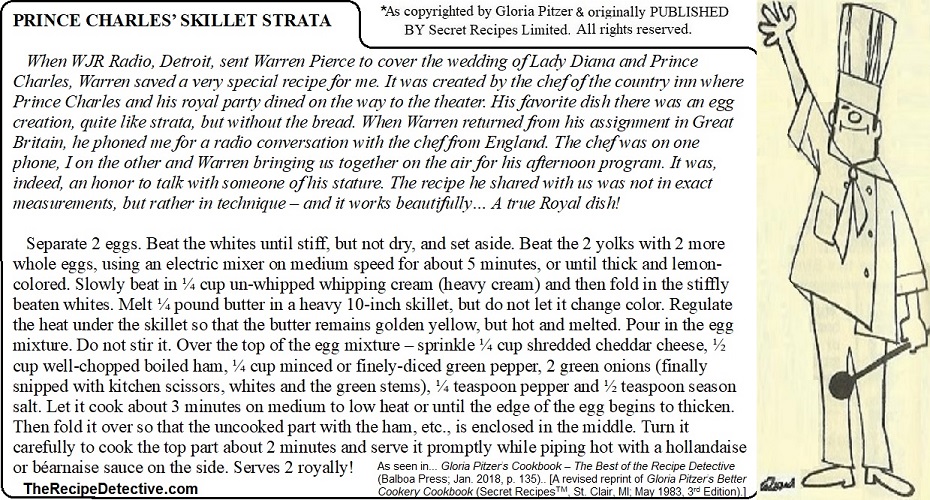 Prince Charles' Skillet Strata
By Gloria Pitzer, as seen in… Gloria Pitzer's Cookbook – Best Of The Recipe Detective (Balboa Press; Jan. 2018, p. 135). [A revised reprint of Gloria Pitzer's Better Cookery Cookbook (Secret RecipesTM, St. Clair, MI; May 1983, 3rd Edition).]
When WJR Radio, Detroit, sent Warren Pierce to cover the wedding of Lady Diana and Prince Charles, Warren saved a very special recipe for me. It was created by the chef of the country inn where Prince Charles and his royal party dined on the way to the theater.
His favorite dish there was an egg creation, quite like strata, but without the bread. When Warren returned from his assignment in Great Britain, he phoned me for a radio conversation with the chef from England. The chef was on one phone, I on the other and Warren bringing us together on the air for his afternoon program.
It was, indeed, an honor to talk with someone of his stature. The recipe he shared with us was not in exact measurements, but rather in technique – and it works beautifully… A true Royal dish!
INGREDIENTS:
2 eggs, separated
2 more whole eggs
¼ cup un-whipped whipping cream (heavy cream)
¼ pound butter
¼ cup shredded cheddar cheese
½ cup well-chopped boiled ham
¼ cup minced or finely diced green pepper
2 green onions (finally snipped with kitchen scissors, whites and the green stems)
¼ teaspoon pepper
½ teaspoon season salt
INSTRUCTIONS:
Separate 2 eggs. Beat the whites until stiff, but not dry, and set aside. Beat the 2 yolks with the 2 whole eggs, using an electric mixer on medium speed for about 5 minutes, or until thick and lemon colored. Slowly beat in the un-whipped whipping cream (heavy cream) and then fold in the stiffly beaten whites.
Melt the butter in a heavy 10-inch skillet, but do not let it change color. Regulate the heat under the skillet so that the butter remains golden yellow, but hot and melted. Pour in the egg mixture. Do not stir it. Over the top of the egg mixture – sprinkle the cheddar cheese, ham, green pepper, green onions, pepper, and season salt.
Let it cook about 3 minutes on medium to low heat or until the edge of the egg begins to thicken. Then fold it over so that the uncooked part with the ham, etc., is enclosed in the middle. Turn it carefully to cook the top part, about 2 minutes, and serve it promptly, while piping hot, with a hollandaise or béarnaise sauce on the side. Serves 2 royally!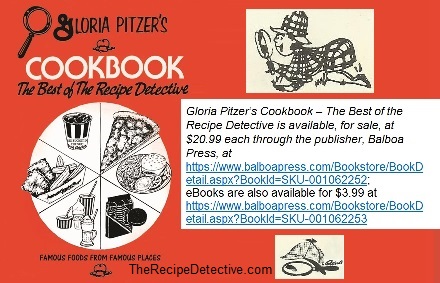 See also…