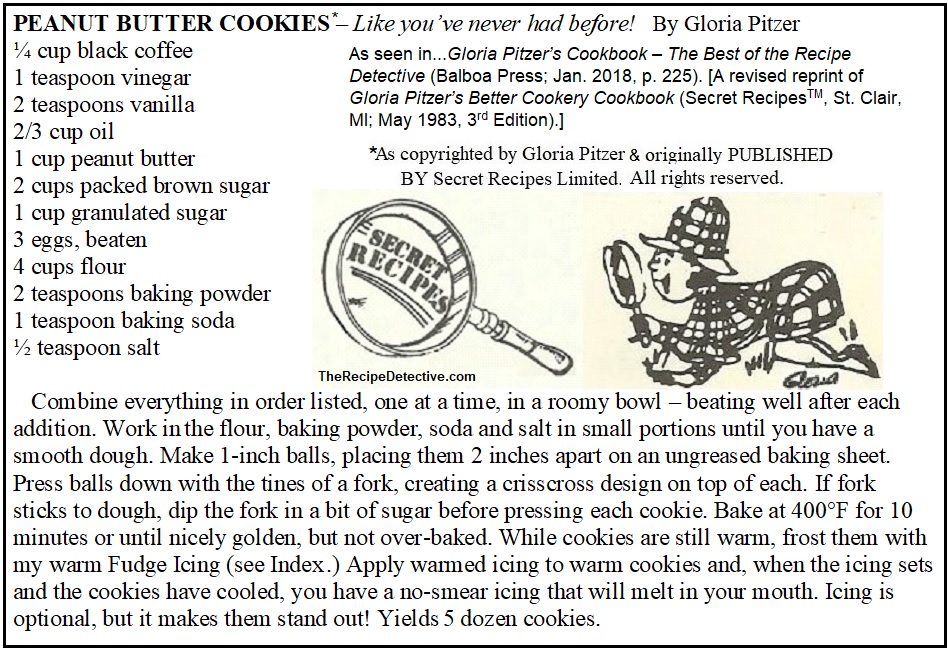 PEANUT BUTTER COOKIES – Like you've never had before!
By Gloria Pitzer, as seen in… Gloria Pitzer's Cookbook – Best Of The Recipe Detective (Balboa Press; Jan. 2018, p. 225). [A revised reprint of Gloria Pitzer's Better Cookery Cookbook (Secret RecipesTM, St. Clair, MI; May 1983, 3rd Edition).]
INGREDIENTS:
¼ cup black coffee
1 teaspoon vinegar
2 teaspoons vanilla
2/3 cup oil
1 cup peanut butter
2 cups packed brown sugar
1 cup granulated sugar
3 eggs, beaten
4 cups flour
2 teaspoons baking powder
1 teaspoon baking soda
½ teaspoon salt
INSTRUCTIONS:
Combine everything in order listed, one at a time, in a roomy bowl – beating well after each addition. Work in the flour, baking powder, soda and salt in small portions until you have a smooth dough. Make 1-inch balls, placing them 2 inches apart on an ungreased baking sheet.
Press balls down with the tines of a fork, creating a crisscross design on top of each. If fork sticks to dough, dip the fork in a bit of sugar before pressing each cookie. Bake at 400°F for 10 minutes or until nicely golden, but not over-baked. While cookies are still warm, frost them with my warm Fudge Icing (see Index.) [Also see "Recipes" tab.]
Apply warmed icing to warm cookies and, when the icing sets and the cookies have cooled, you have a no-smear icing that will melt in your mouth. Icing is optional, but it makes them stand out! Yields 5 dozen cookies.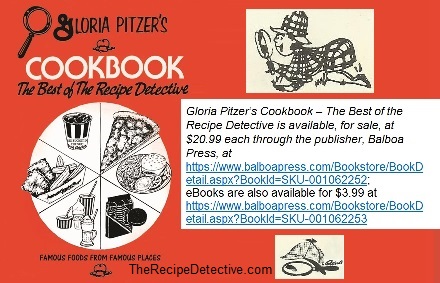 See also…