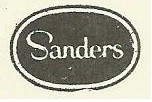 CHOCOLATE ALMOND BARK – Like Sanders!
By Gloria Pitzer, part of her original 200 recipes collection, developed in the early-to-mid 1970s.
[As seen in Gloria Pitzer's Cookbook – The Best of the Recipe Detective (Balboa Press; Jan. 2018, p. 233).]
When you look at all the marvelous candies that Sanders offers, be sure to look for their almond bark. If you are not in an area where Sanders products are available, you can try my "poor man's" version; which, while I was living in California, and couldn't find Sanders products, was sufficient to remind me of the days when I had a Sanders right around the corner – and loved it!
Ingredients:
12-ounce package Nestle's semi-sweet chocolate chips [Note: for a white chocolate bark, use the Nestle's brand of white chocolate chips]
14-ounce can Eagle Brand sweetened condensed milk
1 cup chopped almonds
Instructions:
In top of double boiler over simmering water, melt the chocolate and stir in the milk. When piping hot, smooth and completely melted, keep water in lower pan turned to lowest possible heat point and allow chocolate mixture to cook that way for about 20 minutes, stirring occasionally, and scraping down sides of pan often. Then remove from the heat and add almonds. Spread over bottom of greased jellyroll pan, 10 x 15.5 x 1", to a very thin layer. Allow to harden at room temperature. Break into pieces and store in covered container away from warm places or humidity. Makes oodles!