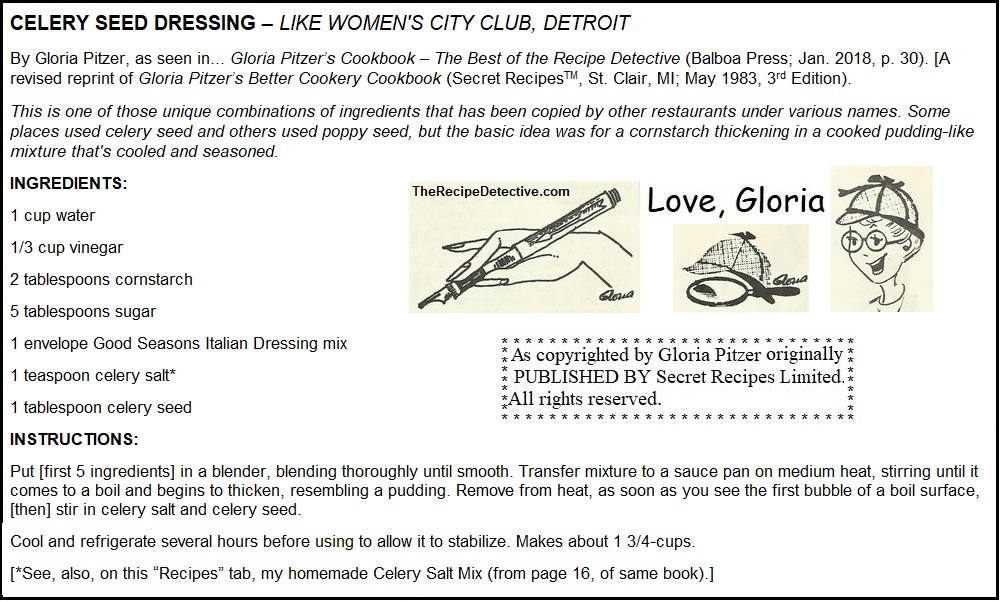 CELERY SEED DRESSING – LIKE WOMEN'S CITY CLUB, DETROIT
By Gloria Pitzer, as seen in… Gloria Pitzer's Cookbook – The Best of the Recipe Detective (Balboa Press; Jan. 2018, p. 30). [A revised reprint of Gloria Pitzer's Better Cookery Cookbook (Secret RecipesTM, St. Clair, MI; May 1983, 3rd Edition).
[From Mackus Red Fox House Dressing] This is one of those unique combinations of ingredients that has been copied by other restaurants under various names. Some places use celery seed and others use poppy seed, but the basic idea was for a cornstarch thickening in a cooked, pudding-like mixture that's cooled and seasoned.
INGREDIENTS:
1 cup water
1/3 cup vinegar
2 tablespoons cornstarch
5 tablespoons sugar
1 envelope Good Seasons Italian Dressing mix
1 teaspoon celery salt*
1 tablespoon celery seed
INSTRUCTIONS:
Put [first 5 ingredients, as listed] in a blender, blending thoroughly until smooth. Transfer mixture to a sauce pan on medium heat, stirring until it comes to a boil and begins to thicken, resembling a pudding. Remove from heat, as soon as you see the first bubble of a boil surface, [then] stir in celery salt and celery seed.
Cool and refrigerate several hours before using to allow it to stabilize. Makes about 1 3/4-cups.
[*See, also on this "Recipes" tab, my Homemade Celery Salt Mix (from page 16, of same book).]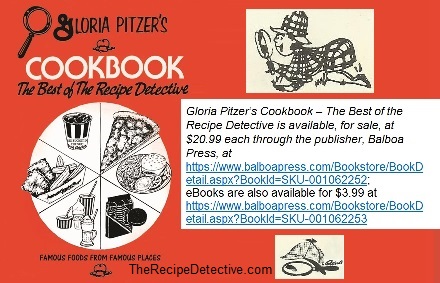 See also…