Thank God Its Monday and, as always, happy Monday to everyone! I personally look forward to every Monday because they're my 52 Chances a year, in which I get to share Memories of My Mom with all of you!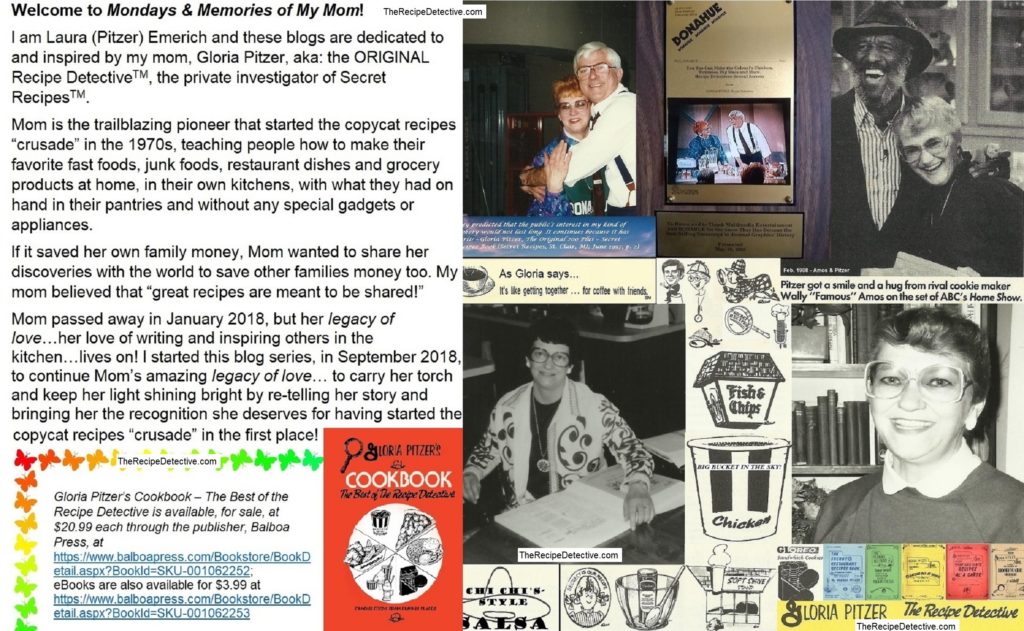 As I mentioned at the end of last week's post, I want to further discuss some of the food-related aspects of popular summertime activities happening now, such as group camping, picnicking, graduations, family reunions, and other types of potluck-style get-togethers.
The week ahead offers a wonderful medley of national summertime occasions to celebrate with food. June is still celebrating National Fresh Fruit and Vegetables Month, National Camping Month, and National Great Outdoors Month.
Additionally, as it's going to be here before the end of the week, some of July's foodie-related observances include National Baked Bean Month, National Grilling Month, National Hot Dog Month, National Ice Cream Month, National Blueberry Month, National Picnic Month, and National Peach Month!
Mom often wrote about easy ways to host anything from unexpected guests to planned parties. Since at least the 1930s Depression Era, potlucks had been a popular ways in which to have a gathering on a budget. I learned most of my hosting skills from my mom, as she did from her mom; but we were also influenced by others, along the way, as well.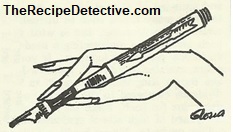 FROM MOM'S MEMORIES…
As seen in…
My Cup Runneth Over and I Can't Find My Mop (Secret RecipesTM, St. Clair, MI; Dec. 1989, p. 103)
HAZEL AND ME – THE LOAVES AND FISHES
MY RELATIONSHIP WITH Hazel is among those blessings I always count twice! Even though we had different moms but the same dad, we were very close as sisters. In all of the many years that we've spent vacations together, even live together, we've never had one crossword between us. The worst part of our relationship has always been not being able to say goodbye when it's time to part at the end of our yearly visits.
Hazel has always given me such enthusiastic support about my work, and such compassion for the events in our family, with our children. Even though there is an 18-year difference in our ages, you'd never know it by looking at us. In fact, you'd probably take HER for the younger one! She has incredible energy, and we love to do the same things – even to having the same taste in furnishings and decorating our homes.
One example Hazel set for me to follow was her gracious ability to offer hospitality, to make the unexpected guests feel welcomed and sincerely wanted. Some people need a month's notice before they can even have you stop for pie and coffee! Not Hazel!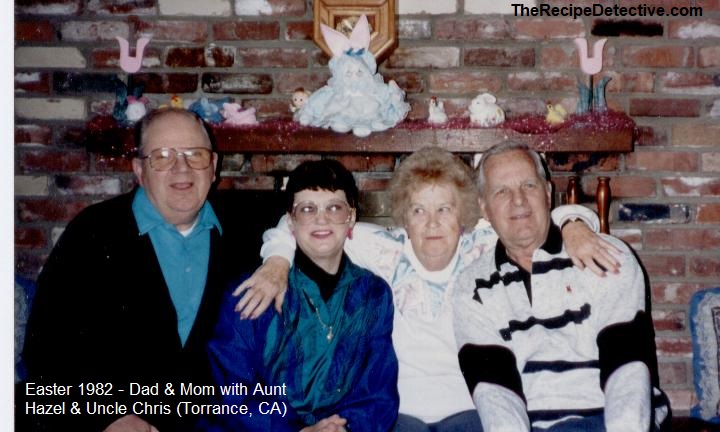 I have seen her carry off a steak dinner with all of the trimmings that started out for just the four of us (Hazel, Chris, Paul and me) and before the event was over, included six others, stopping by a few at a time, unexpectedly. In which case, we simply pulled up another chair to the table and set out another plate, while Chris put another steak from the freezer into the microwave to defrost and then onto the grill on the patio.
With each guest who arrived unannounced, we added a little more lettuce and a few more tomatoes to the salad and [put] another potato into the microwave to bake. When we discovered there were only eight potatoes, however, and there would be 10 at the table, we improvised.
We sliced each baked potato in half, lengthwise, and arrange them on an oven platter, cut side up, dusting each in a little grated Parmesan, a few parsley flakes [and] a little paprika. Then, drizzling these in a bit of squeeze-bottle margarine, we popped the tray under the broiler for a minute just before sitting everybody down to eat.
We opened three cans of assorted fruit and dump it into a pretty glass bowl, sprinkling some coconut over the top of it; and by breaking each of the long ears of corn in half, we pulled off the best feast since 'the loaves and fishes' – and with leftovers, yet. Nobody went away hungry that evening and we enjoyed so much being together. It was wonderful!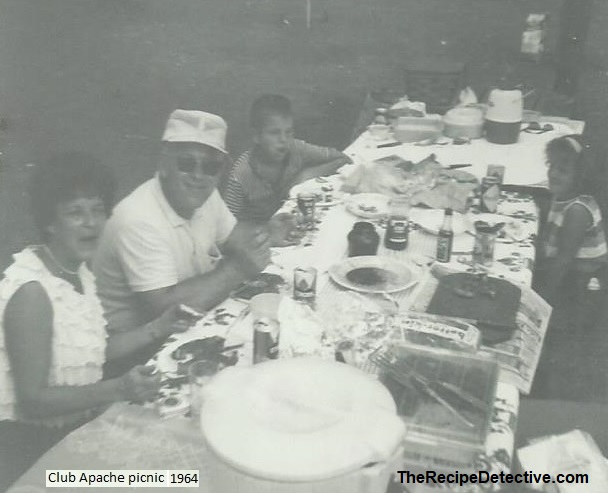 TIPS FOR HOSTING OR ATTENDING A POTLUCK
AND FROM ME & MOM
A "potluck" is a communal gathering of guests – neighbors, friends, family – who contribute different dishes to be shared with the other guests. They are a prevalent way to inexpensively celebrate just about anything with a wide variety of people and food.
Since hosts and guests, alike, enjoy mixing and mingling and moving around, a potluck is usually not a formally seated meal; even if seating and tables are available, it's typically by choice. More often than not, they are simple occasions, where the food is placed buffet-style, in an accessible area, from which the guests can serve themselves, as they please.
As a host, when you invite your guests, designate different "categories" (appetizers, salads, side dishes, main dishes, and desserts) from which guests can choose to base their offerings, to avoid getting too many of the same dish. Consider a theme but, in keeping with the venue, make it simple/casual.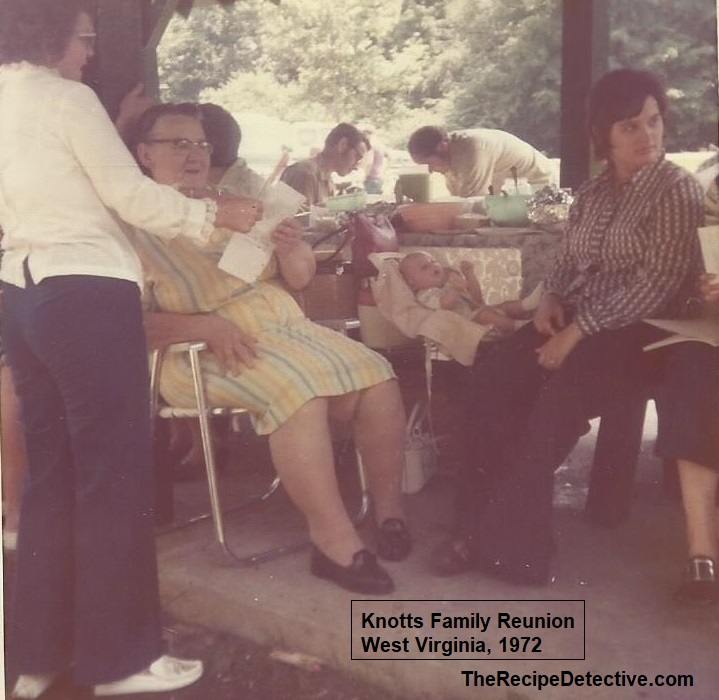 Also, let everyone you invite know what to expect, such as if they should bring lawn chairs or if drinks will be provided (or BYO…). Create an event on social media where invited guests can be kept posted of a variety of things. By the way, Thursday, the last day of June, is National Social Media Day!
As a guest, if possible, let the host know ahead of time what you'll be bringing, and be aware of any allergy/dietary restrictions. Make sure to have enough (ask the host how many people are expected). One rule-of-thumb for how much to make for a potluck is that there be enough to serve a good portion of the guests – not all but at least half, according to Hints From Heloise.
Additionally, consider bringing food that travels well [examples: Will it spill easily or spoil quickly? Does it need to be kept warm/cold?]; and put it in a ready-to-serve, "disposable" dish, if you can. Also, bring your own serving utensils, if needed. Plan ahead for small portions by packing food in decorative baggies, plastic wrap, or ready-to-serve containers.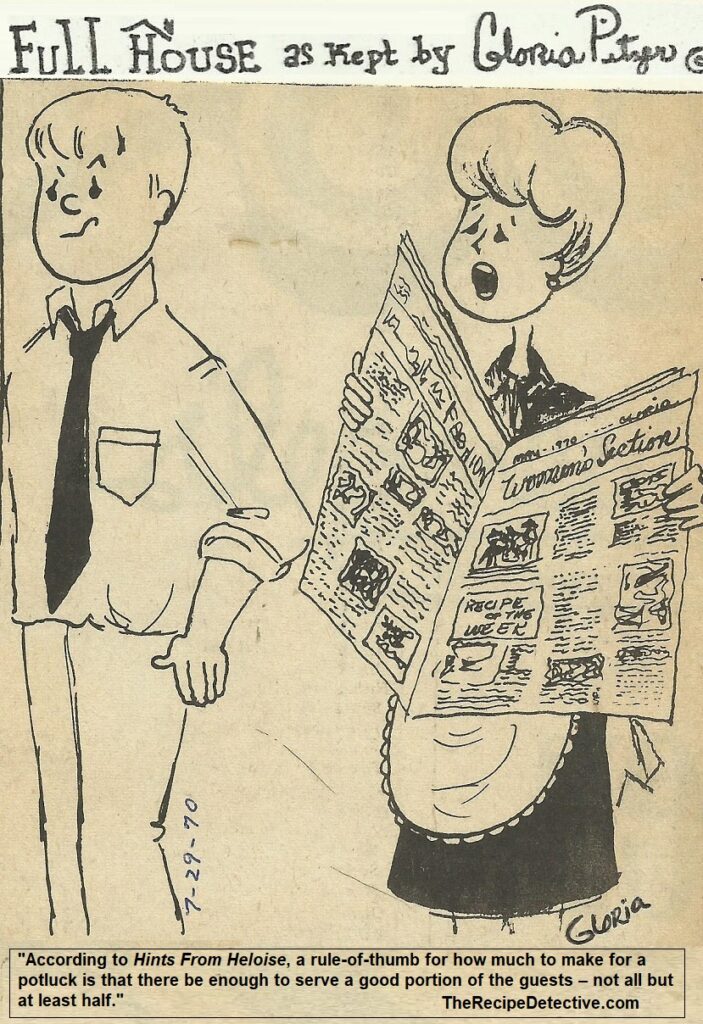 Simple homemade or store-bought dishes-to-pass include numerous deli-style sides such as coleslaw, potato salad, spaghetti or other pasta salad, etc. Easy to make finger-foods like canapes, tuna/chicken salad wraps, deviled eggs, or stuffed mushrooms are also popular choices.
As a host, consider offering a kiddie-pool filled with ice for the cold dishes to sit in and an electrical outlet/power bar for slow cookers and the like. Also offer serving utensils to those who forgot to bring their own. Label and return dishes if they're not disposable or taken home by the guest.
Additionally, as host, it's also a good idea to have extra "fill-ins" on hand, just in case of unexpected guests, or guests who come empty-handed or don't bring enough. "Fill-ins" are generally store-bought items such as salad greens and dressing, chips and dip, or bread and butter.
If you can't cook, you can always bring store-bought items, like the "fill-ins" I mentioned above or cheese and crackers, a fruit bowl or vegetable tray with dip, deli-made salads or a party platter, pre-packaged or bakery-made desserts – the list can go on and on. You can always dress up store-bought foods by arranging them in your own dishes (or something from your local dollar-type store) and adding some pretty garnishments.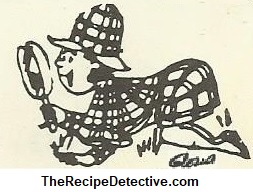 LAST THOUGHTS…
The year is almost half-way through. This coming weekend, as we say goodbye to June and hello to July, there will be another long weekend of celebration because Monday is our National Independence Day!
To kick it off – at least, here, in the Blue Water Area of The Thumb's southern coastline – our Canadian neighbors across "the creek" (aka: the St. Clair River), in Ontario, will be celebrating Canada Day on Friday. So, all weekend, we get to enjoy their fireworks displays and they get to enjoy ours, as well.
From my own Michigander perspective, it just seems like the summer season has grown longer than its calendar length of approximately June 20th to September 20th. The Americanized summertime (like Daylight Saving Time) expanded – mostly due to marketing trends – to include Memorial Day through Labor Day, as the unofficial bookends of summer.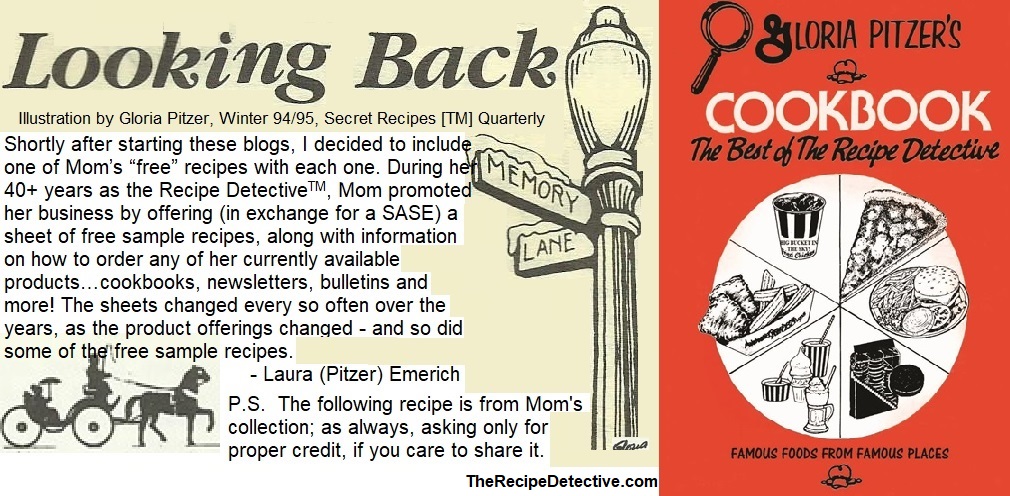 IN CLOSING…
In honor of TODAY, being National Onion Day, here is Mom's copycat recipe for Lip Bone Onion Soup mix; as seen in… Gloria Pitzer's Cookbook – The Best of the Recipe Detective (Balboa Press; Jan. 2018, p. 19). [A revised reprint of Gloria Pitzer's Better Cookery Cookbook (Secret RecipesTM, St. Clair, MI; May 1983, 3rd Edition)].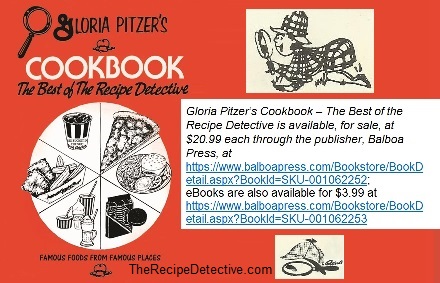 P.S. Food-for-thought until we meet again, next Monday…
Other observances this month include… National Caribbean American Month, National Country Cooking Month, National Dairy Month, National Iced Tea Month, National Papaya Month, National Soul Food Month, National Candy Month, and National Turkey Lovers Month!
Today is also… National Ice Cream Cake Day and National Orange Blossom Day!
Tomorrow is… National Paul Bunyan Day and National Alaska Day!
Wednesday, June 29th, is… National Camera Day, National Waffle Iron Day, and National Almond Buttercrunch Day!
June 30th, is… National Meteor Watch Day! Plus, as the last Thursday in June, it's also National Bomb Pop Day!
Friday begins the month of July. Other observes for the month include: World Watercolor Month, National Culinary Arts Month, National Horseradish Month, and National Independent Retailer Month!
July 1st is also… National Creative Ice Cream Flavors Day, National Gingersnap Day, National Postal Worker Day, and National U.S. Postage Stamp Day!
July 2nd is… National Anisette Day! Plus, as the first Saturday in July (for 2022), it's also Hop-a-Park Day and National Play Outside Day (which is the 1st Saturday of EVERY month)!
Sunday, July 3rd is… National Fried Clam Day, National Eat Your Beans Day, and National Chocolate Wafer Day; besides it also being "Independence Eve"!

…26 down and 26 to go!