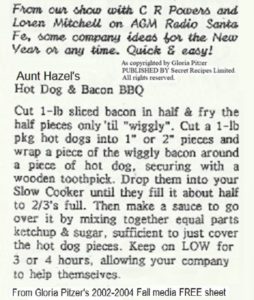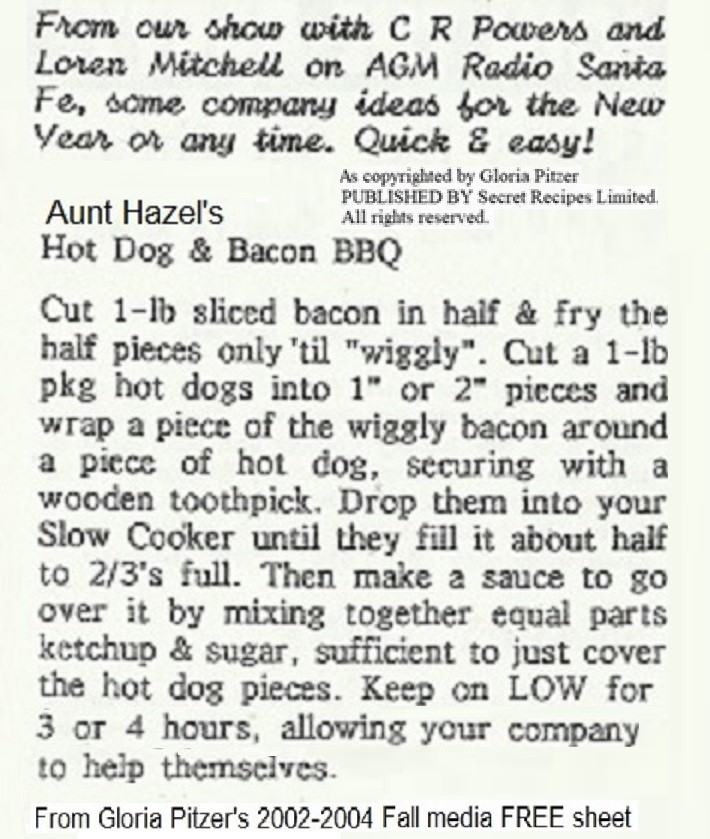 Aunt Hazel's Hot Dog & Bacon BBQ
[From Gloria Pitzer's 2002-2004 free recipes, media promotion sheet.]
Ingredients:
1-pound Ball Park franks, each frank sliced in quarters
1-pound bacon, sliced in half
1 small box of round, wood toothpicks
1 cup each: ketchup and sugar
Instructions:
Cut each of the franks into 4 pieces of equal length. Cut each strip of bacon into 3 pieces of equal length. Wrap one piece of bacon around one piece of frank, securing with a toothpick and repeating until all the frank pieces have been wrapped in the bacon pieces.
Arrange all the wrapped and secured pieces in a single layer in a shallow baking pan. Bake at 400°F for 10-15 minutes, until bacon is "wiggly". Remove partially-cooked pieces from pan and place in a slow cooker so that they fill it half-full.
Combine equal parts ketchup and sugar until you have enough mixture to keep the pieces submerged – I use 1 cup of each. Cover with a snug-fitting lid and turn it on high for 1 hour and then on low for 2 hours, or until ready to serve.
The toothpicks become nice little handles for picking them up and the heating process does not affect the wood, nor does the wood affect the sauce. Makes 8 to 10 appetizer-sized (4 to 5 pieces) servings. Leftovers, if any, can be refrigerated up to a week.