My mom, Gloria Pitzer, loved many things and many people and many animals; but, Mom's greatest love (next to my dad, of course) was her writing. She put so much love and passion into the recipes she developed and wrote, testing them over and over again (which was a labor of love all its own) until she felt they were good enough to share. Her Food-for-Thought editorials were written with a great love and passion for helping and informing her readers – whether it was requested by them or something she came upon and thought it might be interesting to them. Her cartoons were drawn with loving satirical humor, meant to entertain her readers and bring a little smile to their day. Mom combined them all, for decades, into monthly/bi-monthly newsletters, as well as the many dozens of books that she wrote and self-published.
Mom once wrote: "The divine principle of good cooking is not a secret! It is taking pleasure in the activity; in the information previously retained and called upon through the facilities of memory. The spirit of good cooking is individualistic. It is not shrouded in mystery – but in love, for what you are doing and for whom you are doing it!" [as it appeared on the front page of her 128th issue of Gloria Pitzer's Secret Recipes Newsletter, Sep-Oct 1987].
Everything Mom made was done so out of love and with love. Since I was very small, I remember Mom hand-making my sisters and I beautiful rag dolls with an array of fashion to go with each. To this day, that's still my favorite Christmas present from her. She also created a lot of our Barbies' furniture, clothes and linens. She often made our own clothes, as well as blankets/afghans for us. Her attention to details showed all the thought and love that she put into making everything.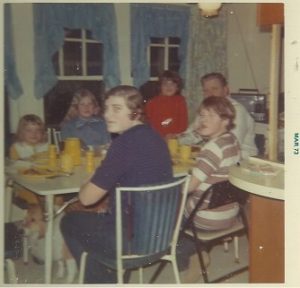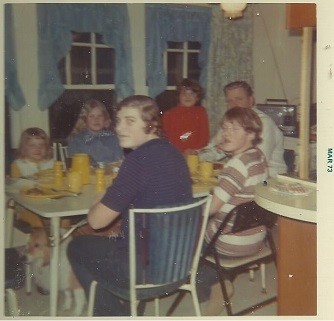 Family meal-time was even an event! Not like when my brother, Mike, was caught hiding his peas in a napkin under the edge of his plate, because he couldn't leave the table until his plate was cleared – after all, there were children in Ethiopia starving – and, no, Mike couldn't send them his peas! But, meal-time was always a family-together-time event, where we all sat at the table, sharing feelings & stories of our day (while the siblings might elbow or kick each other under the table, if those stories turned into tattles.) But, family meal-time was especially fun if we were testing some of Mom's famous make-alike dishes – like the KFC-style chicken I shared with you a couple of weeks ago in my blog, "More than 15 Minutes of Fame!". Even the "duds", as we lovingly referred to those samplings that weren't quite right enough to make it into her newsletter, were still made with just as much love as the final products that did…and they all tasted wonderfully delicious!
Just a few weeks ago, our local historical museum did a tribute to 10 residents; people (no longer with us) who contributed greatly to our community of St. Clair, Michigan. It's a yearly tribute called "The Next 10". This year's presentation included my mom as one of the 10 special people. I was so honored when a few different people, working on this project, contacted me for any information, stories, photos and other materials that I could contribute.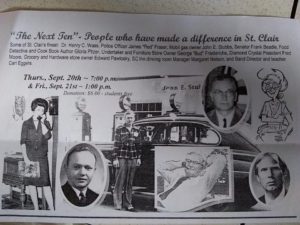 The St. Clair Historical Museum put on a beautiful picture slideshow-like presentation for each honoree; and each had a different speaker, presenting the family's and community's memories of them. Family members and friends of some of those honored were present. To feel the love in the room, coming from all those other loved ones, was tremendous. I was very honored to be among them. I was especially honored that during the social, following the presentation, they served ice cream with a batch of Mom's Sanders-Style Hot Fudge Sauce that someone had lovingly made for the event! This week, I will share that recipe with you, as it was on her "free sheet" of recipes and ordering information and, also, on page 255 of her last book, "Gloria Pitzer's Cookbook – The Best of the Recipe Detective" [published by Balboa Press (January 2018, 1st Printing) – a re-write of her famous, self-published book, "Gloria Pitzer's Better Cookery Cookbook" (May 1983, 3rd Printing)], asking only for proper credit if you care to share it.  You can also find it on this website under the 'Recipes' tab.
Michiganders (especially southeastern ones) know all about the mouth-watering, luscious, milk chocolate delights put out by Sanders' Chocolatiers ! As their company slogan once said, "When it's from Sanders, even a little is a big, big treat." I have a lot of great family-time memories of when Mom made this special treat for all of us – and it was especially fun to help her make it too! I mean, who wouldn't LOVE to lick that spoon when done? I remember, as well, when I made it for my own kids while they were little – and it was a big treat for all of us! Here is what Mom had to say in her original book, "Gloria Pitzer's Better Cookery Cookbook" (self-published by Gloria Pitzer's Secret Recipes, May 1983, 3rd Printing) about the Sanders Company; plus, her favorite make-alike version of their hot fudge sauce:
   SANDERS' HOT FUDGE was one of the nicest experiences I had in working with imitations of the famous recipes, for John (Jack) Sanders, the grandson and president of the company founded by his grandfather, Fred, was one of the sponsors of Warren Pierce's radio show [found on WJR – Detroit]. Imagine my reluctance to share with his listeners my version of Sander's hot fudge. I had previously had so many threatening letters from food company lawyers that I didn't know what to expect if I heard from the Sanders people! To my amazement, the letter we anticipated did arrive only 2 days after I gave my version of the hot fudge recipe to Warren's listeners. The letter, however, said – if it wouldn't ruin my fun in trying to duplicate these famous dishes, would Paul and I and all the kids kindly accept an invitation from Jack Sanders to tour their Oakman Boulevard Bakery and Confection plant and meet their Head Chef, Edy Mader. It was the beginning of a beautiful relationship, between my Secret Recipes and Fred Sander's products and, I learned, encouraged many out-of-state orders for their products whenever I talked about them during my frequent radio visits around the country. As the slogan for Sanders' Restaurants, Bakery and Candy company said, "When it's from Sanders, even a little is a big, big treat…"
HOT FUDGE SAUCE – Like Sanders
14-ounce can Eagle Brand milk
14 ounces light corn syrup (use EB milk can to measure)
¼ pound butter* (*per the "free sheet" directions; the book – as written in 1983 – calls for ½ pound)
12 ounces Nestlé's milk chocolate candy bars – Do not substitute on brand of candy!
a few drops vanilla extract
In top of double boiler, over simmering water, combine all ingredients as listed, stirring about 15 minutes until smooth and melted. Cover and continue cooking for at least 30 more minutes, stirring about every 10 minutes. Cool and put through your blender in small portions, using on/off agitation on high speed until mixture is satiny-smooth. Makes 1 quart. Keeps refrigerated up to a month – reheat in top of double boiler over simmering water. Freezes well up to 6 months.