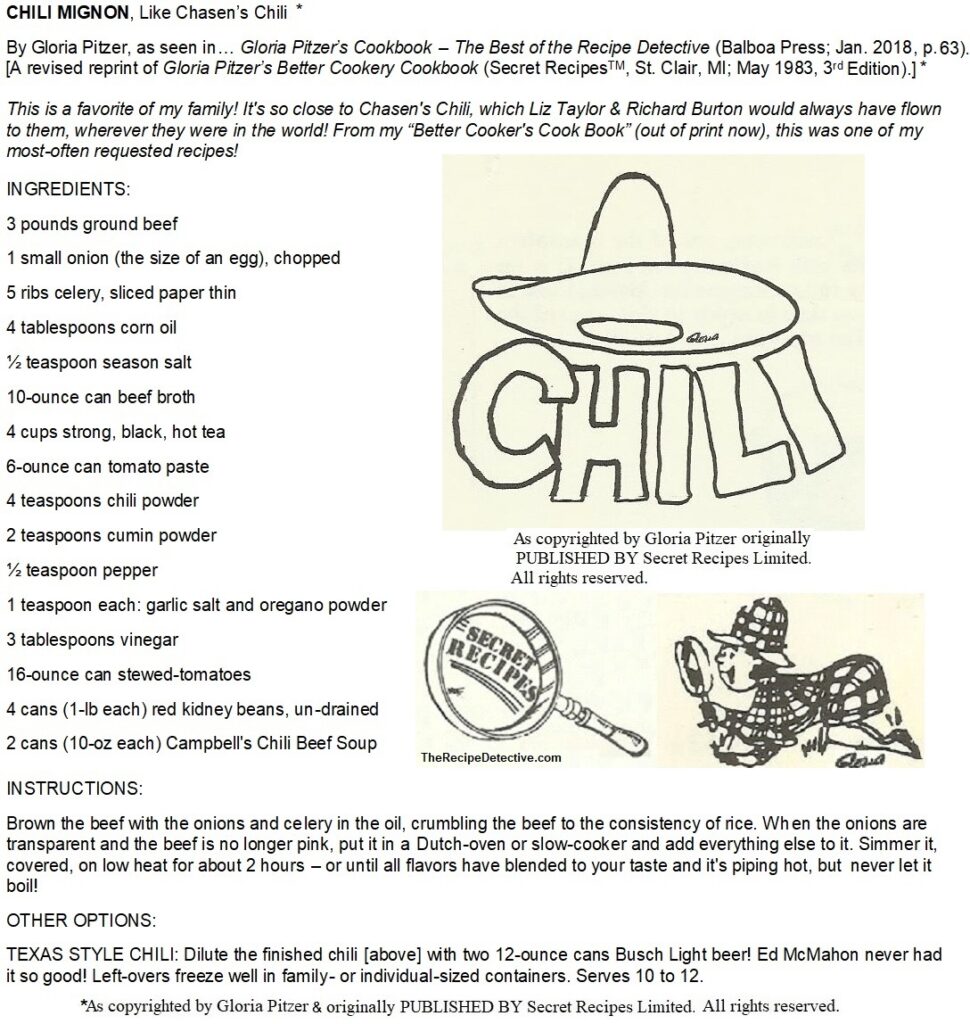 CHILI MIGNON, Like Chasen's Chili
By Gloria Pitzer, as seen in… Gloria Pitzer's Cookbook – The Best of the Recipe Detective (Balboa Press; Jan. 2018, p. 63)… [A revised reprint of Gloria Pitzer's Better Cookery Cookbook (Secret RecipesTM, St. Clair, MI; May 1983, 3rd Edition).]
This is a favorite of my family! It's so close to Chasen's Chili, which Liz Taylor & Richard Burton would always have flown to them, wherever they were in the world! From my "Better Cooker's Cook Book" (out of print now), this was one of my most-often requested recipes!
INGREDIENTS:
3 pounds ground beef
1 small onion (the size of an egg), chopped
5 ribs celery, sliced paper thin
4 tablespoons corn oil
½ teaspoon season salt
10-ounce can beef broth
4 cups strong, black, hot tea
6-ounce can tomato paste
4 teaspoons chili powder
2 teaspoons cumin powder
½ teaspoon pepper
1 teaspoon each: garlic salt and oregano powder
3 tablespoons vinegar
16-ounce can stewed-tomatoes
4 cans (1-lb each) red kidney beans, un-drained
2 cans (10-oz each) Campbell's Chili Beef Soup
INSTRUCTIONS:
Brown the beef with the onions and celery in the oil, crumbling the beef to the consistency of rice. When the onions are transparent and the beef is no longer pink, put it in a Dutch-oven or slow-cooker and add everything else to it. Simmer it, covered, on low heat for about 2 hours – or until all flavors have blended to your taste and it's piping hot, but never let it boil!
OTHER OPTIONS:
TEXAS STYLE CHILI: Dilute the finished chili [above] with two 12-ounce cans Busch Light beer! Ed McMahon never had it so good! Left-overs freeze well in family- or individual-sized containers. Serves 10 to 12.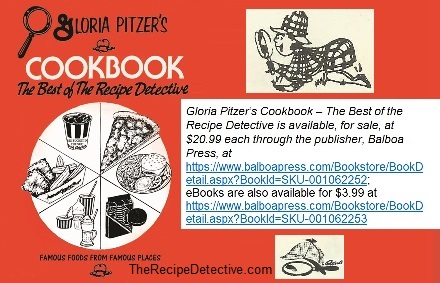 Also see…
Mondays & Memories of My Mom – The Original Secret Recipe Detective