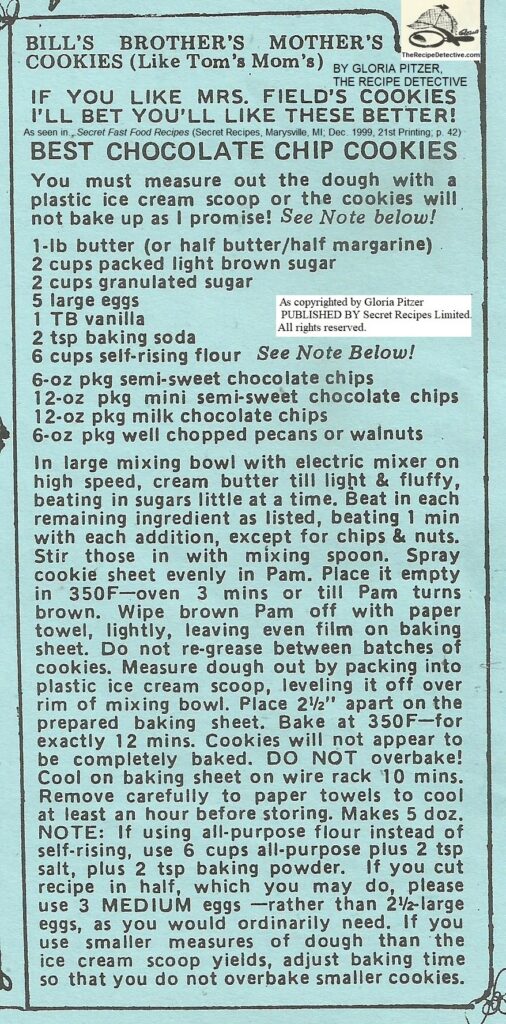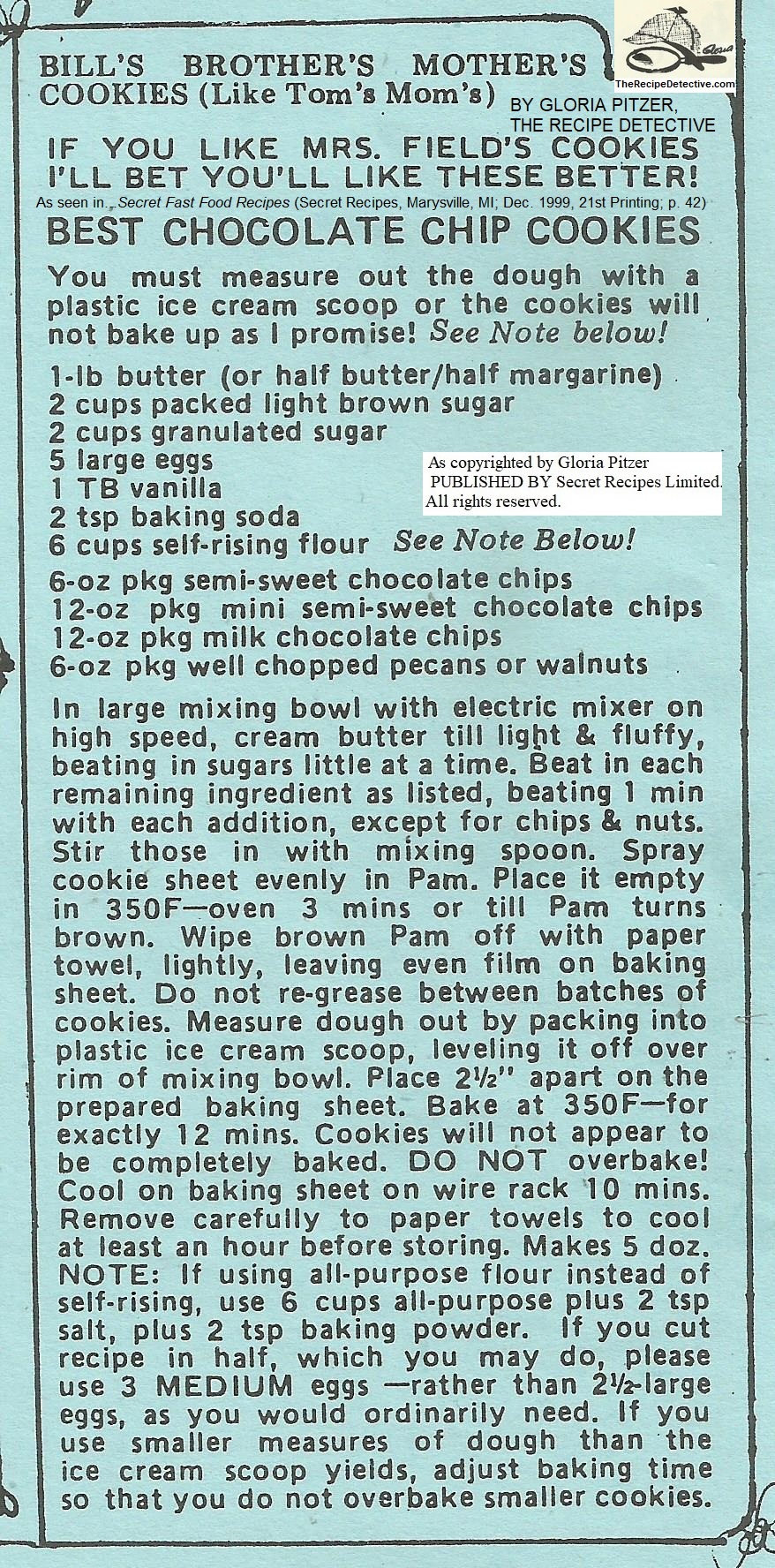 BILL'S BROTHER'S MOTHER'S COOKIES (Like Tom's Mom's)
By Gloria Pitzer, as seen in… Secret Fast Food Recipes (Secret RecipesTM, Marysville, MI; Dec. 1999, p. 42).
IF YOU LIKE MRS. FIELD'S COOKIES, I'LL BET YOU'LL LIKE THESE BETTER!
BEST CHOCOLATE CHIP COOKIES
INGREDIENTS:
1-lb butter (or use half butter & half margarine)
2 cups packed, light brown sugar
2 cups granulated sugar
5 large eggs
1 TB vanilla
2 tsp baking soda
6 cups self-rising flour (see NOTES below)
6-oz pkg semi-sweet chocolate chips
12-oz pkg mini semi-sweet chocolate chips
12-oz pkg milk chocolate chips
6-oz pkg well chopped pecans or walnuts
INSTRUCTIONS:
In a large mixing bowl, with electric mixer on high speed, cream butter until light and fluffy, beating sugars in [then], a little at a time. Beat in each remaining ingredient (except chips and nuts), as listed; beating 1 minute with each addition. Stir in chips and nuts with a mixing spoon.
Spray cookie sheet evenly with Pam [baking spray]. Place it empty in 350°F oven for 3 minutes or until Pam [coating] turns brown. Wipe off lightly with paper towel, leaving a [light] even film on the baking sheet. Do not regrease between batches of cookies.
Measure dough out by packing it into a plastic ice cream scoop, leveling it off across the rim of the mixing bowl. Place 2½" apart on the prepared baking sheet. Bake at 350°F for exactly 12 minutes. Cookies will not appear to be completely baked. DO NOT overbake!
Cool on baking sheet, on wire rack, for 10 minutes. Remove carefully to paper towels to cool for at least an hour, before storing. Makes 5 dozen [cookies].
NOTES:
If using all-purpose flour instead of self-rising, use 6 cups all-purpose, plus 2 teaspoons salt and 2 teaspoons baking powder.
If you cut recipe in half, which you may do, please use 3 MEDIUM eggs, rather than 2½ large eggs…
If you use smaller measures of dough than the ice cream scoop yields, adjust baking time so that you do not overbake smaller cookies.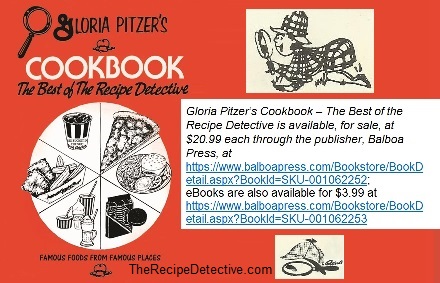 See also…
http://therecipedetective.com/2022/10/17/mondays-memories-of-my-mom-happy-place-2/