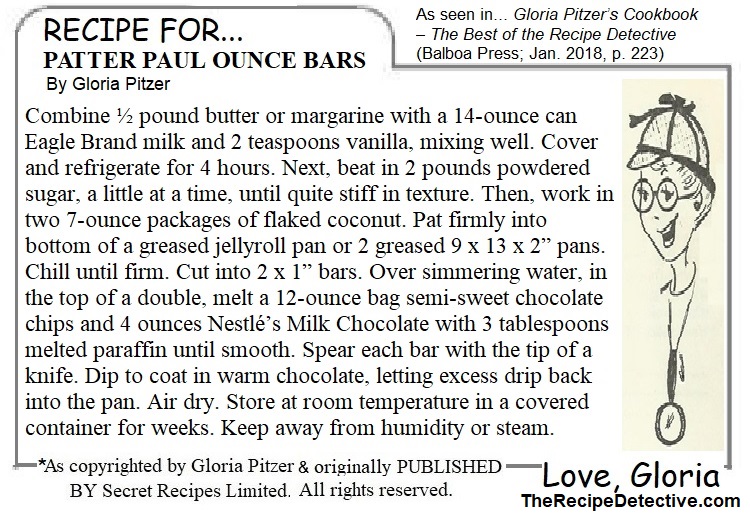 PATTER PAUL OUNCE BAR
By Gloria Pitzer, as seen in… Gloria Pitzer's Cookbook – The Best of the Recipe Detective (Balboa Press; Jan. 2018, p. 223). [A revised reprint of Gloria Pitzer's Better Cookery Cookbook (Secret RecipesTM, St. Clair, MI; May 1983, 3rd Edition).]
INGREDIENTS:
½-lb butter or margarine
14-oz can Eagle Brand milk
2 tsp vanilla
2-lbs powdered sugar
2 pkgs (7-oz each) flaked coconut
12-oz bag semi-sweet chocolate chips
4-oz Nestle's Milk Chocolate
3 TB melted paraffin
INSTRUCTIONS:
Combine butter or margarine with milk and vanilla, mixing well. Cover and refrigerate for 4 hours. Next, beat in powdered sugar, a little at a time, until quite stiff in texture. Then, work in coconut. Pat firmly into bottom of a greased jellyroll pan or 2 greased 9" x 13" x 2" pans. Chill until firm. Cut into 2" x 1" bars.
Over simmering water, in the top of a double-boiler, melt chocolate chips and Nestlé's Milk Chocolate with melted paraffin until smooth.
Spear each bar with the tip of a knife. Dip to coat in warm chocolate, letting excess drip back into the pan. Air dry [on baking sheet lined with waxed paper]. Store at room temperature in a covered container for weeks. Keep away from humidity or steam.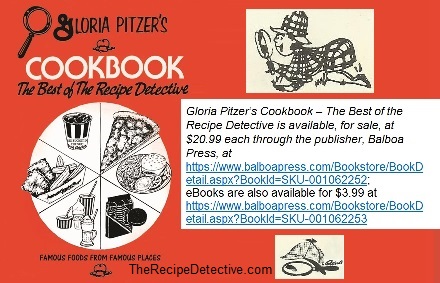 See also…