Thank God Its Monday and, as such, #HappyMonday to everyone! I personally look forward to all Mondays because they're my 52 Chances a year, in which I get to share Memories of My Mom with you!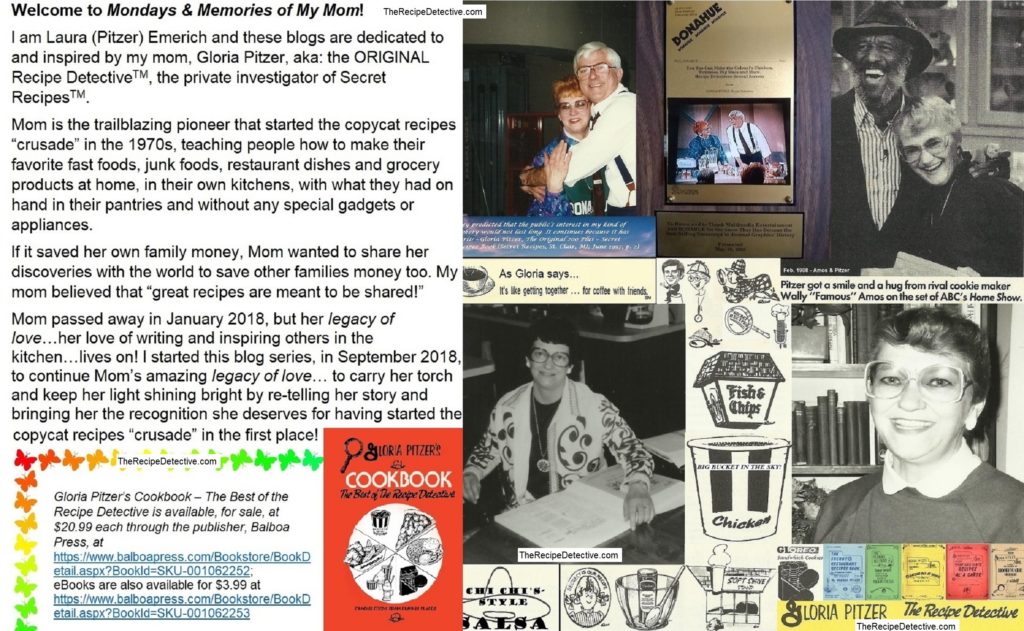 This week we say goodbye to August and hello to September, which begins on Friday. Friday is also the start of Labor Day Weekend – the unofficial end of summer and beginning of fall. September is said to be one of the most temperate months of fall. However, technically, fall is only during the last week or so of the month. So not a fair assessment.
September is also known as the harvest month. Thus, farmer's markets and harvest festivals are in abundance throughout the month. By the way, did you know that September's Harvest Moon is the fullest moon of the year?
The kids go back to school the day after Labor Day if they haven't already. Regular season football begins next week. The days are getting noticeably shorter, as we inch closer to the fall equinox. The nights are getting cooler. Many of us will soon be packing away our swimsuits, shorts, and tank tops as we pull out our blue jeans, corduroys, flannels, and sweats.
Little bits of color changes have already started to pop here and there among the trees in Michigan. But more color is on its way, throughout the month. Oktoberfest celebrations will soon begin, too (Americanized to a September observance because the weather is nicer then). By the way, National Drink-Beer-Day is September 28th.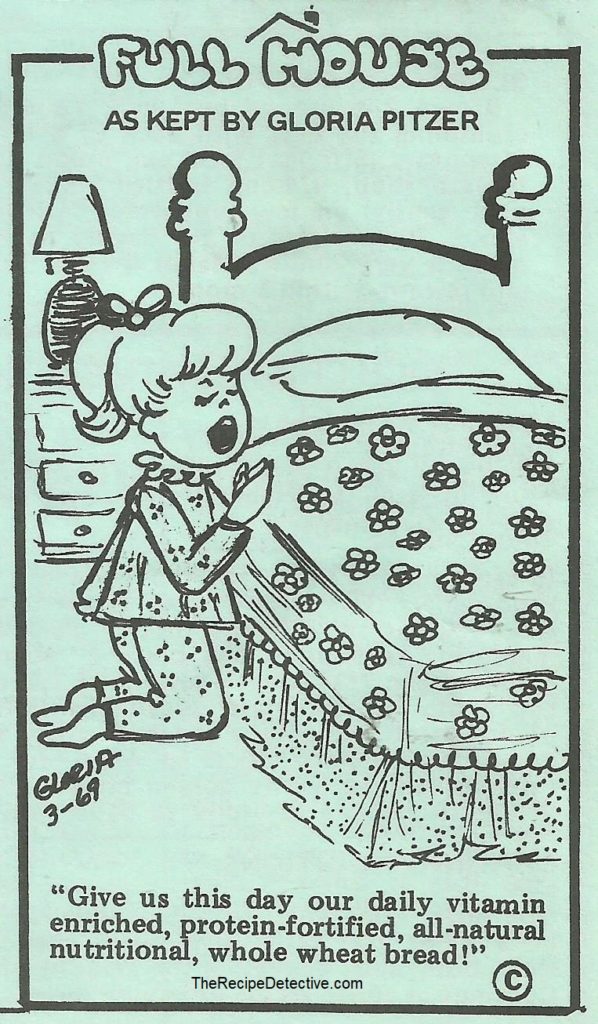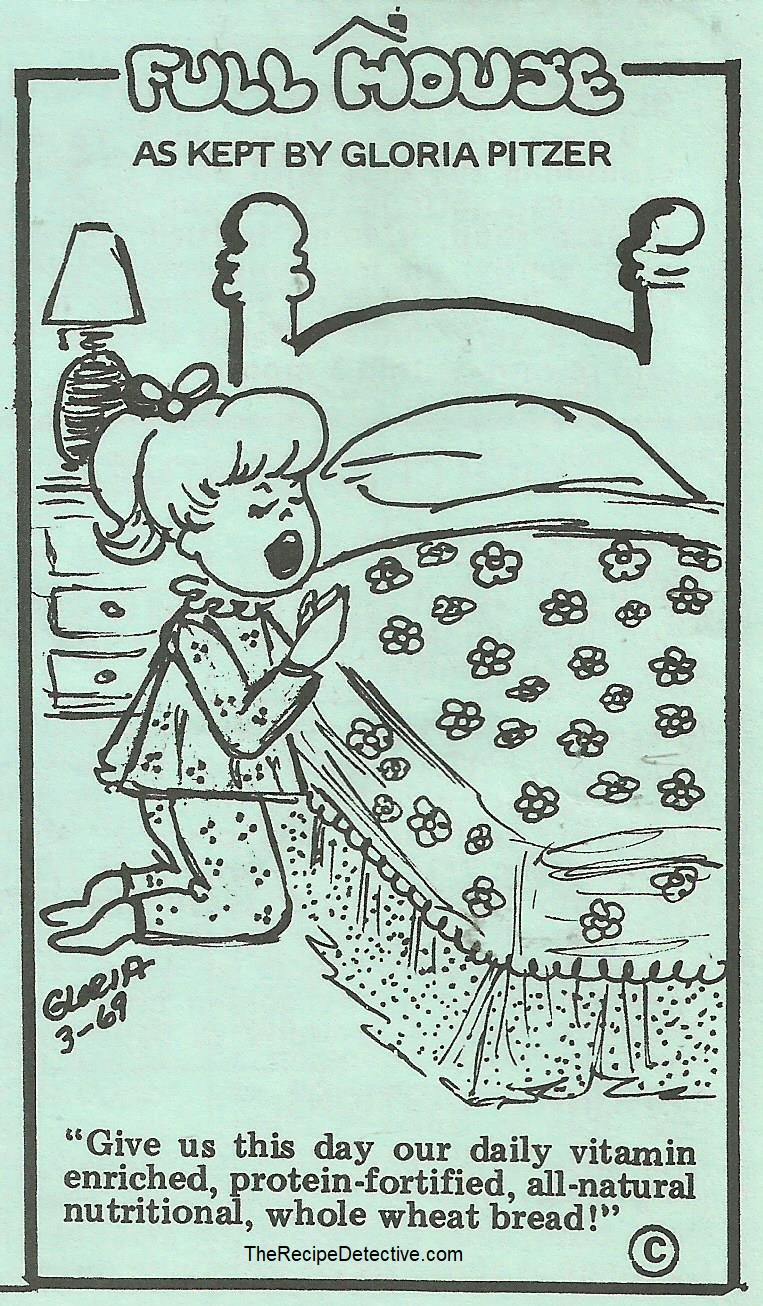 September also observes, among other things, Better Breakfast Month, National Blueberry Popsicle Month, National Chicken Month, National Courtesy Month, National Honey Month, National Italian Cheese Month, National Library Card Sign Up Month, National Mushroom Month, National Potato Month, National Rice Month, National Sewing Month, National Self-Improvement Month, and National Whole Grains Month!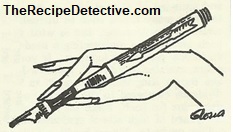 FROM MOM'S MEMORIES…
As seen in…
Gloria Pitzer's Mixed Blessings – Recipes & Remedies (Secret RecipesTM, St. Clair, MI; March 1984, p. 23)
IN THE SUMMERTIME…
…THROUGHOUT UPSTATE MICHIGAN, the roads borough through tunnels of green trees for miles and miles. There'll be light traffic on these curving two-lane highways with single cars spaced two blocks or so apart coming toward you.
There was the quaint and very unique Settling Inn at the Village of Northport, the most northern point of M-22. Farther south there was the Sugarfoot Saloon at Leelanau, near the Sugarfoot Mountain Resort. It was quiet country, secluded but refreshing, compared to sophisticated urban activity.
At County Road 669, a sign announced 'Sleeping Bear Dunes' straight ahead on M-22. The road curved like a long licorice ribbon up and down the hillsides of densely grown white birches, Scotch pines, maples, oaks and poplars. Suddenly we were conscious of how clean the air smelled.
The city wasn't like this! What a lovely contrast! What a splendid memory! The first time we saw the Traverse Bay area, in upstate Michigan, we fell in love with it. It was Labor Day [weekend] and summer was still at the peak of its promise.

Six weeks later, we went back to the bay area to feast our eyes on the glorious, fiery colors of fall. There was a crisp, clean chill in the air. Those long, straight, two-lane roads through the peninsula still lay like licorice ribbons on the slopes and hills of the Old Mission region.
The side roads were cut like corridors through a series of canopies in brilliant orange, red, and yellow; where the trees were all standing like military sentries in full dress uniforms, crossing their branches above the roads like honor guards with their swords raised high.
It was a trip back into another time zone – peaceful valleys and wooded hillsides abundant with sturdy hedges of tall trees framing well-manicured cherry orchards, acres upon acres of them, as well as apple groves in great abundance everywhere!
Here and there a farmhouse and a weather-worn, well-kept barn reminded you that it was a populated and prosperous region, after all. The prosperity appeared to represent hard work, a practical living style and simplicity of needs, unlike the atmosphere of city dwelling.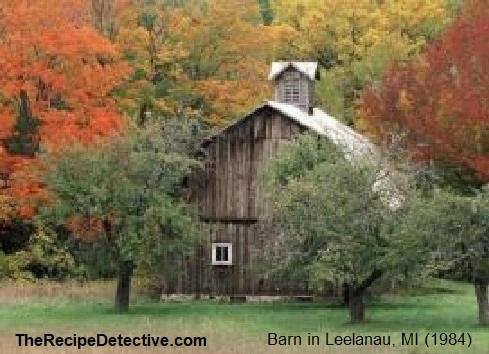 There really aren't any "traditional customs" for observing Labor Day. Yet, there are so many different ways to celebrate it, including family and community picnics, parades, outdoor concerts, festivals, fireworks and even shopping; as retailers always offer huge Labor Day weekend deals and discounts to move the rest of their summer stock.
Below is a picture of me, my siblings, and 2 neighbor-boys, standing in front of the Algonac Lions Club trolly that was in all of our local parades. I think this was from Labor Day weekend, 1970, and we got to ride on the trolley, with Dad, during the parade.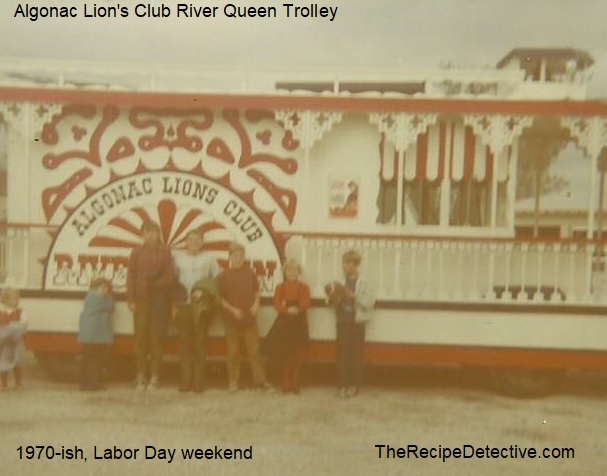 How do you celebrate the unofficial end of summer – one last vacation, a day at the beach, or a barbeque in the backyard? Mom liked to celebrate right at home…
Decades ago, when my siblings and I were kids, I think the only reason Mom celebrated Labor Day was because it meant that we were going back to school the next day and she could start her vacation! Pictured below is one of Mom's syndicated editorial columns, from August 1971 – she called it School Begins and so Does Mother's Vacation.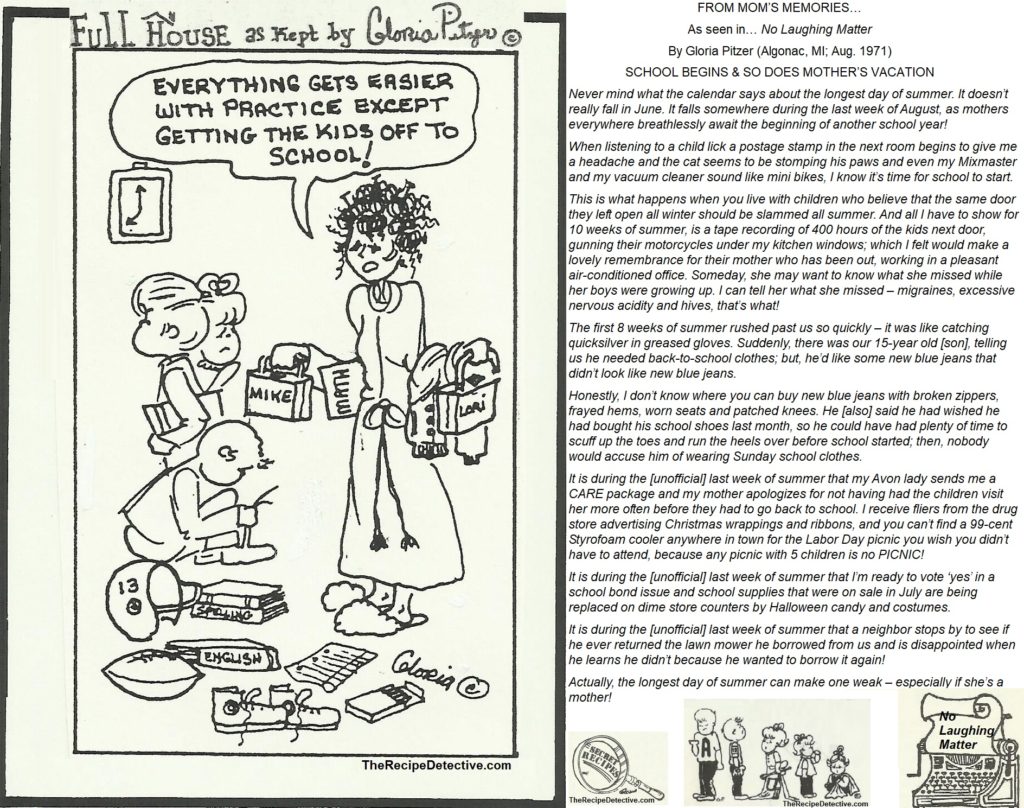 MORE FROM MOM'S MEMORIES…
As seen in…
Gloria Pitzer's Mixed Blessings – Recipes & Remedies (Secret RecipesTM, St. Clair, MI; March 1984, pp. 178-179)
GETTING TO SLEEP, WITH A FEW PLEASANT MEMORIES
FOR A LONG TIME now, I've had trouble sleeping at night. For one thing, my love snores like a Yamaha, going uphill in second gear and coming down again. It's not his fault, mind you, over which he has any personal control. He simply breathes loudly when he's deep in sleep.
I could, I found, sleep through a thunderstorm and not hear a crack all night, providing I once slipped into a cozy, peaceful mind and then drift off dreamily into a lovely landscape of the lazy fifth dimension of rest that my memory can call upon, whenever I choose to summon the scenes I've once found serene…
I tried to rest on those thoughts and images that gave my mind tranquility. I would recall all of the pleasant places I had ever visited, to which I wished again to return. I would find again in my memory chambers, every corner of my world that made me feel relaxed and then relish in revisiting these mentally.
I would walk the beaches around Saginaw Bay. It would be late August, again, on the movie screen of my mind. The lake was lapping at the beach where I walked through the soft, summer warm sand.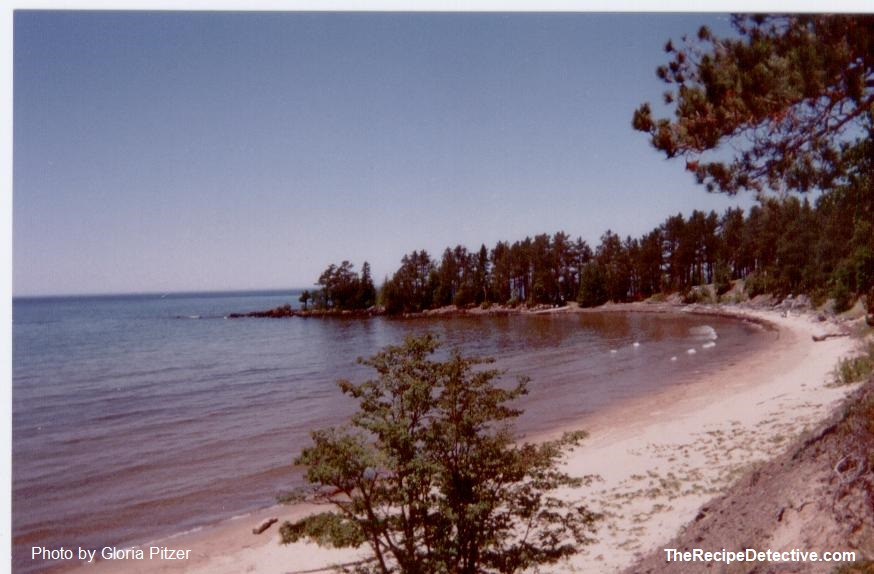 In August, the lake never 'rushed' in to meet the shore. It would wash in, and just as easily slip back again like sheets of silk, blue and gray with sprays of white foam writing each tumbling wave.
There was an instrumental rhythm, like crushing pieces of tissue paper in the music of the water as it caressed the sand and returned to itself like slippery, shining satin and bolts of silk, pulled smoothly over a pillowed featherbed, on which the wooded bluffs rested.
These were those pathways of peaceful places where I had been before and wish to return without having to pay rent or make improvements on property I couldn't afford! I could see the beaches line with the birch trees and long needle pines.
I listened and I heard in my memory's echo chambers, the soothing swishing of the waves on the peaceful shoreline of the quiet Bay. The water was winking impudently in the sunlight while the wind bulldozed the small dunes and, off in the distance, a lighthouse wore a halo of seagulls.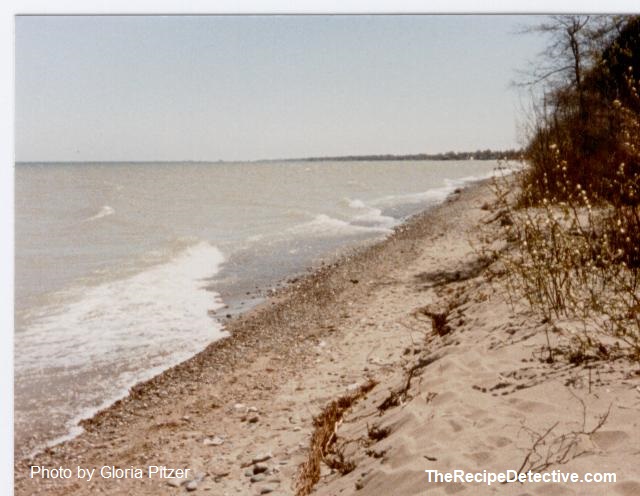 I was there once again in my memory album of restful visits. This must be 'the house built without hands' that John Ruskin wrote about. Listen! I can hear the water on the beach again. I can see the gulls, gliding to make an occasional swoop at the lake for a fish they've spied.
The air smells of the water, clean, wet and cool. Look! Down the road from the beach! The poplars and the maples are golden green, like new corn when it's just ready for picking. Their branches barely stir because the breezes are subtle and seldom.
The late afternoon sun begins to slip right into a lovely blue horizon, where only occasional puffs of soft, innocent clouds move lazily across the Michigan sky. The scene can change, as I will it to, according to what records my memory has made of such visits there.
I can choose to see the gulls glide into the foam-capped waves, or the clouds moving carelessly across the blue August sky and the sun in mid-afternoon, golden, brilliant and later slipping, a little now, a little then, into a Western hillside horizon as the day descends into evening time.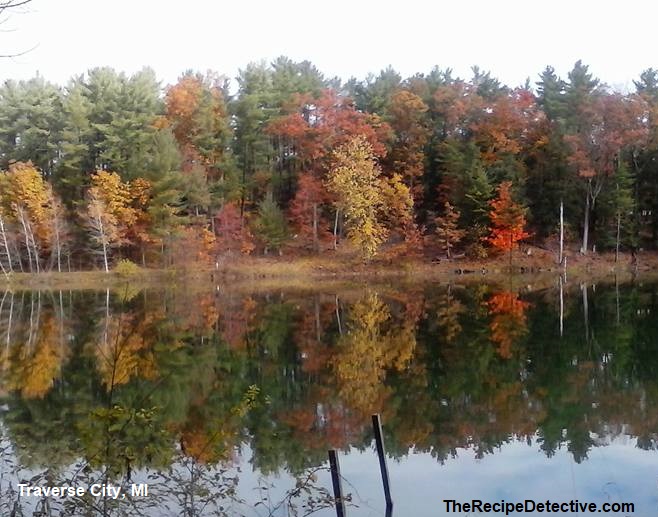 To be there again, as we were that pleasant summer day, gives me reason to rest, putting me softly into the mood that invites peaceful rest. I can nestle down into the pillows and draw the thick down comforter up around my shoulders and chin and close my eyes.
I hear the fog horns of the ships further out on the lake, and the picture fades while I slip dreamily off into a much-needed sleep. I rest well with these soft thoughts, recalling my most loved memories of a favorite place…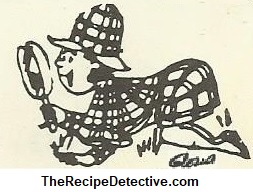 LAST THOUGHTS…
In addition, September is also known as National Americana Month. Americana is a nostalgic culture of an idealized, patriotic, small town, Norman Rockwell lifestyle. According to Wikipedia.org, "Americana encompasses not only material objects but also people, places, concepts and historical eras…"
Norman Rockwell depicted the simple, small-town, middle-class lifestyle of Americans as humble, God-fearing people who enjoyed a strong and prosperous family life – with Americana-styled elements like community pride and patriotism, Coca-Cola memorabilia, blue-collar workers, white-picket fences, denim, baseball, football, chocolate brownies and apple pie.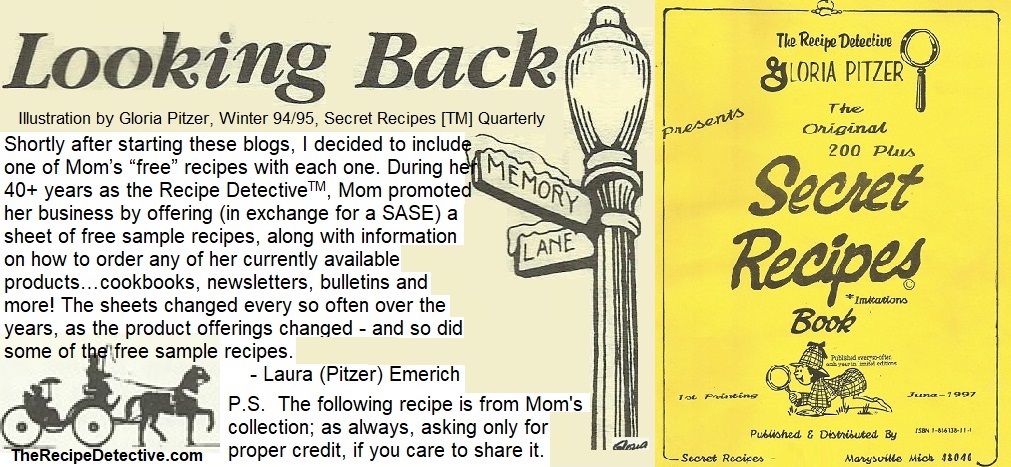 IN CLOSING…
In honor of August, still being National Brownies at Brunch Month, here's Mom's copycat recipe for Aunt Jenny's Brownies; as seen in her self-published cookbook, The Original 200 Plus Secret Recipes© Book (Secret RecipesTM, Marysville, MI; June 1997, p. 4).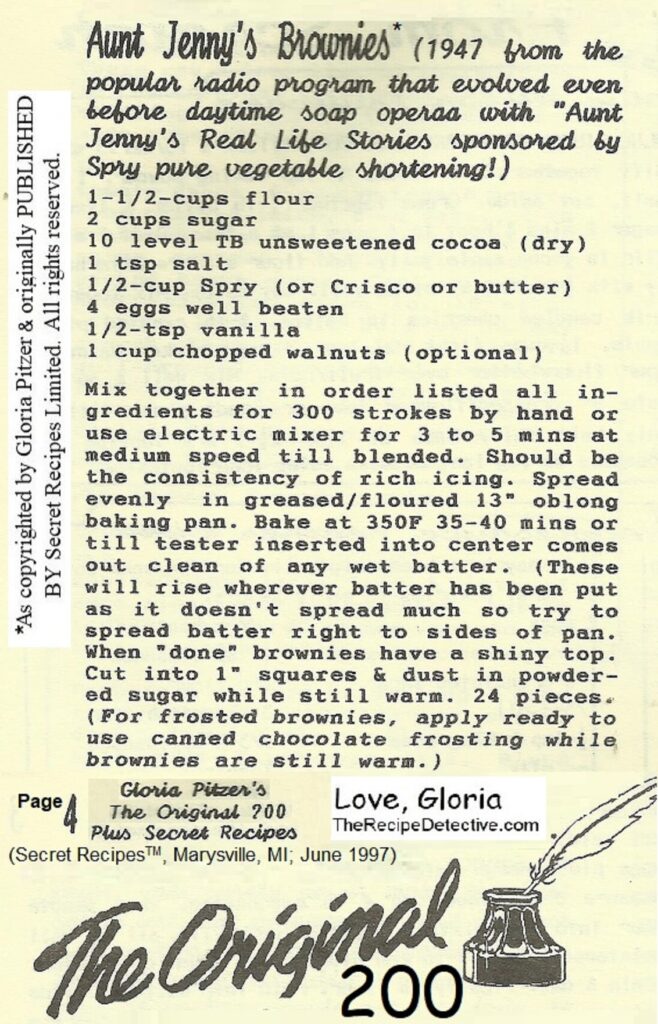 P.S. Food-for-thought until we meet again, next Monday…
The month of August observes, among other things… National Dog Month, Family Fun Month, Get Ready For Kindergarten Month, Happiness Happens Month, International Peace Month, National Back to School Month, National Catfish Month, National Goat Cheese Month, National Golf Month, National Panini Month, National Sandwich Month, and Romance Awareness Month!
Today is also… National Thoughtful Day, National Red Wine Day, and National Cherry Turnovers Day!
Tomorrow is… National Chop Suey Day and National Lemon Juice Day!
Wednesday, August 30th, is… National Toasted Marshmallow Day and National Beach Day!
Thursday, August 31st, is… National South Carolina Day and National Trail Mix Day!
Friday, September 1st, is… National Chicken Boy's Day and National No Rhyme (Nor Reason) Day! Plus, as the first Friday in September (for 2023) it's also… National Lazy Mom's Day, National Food Bank Day, National College Colors Day, and National Chianti Day!
September 2nd is… National Blueberry Popsicle Day! Plus, as the first Saturday in September (for 2023), it's also… National Tailgating Day! Additionally, the first Saturday of EVERY MONTH is also… National Play Outside Day! According to AwarenessDays.com, the first Saturday in September is unofficially International Bacon Day! [NOTE: National Bacon Day is December 30th.]
Sunday, September 3rd, is… National Welsh Rarebit Day and U.S. Bowling League Day! Plus, as the start of the first FULL week in September (for 2023) it's also… National Waffle Week!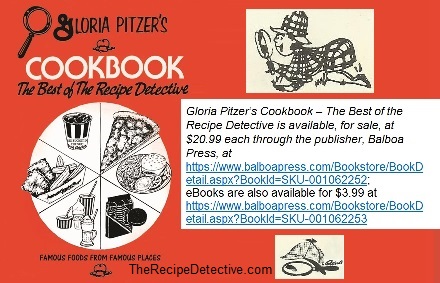 …35 down and 17 to go!