GUACAMOLE
By Gloria Pitzer, as seen in… Gloria Pitzer's Cookbook – Best Of The Recipe Detective (Balboa Press; Jan. 2018, p.65). [A revised reprint of Gloria Pitzer's Better Cookery Cookbook (Secret RecipesTM, St. Clair, MI; May 1983, 3rd Edition).]
INGREDIENTS:
2 ripe avocados
4 teaspoons lime juice
1 large fresh tomato (seeded & chopped)
2 tablespoons dry minced onions
2 tablespoons finely-chopped fresh red onion
1 well-chopped (bottled) chili pepper with 1 tablespoon of the liquid in which it's bottled
1 teaspoon powdered coriander
INSTRUCTIONS:
Peel avocados and remove their pits – reserve these. Place avocados in a bowl and mash to a chunky consistency; then, add the following [6 ingredients]. Beat it all together with an electric mixer on high-speed – or run the mixture through a blender – until pureed. Press the reserved pits into the mixture and refrigerate for 1 hour before serving. Remove the pits and discard when ready to serve. Makes 2 cups.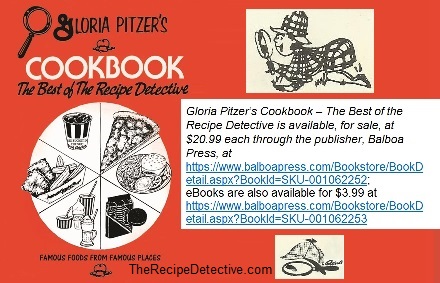 See also…