Happy February! Plus, Thank God Its Monday and a very #HappyMonday to everyone! As always, I personally look forward to all Mondays because they're my 52 Chances a year, in which I get to share Memories of My Mom with you!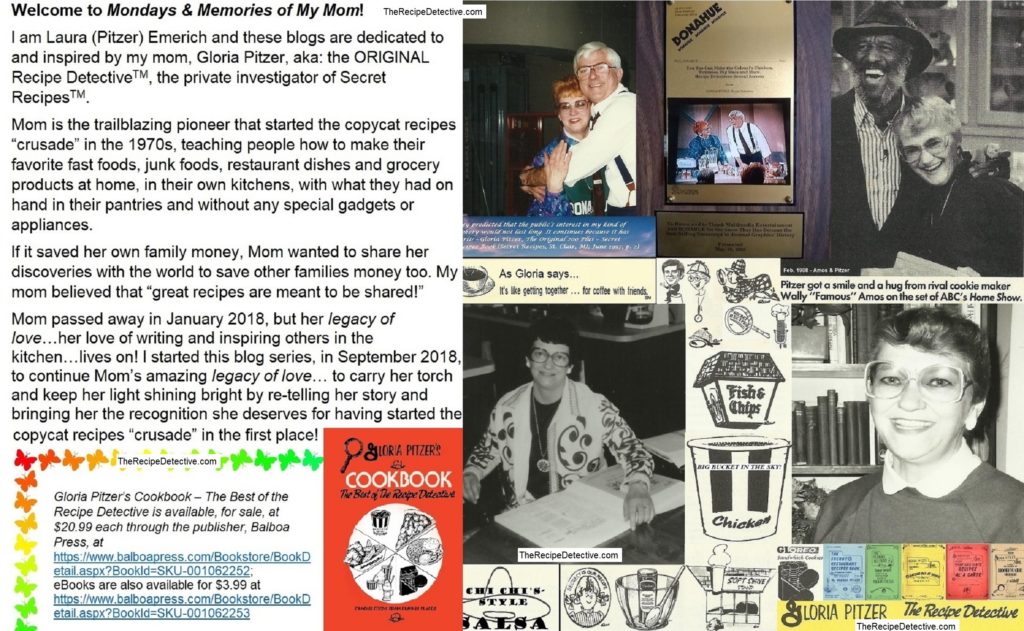 With Valentine's Day right in the heart of February, this month is generally known as the month of love. But it's not all about romance for lovers and sweethearts. It's also about self-love, as well as loving others, nurturing relationships with family and friends.
Obviously, love is something that should be practiced, shared, and celebrated every day, all year long, whether it's for someone special, or even a place or thing. That being said, let me tell you about my love for my home state (and my parents' home state) of Michigan.
January 18th, National Michigan Day, was only a few weeks ago. That week, I wrote about Hunting For Happiness. I often write about the happiness I find in the beauty of Michigan. So this may be a little late for the official National Michigan Day celebration, however, as I wrote last week: "Any day can be celebrated on any day…"!
There are a lot of things that make Michigan special – from its unique history (like being the home of "Motown" and the automobile industry) to its famous foods and restaurants (many of which Mom imitated, as the Secret Recipes DetectiveTM) to its melting-pot of people and traditions to its location and beautiful terrain (nestled within 4 of the 5 Great Lakes).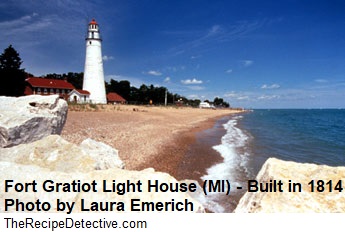 Notably, Michigan holds the record for the longest fresh water shoreline in the United States, coming in at 3,288 miles. Michigan is also one of only 12 states, through which the northern hemisphere's 45th parallel runs. The significance of this parallel is that it' marks the half-way point between the equator and the north pole.
Here, in Michigan, there are many Americana-style, roadside attractions – aka: selfie opportunities – along the various roads that sort of (within a few miles) follow the 45th parallel, between Lake Michigan and Lake Huron. It's about 135 miles across, as the crow flies; but a little longer on land, as it's not a straight shot, due to the terrain.
Over 50 years ago, a team from Michigan State University created what came to be known as the "Polar-Equator Trail", to follow the 45th parallel as closely as possible across the "Tip of the Mitt". Somewhere, there exists a guide/brochure that marks the trail as it was way back then. Sadly, it doesn't exist, as such, any more.
Years ago, inspired by WanderMichigan.WordPress.com's article, A Fine and Pointless Trail (April 8, 2010), my husband and I (as we, both, love to wander around our home state) drove part of the supposed "Polar-Equator Trail". We started near Alpena and wandered west. It was a beautiful drive through farm country and state forest area.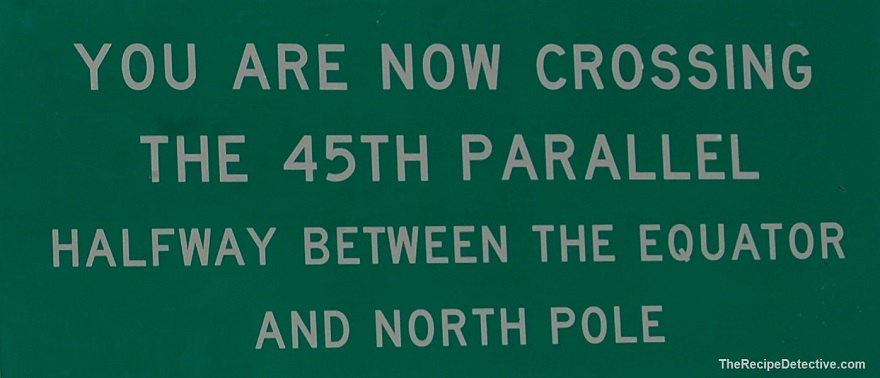 Along the way, in Atlanta (aka: Elk Capital of Michigan), the town's main intersection is actually right on the 45th parallel. Near Torch Lake, north of Kewadin, on Old US-31, is a beautiful and unique structure, called a "cairn", which is basically a monument.
This one, built in 1938, is dedicated to Hugh J Gray (aka: "The Dean of Michigan Tourist Activity"). However, it represents all of Michigan, as it's built of rocks from every county in the state. I found a couple of other really great articles about driving along the 45th Parallel, through Michigan.
The first one, I recommend reading, is at TwinCities.com; called In Michigan, Drive a Crooked Line to Follow the 45th Parallel (By: Pioneer Press, Published: June 27, 2009; Updated: November 13, 2015). The other is at MichiganHighways.org, about the origin of the Polar-Equator Trail.
Michigan is known by many nicknames, such as the "Great Lakes State" (because wherever you are in the state, you're within about 85 miles of a Great Lake), the "Wolverine State" (which is the state animal but it's now extinct, here), and the "Mitten State" (because of the distinct shape of the state's lower peninsula) – which is why Michiganders commonly use their right hands, as a map of the lower peninsula.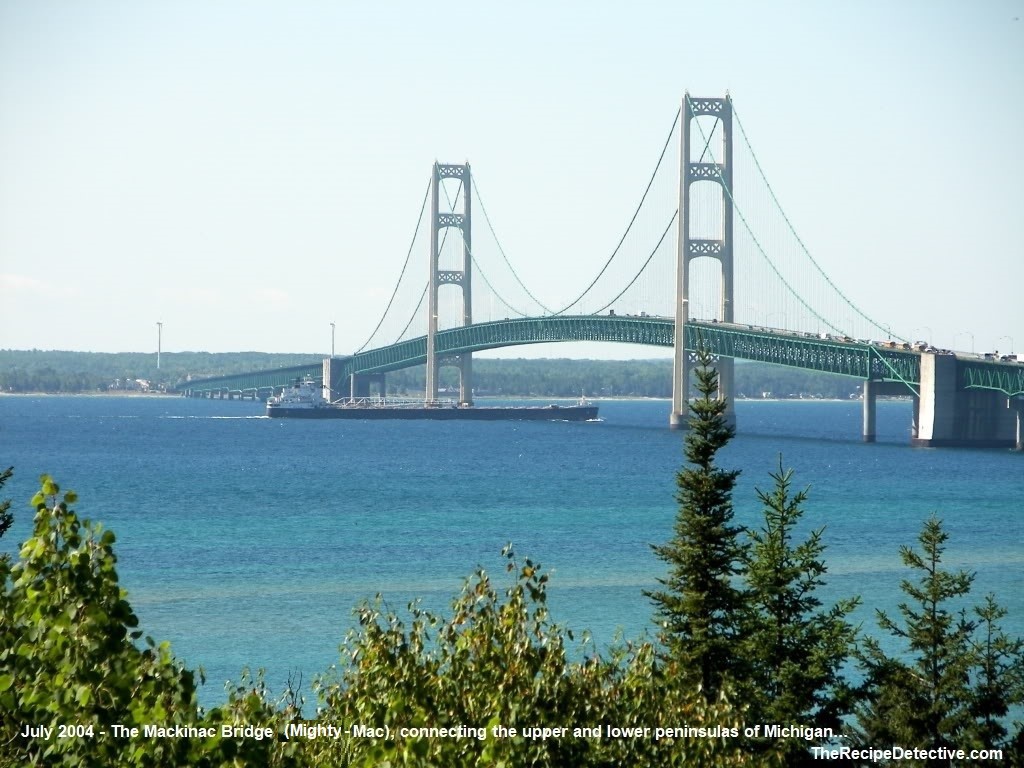 Michigan's Latin motto, "si quaeris peninsulam amoenam circum spice", means "if you seek a pleasant peninsula, look about you". It's unique shape and pure, natural beauty (from shore to shining shore) is probably for what Michigan is best known.
Furthermore, Michiganders have their own unique words and terms. For example, we say "pop" instead of "soda". Also, residents of Michigan's Upper Peninsula (aka: the U.P.) are called "Yoopers" by residents of its Lower Peninsula, who are called "Trolls" by the U.P. residents because, in a matter of speaking, they live "under the bridge"; referring to south of the Mackinac Bridge (aka: the "Mighty Mac").
Another great article, I recommend reading, is about how Michiganders talk – called Things Only Michiganders Say, by Hannah Ball (Tri-County Times, Fenton, MI; Updated: July 3, 2018). Some of what she lists, I'm guilty of saying often; and a few, I never realized, were uniquely Michigan slang.
Michigan is the birthplace of many iconic brands, including (but not limited to) Kellogg's, Ford Motor Company, Carhartt, Whirlpool, Gerber Baby Food, Vlasic Pickles, Koegel Meat Company, Sanders Candy, Jiffy Mix, Tom's Mom's Cookies, Better Made Snack Foods, Vernor's and Faygo Beverages.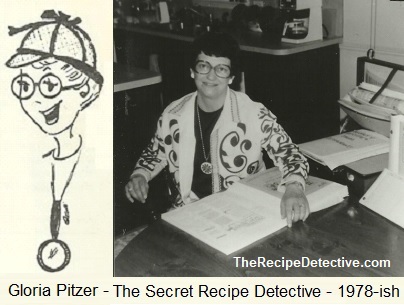 15 Famous Michigan Foods That Are Truly Delicious, by the staff at ThumbWind.com (Sept. 25, 2020), really nailed a great list of some of my own family's favorites, many of which Mom imitated, as the Secret Recipes DetectiveTM. She loved to imitate famous foods from famous Michigan places, as well as nation-wide favorites. Many are on this "list".
One of Mom's favorites, mentioned in their "list", is Mackinac Island Fudge; which is also Michigan's unofficial state dessert, according to a 2014 article at Slate.com. Additionally cited was [Detroit's] famous Coney Island Hot Dog, the sauce of which Mom also imitated and is likewise listed in another great article, at Cheapism.com, called Signature Cheap Eats From Every State, by Scott Nyerges (Aug. 23, 2022).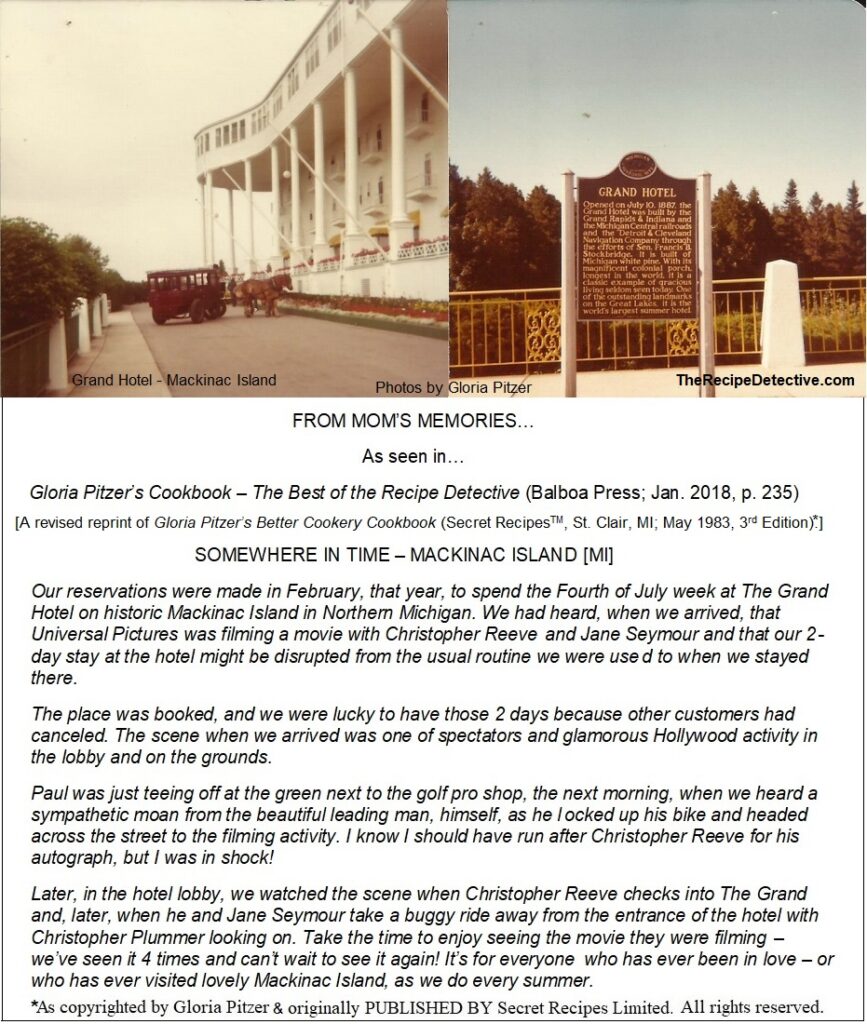 Things To Do In Upper Peninsula, from TripAdvisor.com, offers over 800 suggestions. They also suggest over 60 Best Upper Peninsula Hidden Gem Attractions to visit. 16 Places In Michigan You Must See, by Serena Maria Daniels (March 9, 2021) at OnlyInYourState.com/Michigan also includes Mackinac Island.
In fact, just last summer, Michigan's Mackinac Island [Was] Named 'Best Island In The Continental US' (ClickOnDetroit.com; 07/13/2022). Michiganders have always known that Mackinac is quite a treasure, nestled in the north end of Lake Huron. Now the whole country is in on our secret!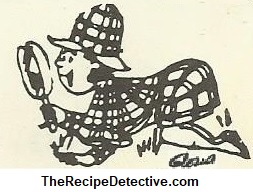 LAST THOUGHTS…
In honor of February, being National Snack Food Month…
MORE FROM MOM'S MEMORIES…
As seen in…
Gloria Pitzer's Cookbook – The Best of the Recipe Detective (Balboa Press; Jan. 2018, p. 264)… [a revised reprint of Gloria Pitzer's Better Cookery Cookbook (Secret RecipesTM, St. Clair, MI; May 1983, 3rd Edition).]
SNACKS
…SNACKS HAVE GIVEN an unlikely edge to a suffering food industry that was never anticipated as being possibly successful. Potato chips, pretzels, dips and appetizers have been more than well-received by a public that the industry was once certain had tried everything they could have been offered and will probably not buy another new idea! How wrong!
Whenever a new snack item or beverage has been introduced to the public, it has been received with enthusiasm, until proven unworthy of patronage, because we have become an on-the-run generation of picky eaters. Some just don't want to get involved any longer with a big meal experience.
Some don't want to take the time to make the foods and then serve them and, finally, clean up afterward. We look for snacks and beverages to serve our guests and to enjoy individually in our most private and leisurely moments.
From the offerings of the food industry have come some relatively good ideas, such as the baked potato chip product. Pretzels have gone from the 200-year-old tradition of hard and dry-baked to a soft, bread-like product, liberally sprinkled in salt and topped with prepared mustard and, as a fast food enterprise, has been one of the leading money-makers in the industry.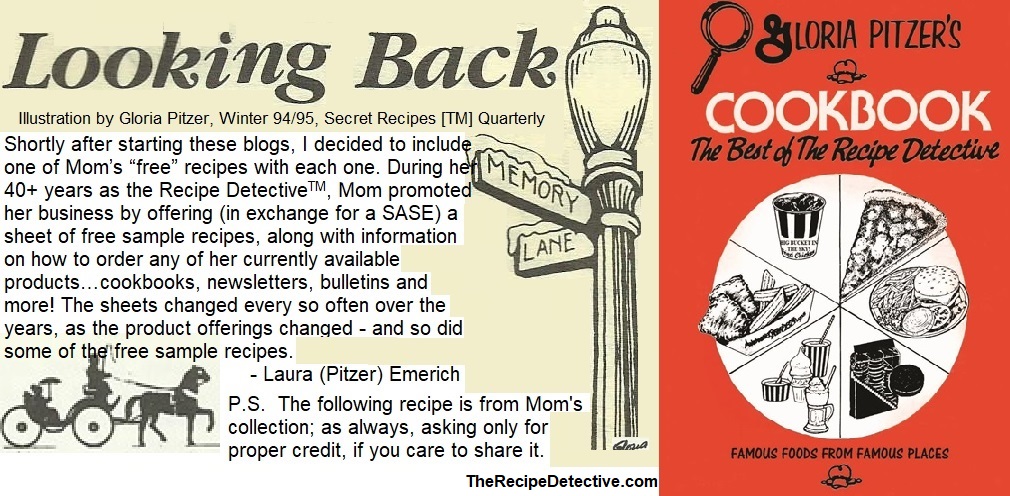 IN CLOSING…
Also, in honor of February, being National Snack Food Month, here's Mom's copycat recipe for Cheese Crackers; as seen in… Gloria Pitzer's Cookbook – The Best of the Recipe Detective (Balboa Press; Jan. 2018, p. 281). [A revised reprint of Gloria Pitzer's Better Cookery Cookbook (Secret RecipesTM, St. Clair, MI; May 1983, 3rd Edition)].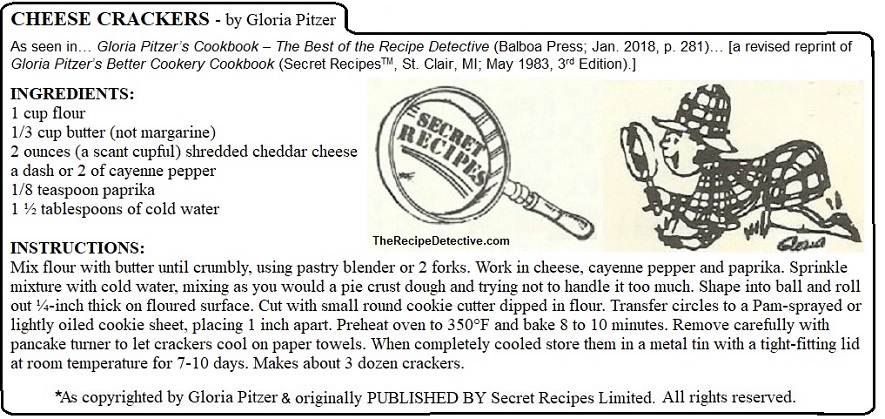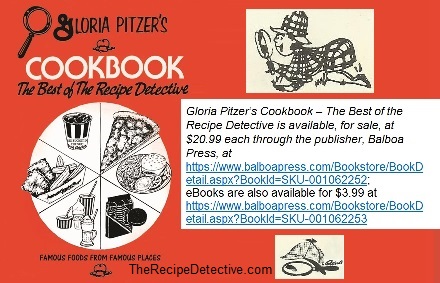 P.S. Food-for-thought until we meet again, next Monday…
February celebrates, among other things… National Fasting February, An Affair to Remember Month, Black History Month, National Canned Food Month, National Creative Romance Month, National Great American Pies Month, National Bake for Family Fun Month, National Bird Feeding Month, National Cherry Month, National Grapefruit Month, National Hot Breakfast Month, National Library Lover's Month, and National Weddings Month!
The second week of January celebrates, among other things… Burn Awareness Week (which is the 5th-11th, for 2023).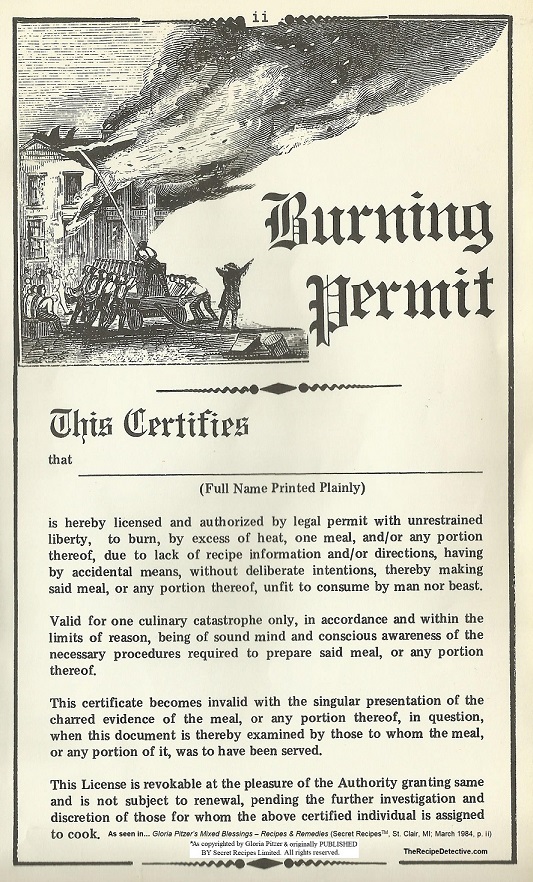 Today is also… National Frozen Yogurt Day and National Chopsticks Day! Plus, as the start of the first full WORK WEEK of February (6th-10th for 2023), today also kicks off Pride in Food Service Week.
Tomorrow is… National Fettuccine Alfredo Day and National Send a Card to a Friend Day! Plus, today begins National Marriage Week, which is always February 7th-14th.
Wednesday, February 8th is… National Boy Scouts Day [plus, it's National Boy Scout Anniversary Week (always February 5th-11th)], National Kite Flying Day, and National Iowa Day!
February 9th is… National Cut the Cord Day, National Bagel and Lox Day, and National Pizza Day!
Friday, February 10th is… National Cream Cheese Brownie Day and National Umbrella Day!
February 11th is… National Don't Cry Over Spilled Milk Day, National Inventors' Day, National Make a Friend Day, and National Peppermint Patty Day! Plus, as the second Saturday in February (2023), it's also… Global Movie Day!
Sunday, February 12th is… National Plum Pudding Day! Plus, for 2023, it's also… National Pork Rind Day, which is always the same day as Super Bowl Sunday (now the second Sunday in February)!

…6 down and 46 to go!