Thank God Its Monday, once again; and, as such, #HappyMonday to everyone! I personally look forward to all Mondays because they're my 52 Chances a year, in which I get to share Memories of My Mom with you!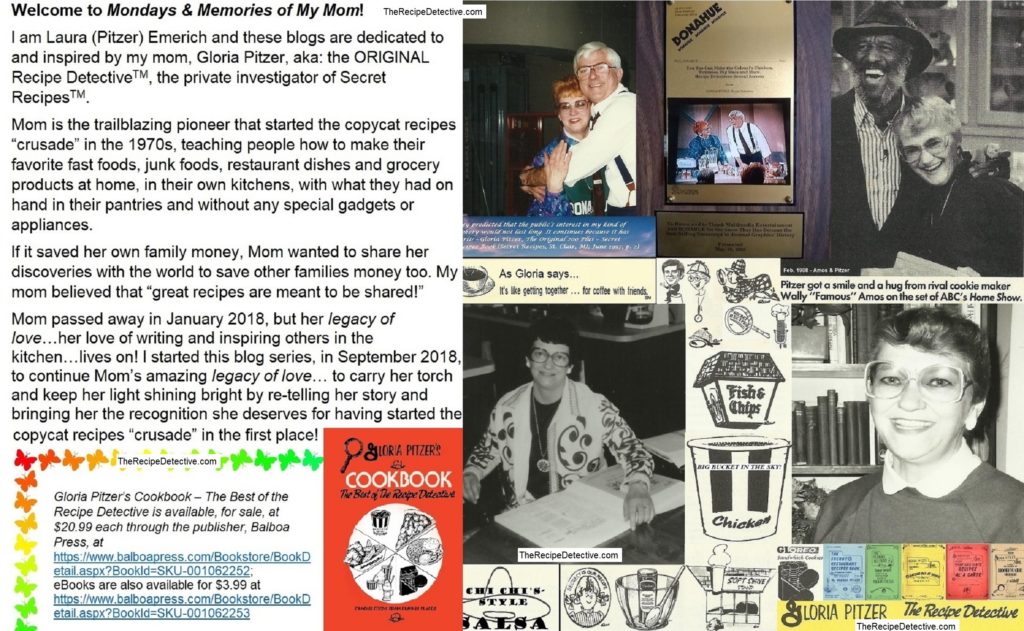 Mom was always grateful for her "readers", "listeners" and "fans" who kept her endlessly inspired with their requests to find the "secrets" for making their favorite fast food items, restaurant dishes, and grocery products at home (and for a lesser cost).
Mom was also very grateful for all the media sources that interviewed, wrote and talked about her innovative recipe ideas. She was also grateful for us, her family; for supporting and helping her – as office, art and promotional assistants, as well as recipe testers and "flavor specialists" (aka: taste testers) – plus, for staying out of her hair when needed.
'I felt as if the hand of Providence had poured me out a blessing and it was pressed down, shaken together and running over.' – Gloria Pitzer, My Cup Runneth Over and I Can't Find My Mop (Secret RecipesTM, St. Clair, MI; Dec. 1989, p. 15)
Furthermore, Mom was also an inspirational role model to so many copycat cookers that followed her lead. Many wrote to her for advice about how to do what she was doing. She loved to inspire and encourage other writers. Unfortunately, however, some just plagiarized her work and called it their own.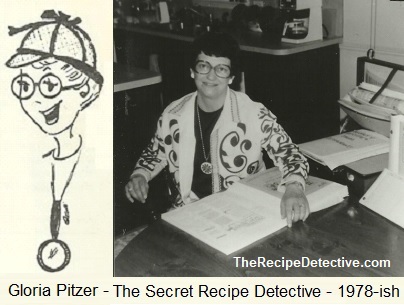 'Imitation is the sincerest [form] of flattery.' – Charles Caleb Colton
Dictionary.com says, "to imitate someone is to pay the person a genuine compliment…" However, not everyone takes it as such; because there's a fine line between imitation and plagiarism. I've discussed this subject in a few of my blog posts, previously.
Mom didn't plagiarize anyone – she was the ORIGINAL copycat. Nor did she plagiarize anyone's recipes. She didn't know what was really in the big food companies' "secret recipes". On the other hand, to imitate them at home, she could make some good, educated guesses for her own semblance of products.
Still, there've been instances, over the years, of others blatantly stealing Mom's work – sometimes word-for-word and sometimes changing a few words or exchanging similar ingredients (like using "1/8 cup" instead of "2 TB" or using flour, salt and baking powder instead of self-rising flour) and then, passing it off as their own work!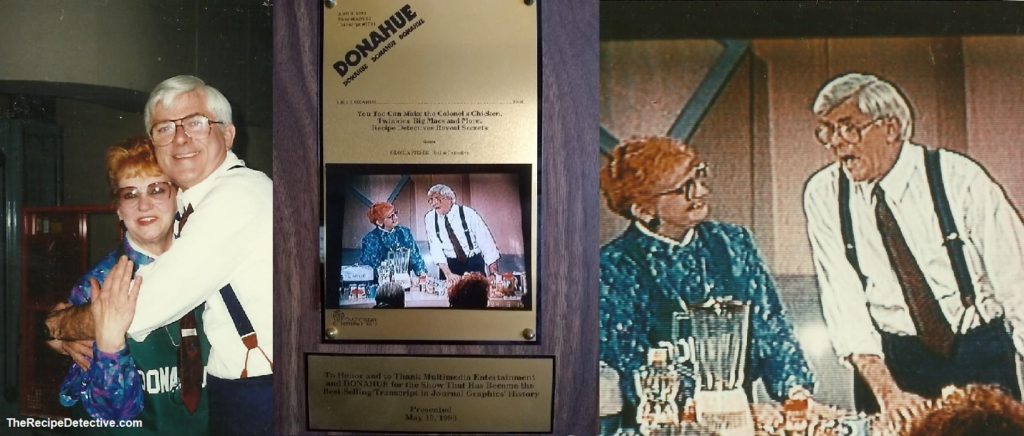 Regardless of what Todd Wilbur would have you think about how he started being a "copycat cook"; long story, short… he actually got his start in the by ordering a copy of my mom's cookbook, Secret Fast Food Recipes, in April 1989. He then proceeded to copy and even plagiarize her recipes.
Wilbur claims he was inspired by Mrs. Field's publicized cookie recipe – but it was actually Mom's work that inspired him! Eventually, he may have developed some of his own copycat recipes that were different from Mom's – unless he was plagiarizing other people's work as well!
Check out this great 2002 article about Mom at SanDiegoReader.com, How Can I Enjoy A Big Mac Without Actually Leaving Home; including an updated end response from a reader, about Todd Wilbur stealing from the ORIGINAL Secret Recipe Detective.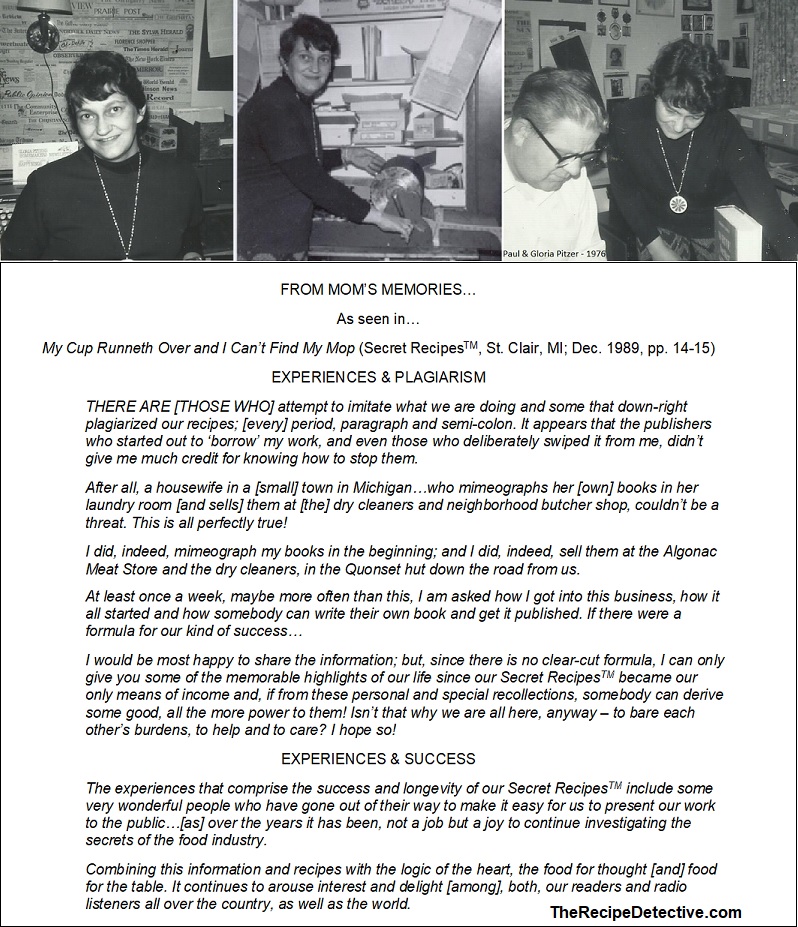 I was once asked, by a radio talk show host, who interviewed Mom regularly, why people like Todd Wilbur can get away with blatantly copying her work. The simplest answer I could find, at the time, was in an online article at PlagiarismToday.com called, Recipes Copyright And Plagiarism, by Jonathan Bailey (published March 24, 2015).
The author gave a wonderful, easy-to-understand explanation of plagiarism – specifically among recipe writers – and how difficult it is to prove, let alone prosecute, the theft of someone else's original work, especially in recipes being passed off as one's own work.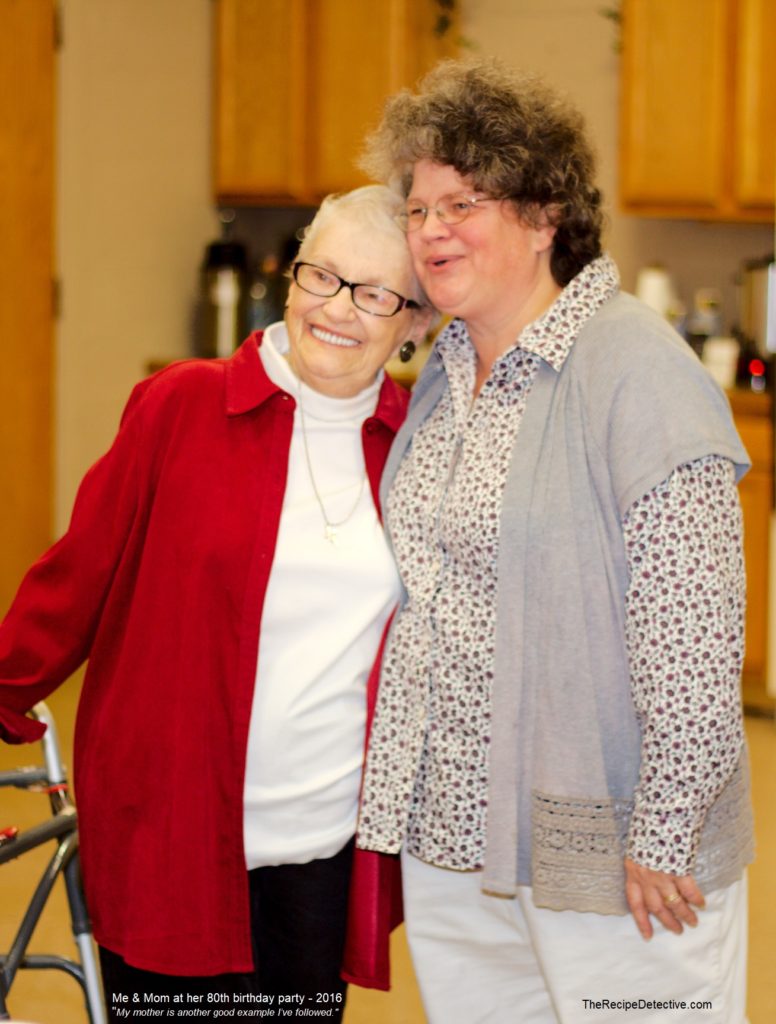 I still feel inspired to take up the challenge to write Mom's biography, including a history of the "copycat recipes movement". That's kind of why I started this blog series, Mondays & Memories of My Mom, in the first place; to carry the torch for Mom's legacy and to keep telling her story.
I want to reach those who remember Mom as the Recipe DetectiveTM and those who won't admit to it because they've copied (or plagiarized) the ORIGINAL copycat, as well as the new, digital generation who probably doesn't even know that there's a history behind the "copycat recipes movement" and that it began with my mom, Gloria Pitzer!
The following is another commentary Mom wrote, specifically about developing the recipe to mimic Treacher's fish batter and plagiarism.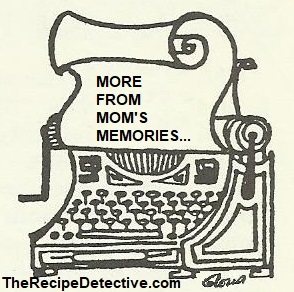 MORE FROM MOM'S MEMORIES…
As seen in…
My Cup Runneth Over – And I Can't Find My Mop (Secret Recipes, St. Clair, MI; Dec. 1989, pp. 73-74)
ARTHUR TREACHER IMITATION
THE MOST EXCITING ATTENTION we received was the recognition given us by the Arthur Treacher people. At the time, the Arthur Treacher fish batter was unique. It was crispy and golden brown and very light. Everyone we talked to about fish wanted to know how to recreate the Treacher fish batter at home.
The original challenge came directly from Bob Allison's 'Neighbors'. The TV commercials advertised that it was 'the meal you cannot make at home!' I tried to disprove that. Finding the nearest Arthur Treacher restaurant [from 'beautiful, downtown Pearl Beach'] was the real challenge.
With a friend, I drove into Mt. Clemens and located one. After dozens of tests and trying what I thought would be a good Oriental Tempura batter, again, I was disappointed. I tried every fish batter I could find, in every possible recipe source [at the time], over a 6- or 7-month period.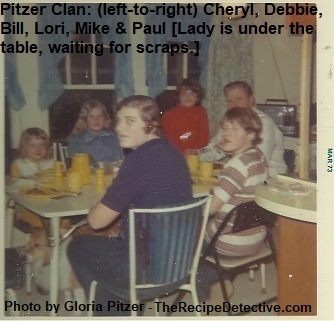 Finally, one day, by accident, I was preparing fish for our dinner – without any thought being given to Arthur Treacher's batter – and on a lark, mixed together boxed pancake mix and some Club Soda.
Only because the plumber was working on the pipes and had turned off the water temporarily, did I resort to that Club Soda, so that I wouldn't have to put off preparing dinner until the plumber was finished. Everybody had someplace to go that evening, so dinner had to be fast and on time.
Wouldn't you know it! There, on the platter, was a mountain of the most beautiful, golden, crispy fish that you would have sworn came right from Arthur Treacher's own kitchen! The next day, I retested the recipe and tried to work out some of the little flaws that we came across, before I could report back to Bob Allison and his 'Neighbors' over, then, WWJ-Radio, Detroit.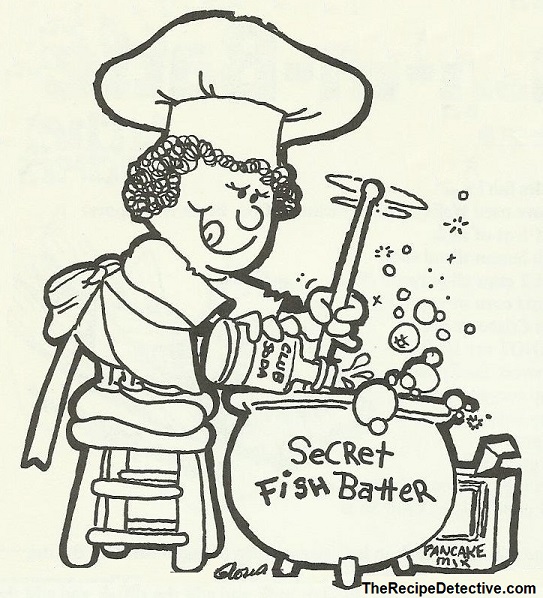 The biggest problem was how the coating kept falling off the fish during frying. It turned out, I had to correct two things – coating [the] moistened fillets, first, in plain flour, before dipping [them] into the batter, and then having the oil precisely at 385F. Oh! And a third point: Never use tongs – or the coating would break apart.
Once the fish recipe proved to be free of faults, I sent a copy of the recipe to Carol Haddix, the Food Editor of the Detroit Free Press [at that time], for her comments. I had talked with her, by phone, during the many weeks that I worked on perfecting the batter, trying to discover why the batter would sometimes fall off the fish; why the fish was, sometimes, greasy; and a number of other problems.
 She offered me the benefit of her experiences with frying fish and told me to get her a copy of the recipe, if I ever perfected it. When she published [my] recipe in the paper, it carried her approval as "on target".
So, it does, therefore, have ample validation that the recipe is ours and does belong to "Secret Recipes", in spite of the number of people I have had to confront on the issue over the years, regarding the plagiarism of it from our publications.
Because our recipes and newsletters are all "dated publications" and are subject to Interstate Commerce, we don't use the same copyright procedures that book publishers use. We validate the originality by date of publication and back it up with radio and newspaper endorsements and involvement with the development and printing of the recipes for public use.
But, that one recipe really caught the attention of the press! The wire services picked up Carol Haddix's story about us and the fish batter recipe and, before long, it appeared in over 100 papers…[and the rest is history!]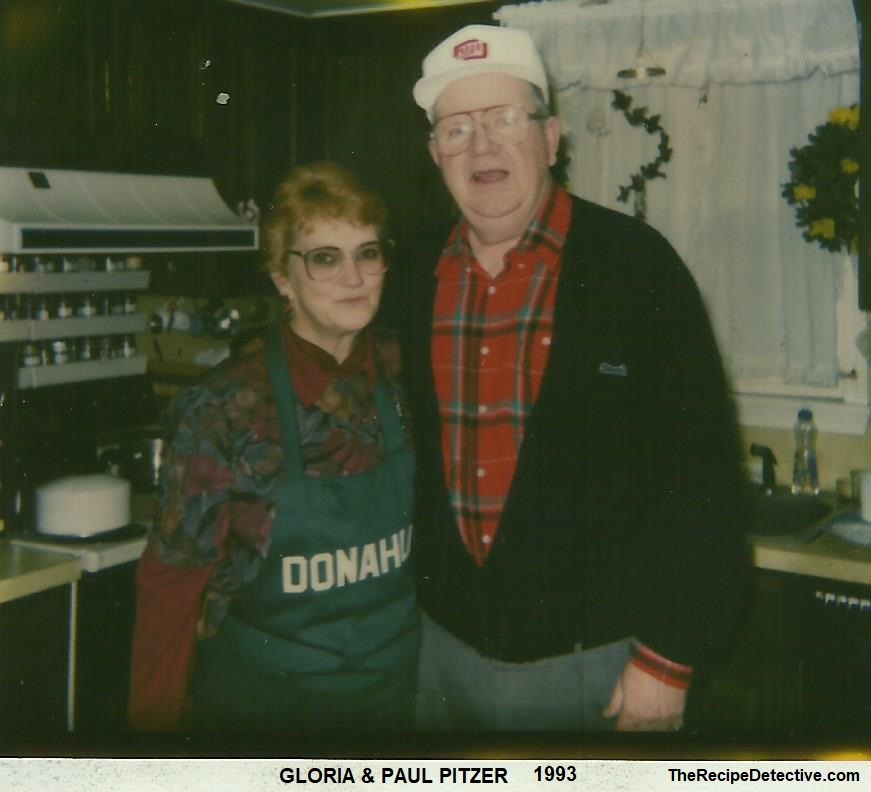 Imitating Arthur Treacher's fish was not a quick development for mom, and others have tried to lay claim to this secret; but, in truth, Mom was the one to originally discover the "secret" ingredients AND process involved in developing a matching product at home.
Unlike a lot of the companies, whose products Mom imitated, Treacher's people accepted the copycat imitation as the homage of flattery that it was meant to be. White Castle was another company that enjoyed Mom's imitation of their slider. Hershey's as well, in regard to her imitation of their Reese's Peanut Butter Cups.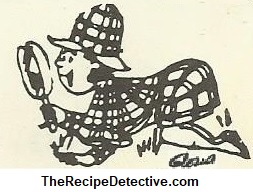 LAST THOUGHTS…
As we approach Thanksgiving this week, keep in mind and at heart that November is National Gratitude Month! It's so easy to take a few seconds to say, "Thank you!" There's a great article at SeeBeyond.cc, Gratitude from the Heart and Mind [author unknown (Nov. 6, 2018)], that discusses, like the random acts of kindness, about which I wrote last week, how there are mental and physical benefits to being grateful, as well. Check it out!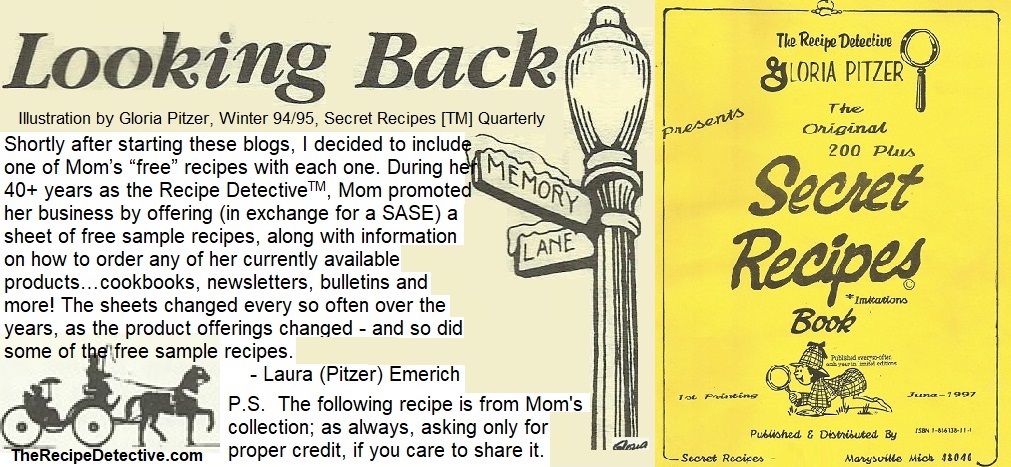 IN CLOSING…
In honor of TODAY, being National Stuffing Day, here is Mom's copycat recipe for Waldorf Astoria Stuffing Sidedish; as seen in her self-published cookbook…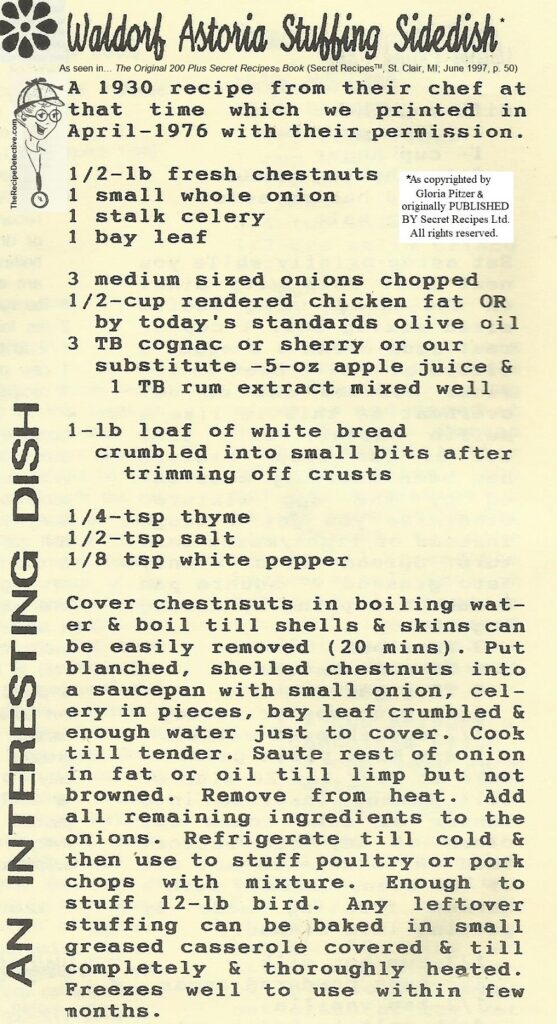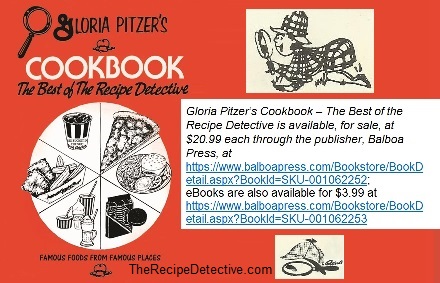 P.S. Food-for-thought until we meet again, next Monday…
November observes, among other things… National Banana Pudding Lovers Month, National Family Stories Month, National Diabetes Month, National Fun with Fondue Month, National Gratitude Month, National Inspirational Role Models Month, National Life Writing Month, National Native American Heritage Month, National Novel Writing Month, National Peanut Butter Lovers Month, National Pepper Month, National Pomegranate Month, National Raisin Bread Month, National Roasting Month, National Spinach and Squash Month, National Sweet Potato Awareness Month (See also February), and National Vegan Month!
Today is also… National Gingerbread Cookie Day!
Tomorrow is… National Cranberry Relish Day!
Wednesday, November 23rd is… National Cashew Day, National Eat a Cranberry Day, and National Espresso Day! Plus, as the day before Thanksgiving (for 2022), it's also… Tie One On Day and the start of… National Deal Week (23rd-29th for 2022)!
November 24th is… National Sardines Day! Plus, as the fourth Thursday in November (for 2022), it's also… Thanksgiving Day!
Friday, November 25th is… National Play Day with Dad, National Parfait Day, and National Shopping Reminder Day! Plus, as the day after Thanksgiving (for 2022), it's also… National Day of Listening, National Native American Heritage Day, National Black Friday, National Buy Nothing Day, and National Maize Day!
November 26th is… National Cake Day! Plus, as the Saturday after Thanksgiving (for 2022), it's also… National Small Business Saturday!
Sunday, November 27th is… National Bavarian Cream Pie Day and National Craft Jerky Day!

…47 down and 5 to go!