Happy Monday and happy August! As always, #TGIM – I continually look forward to Mondays because they are my #52Chances each year, in which I have to share my memories of Mom!
Stress and anxiety often accompany any kind of lifestyle changes. We've been going through these kinds of times for centuries – the names and places may have changed but the feelings of stress and anxiety remain the same. These days, some of the new lifestyle changes we're dealing with include staying home as much as possible, extreme sanitizing practices, wearing masks in public, and social distancing – just to name a few.
Now it's August and the pandemic is still rearing its ugly head in many "hot spots" due to people crowding and not properly wearing PPE, if at all. In addition, a lot of people are worried about sending kids back to "brick-and-mortar" schools before/after Labor Day. Some are trying to push online learning and home-schooling. But not every parent is cut-out to be a teacher and online learning is not easy, let alone available, for everyone.
Stress is just another word for worrying – only more severe – in how it affects us, both physically and emotionally. Unfortunately, the trying times that we've been facing, especially this year, are not going away anytime soon. Many experts are telling the media that it will likely get worse before we see it really start to get better.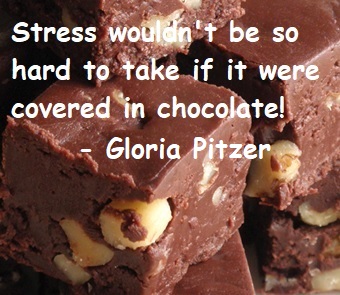 Sadly, life doesn't always go the way we want and, from time to time, when we start getting comfortable with how life is going, we forget that nothing in life is guaranteed to any of us. I recently read a really great article, "When It Seems Like Things Are Falling Apart, They're Really Just Falling Into Place", by Paul Hudson (Sep. 23, 2014) at EliteDaily.com. The timeless advice and reasoning in this almost-6-year-old article, about dealing with stress and creating your own happiness, sounds like it could have been written for our current pandemic situation. I highly recommend the read!
Writing and cooking were among Mom's top stress-relievers. Being the Secret Recipes Detective for 40 years, one was more apt to find Mom in the kitchen, creating an imitation of a popular restaurant dish or at her desk writing about the latest imitation she developed.
However, Mom also loved to write random bits of, what she called, "Food for Thought". Almost half of what she published in all of her cookbooks and newsletters was devoted to "Food for Thought", as she felt it was important to have a proper balance between good thoughts for the soul and good food for the table!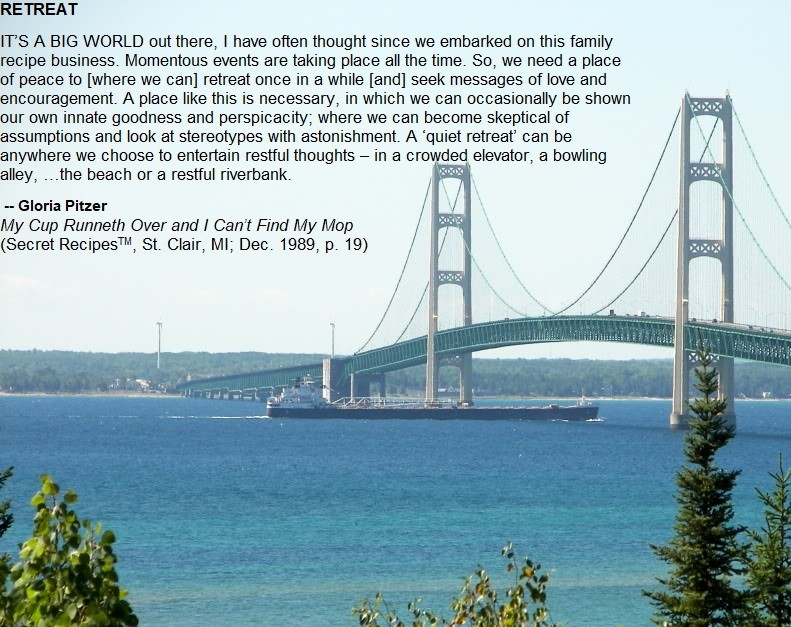 Mom's other favorite stress relievers included reading "motivational", "inspirational", and "positive thinking" books; as well as crocheting and laughing at her favorite comedians like George Burns and Carol Burnett. As the old adage says, "laughter is the best medicine." Mom always added to that, "you can't smile on the outside without feeling good on the inside."
When dealing with the stress of operating a family-run, cottage-style, dining room table business that was booming faster than expected, Mom also enjoyed listening to music and going for a walk along the St. Clair River or taking a long drive with Dad, beside the Lake Huron shoreline. There are countless techniques for managing stress these days. Yoga, dancing, bread-making, meditation, and exercise are just a few examples.
Like Mom, when I'm under stress, I also enjoy writing, cooking, listening to music (different music, though), going for walks, and/or taking a shoreline road trip with my husband to lift myself out of the rut. What kinds of things help you to de-stress and be happy? Use the hash tags (above) to share, what works for you, on social media.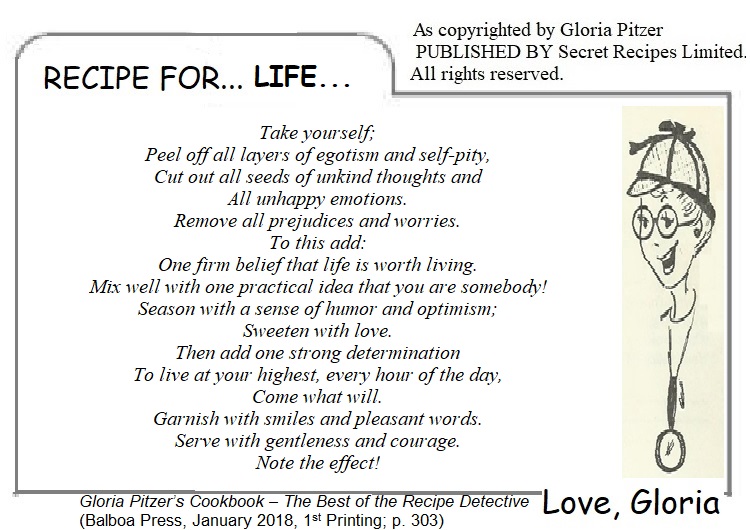 FROM MOM'S MEMORIES…
As seen in…
My Cup Runneth Over and I Can't Find My Mop (Secret RecipesTM, St. Clair, MI; Dec. 1989, p. 96-97)
RETHINKING OUR LIVES
If you have ever seen one million letters, you know how we felt when we tried to handle the overwhelming response. It was exhausting! Our home, which was both, our office and our sanctuary, too, became like a factory; with [extra] people helping us to process the mail, eventually having to return thousands of orders to the customers with our deepest regrets that we could not, in all fairness to them, delay their order.
The onslaught of mail forced us to do this. We were all working from seven in the morning to one or two the next morning, just to open the mail. We burned up two electric letter openers! Our phone bill was lost in the mail and when we forgot about our utilities having to be paid every month, our phone was dead one day when I picked it up.
From then on, our utilities were phoned in to us by the company so that we could keep them paid without having to sort through thousands of letters, looking for the bills. There were trays of mail stacked three and four deep in our living room, bedrooms, the basement, too.
At one point, I lay my head down on my desk and cried, reading the angry letters that were coming from probably very nice folks who thought we were trying to do something illegal, because they had not received their free recipes. They probably had not sent us their self-addressed, stamped envelope, either, which we have always required for the service.
As soon as we realized what the mail was doing to us, we tried to get Donahue's people to stop the continued scheduled showing of our appearance. But that show remained on their repeat circuit for almost a year, playing in the Panama Canal zone, Greenland, Iceland, Australia and hundreds of small town stations across the states.
Most of the letters received from them still asked for the free recipes that were included with the order blank for a self-addressed stamped envelope to us. The offer would have been good for us if it had only been shown that once – the day on which we appeared on the show, but for nearly a year afterward the requests came and the complaints came and the threats to report us to postal authorities for not sending those free recipes, tore us apart emotionally and physically!
We had put so much money into returning the orders we could not fill in every postage stamp that we put on envelopes that requested free recipes also came out of our pocket, so it was an experience of mixed blessings. It cost us so much more than we had anticipated.
We talked about making a move to California in the fall of 1981. I really wanted to move out there to be closer to my sister, Hazel. Our son, Michael, was also living in Pasadena where he was attending the art center. It seemed like a wonderful opportunity for us to leave… St. Clair and begin a new life in Los Angeles…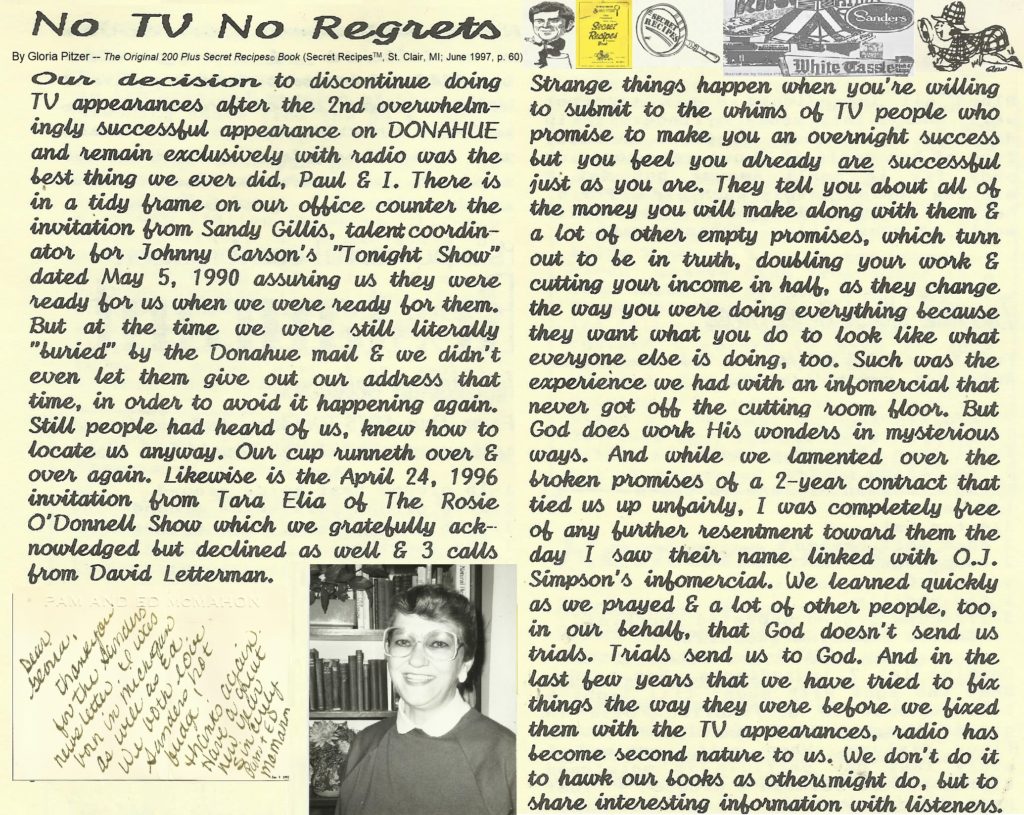 I remembered what Dick Syatt, one of our radio friends, had told me about finally getting everything you ever wanted, when he said, 'Hell is God, giving you what you thought you wanted.' Sometimes we need to have something, lose it and get it back again before we can really appreciate what we have. I had that chance and I am so glad for it. It was a time to learn and to grow. – Gloria Pitzer

Gloria Pitzer's Cookbook – The Best of the Recipe Detective (Balboa Press, January 2018, 1st Printing; p. 299)

MORE FROM MOM'S MEMORIES…
As seen in…
My Cup Runneth Over and I Can't Find My Mop (Secret RecipesTM, St. Clair, MI; Dec. 1989, p. 67)
WASTING TIME – WHATEVER HAPPENED TO THE SIMPLE JOYS?
Unfortunately, were waiting for that golden day, that one lovely moment in which we feel everything is finally grand – everything is finally just the way we have always wanted it to be! Everything we've been working for and moving toward has been attained. We can relax! We've lost the weight we wanted to lose. The house is finally in 'company is coming' order. The bills are all paid. The bank account is adequate. Our children are living productive, useful lives.
Everything will be wonderful – and then, and probably only then, do we feel we have the right to be happy! Until we achieve that perfect moment, that ideal existence, however, we're looking forever ahead to it, not even seeing the opportunities – small as they might be – to be happy, now, with what we already have, with who we are [and] with what we're already doing.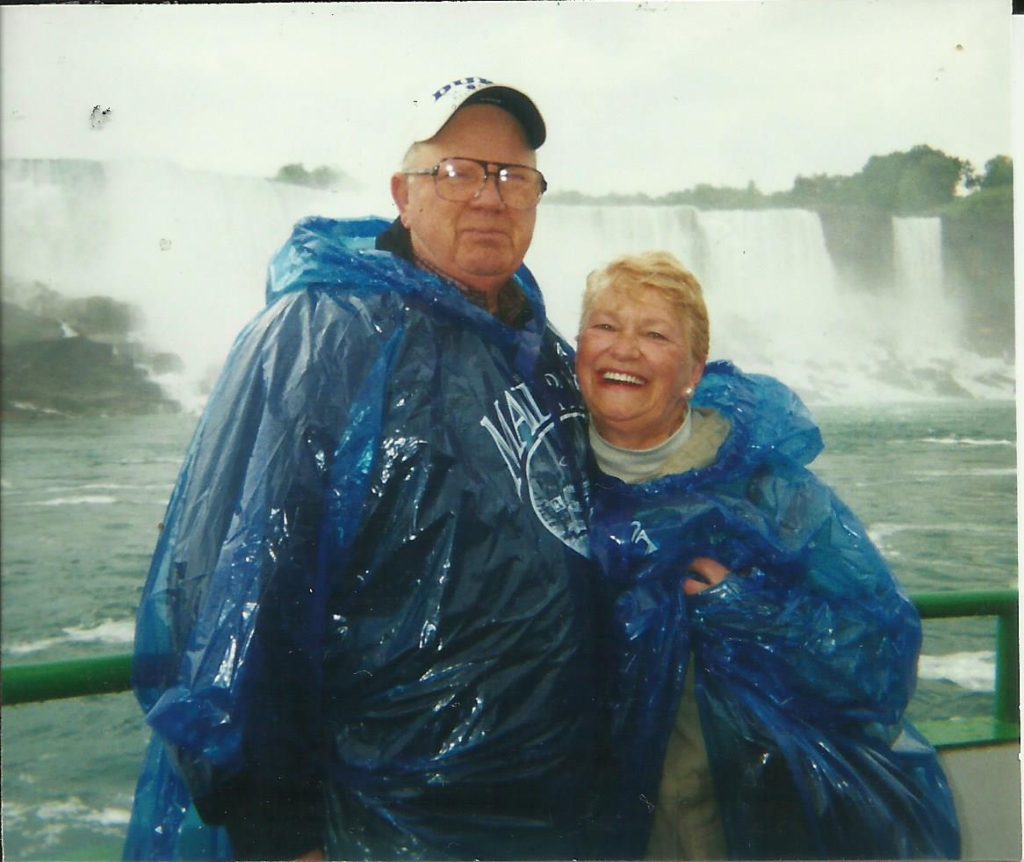 Everyone, at one time or another, seems to go through such trying times; carrying burdens we can't seem to shake, with no one to help us make the load seem lighter. And in doing so, we end up making our mishaps more important than our smallest achievements. How easily we waste the time we have now, entertaining false pride as if it were the honored guest at our table of regrets. We try to avoid being natural, being ourselves, because it is usually less than we think we should be, or what others expect us to be.
So we look toward the moment when we're sure everything will fall into its proper place. We finally have the time to call a relative we've been meaning to visit. Will write that newsy letter to the friend we somehow lost touch with. We'll take that cake to the neighbor we haven't had the chance to call on but meant to. But we can't do those things now – not while were working out important problems and have so many things to worry about. Worrying takes time!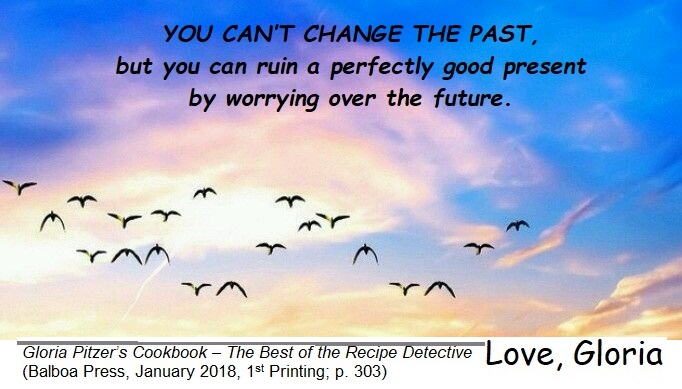 I'm nearly convinced that there is no such perfection toward which to work and for which to wait. Waiting seems an idol waste [of time] when there are so many things I want to do that have been pushed aside because obligations and commitments came first. Instead of looking ahead two years from now, days from now, hours from now, I look to the next moment. Human beings are not immortal, but some of us put off the wonders of living, as if we had forever to realize them.
For each moment that I didn't enjoy as much as I could have, I'd like to be ready just in case I have a second chance at having them again. I would like to have all of our children with us around the dinner table once more, and really enjoy it, to make up for all of those times that I took their being there for granted. That would be a perfect moment, a perfect day!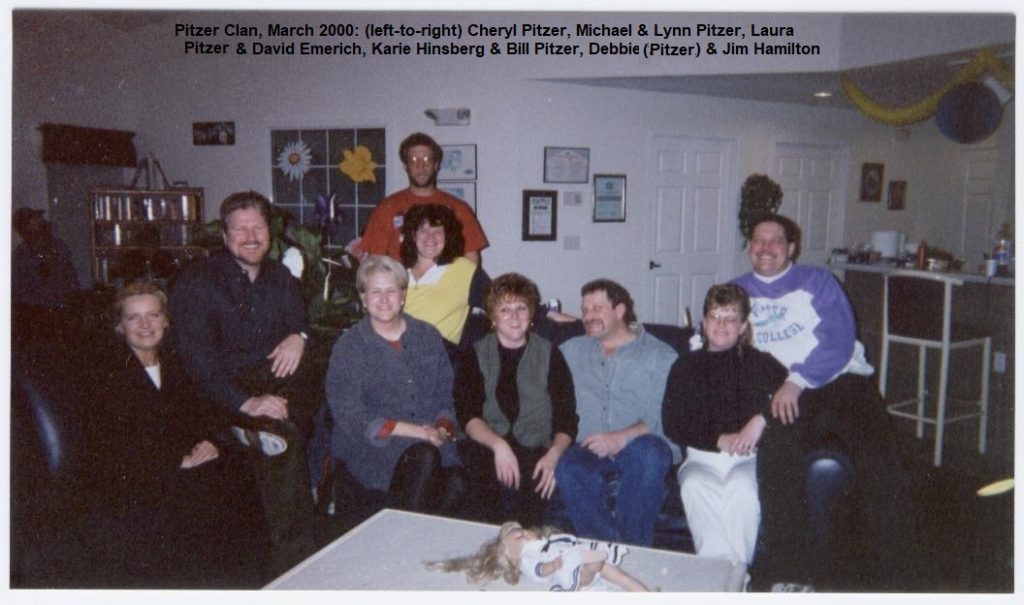 AGAIN, MORE FROM MOM'S MEMORIES…
As seen in…
Gloria Pitzer's Secret Recipes Newsletter (Secret RecipesTM, St. Clair, MI; May-Jun. 1988, p. 1)
NO SUCH THING AS A SURVIVOR!
I finally met someone who agrees with me that it is not a compliment to be called a 'survivor' – when one has apparently been able to meet the challenges of life and keep on going. Surviving is too much like wading around in a puddle of old problems or troubles.
Instead, I'd rather be considered a 'pilgrim' – going forward, pressing on. And, if I were told that I could no longer give others hope, I don't think I would ever enjoy living again, but would probably just exist instead!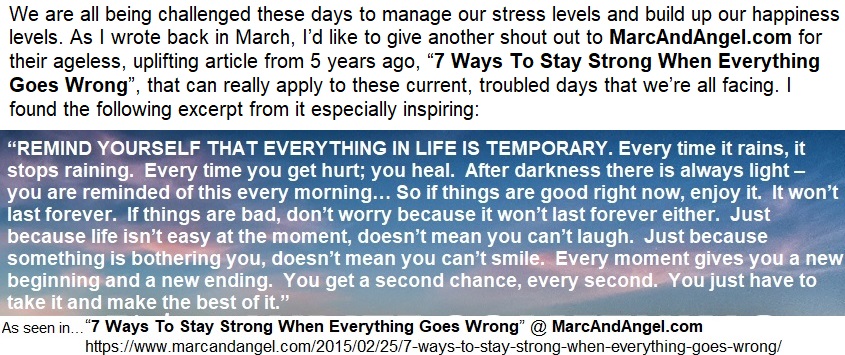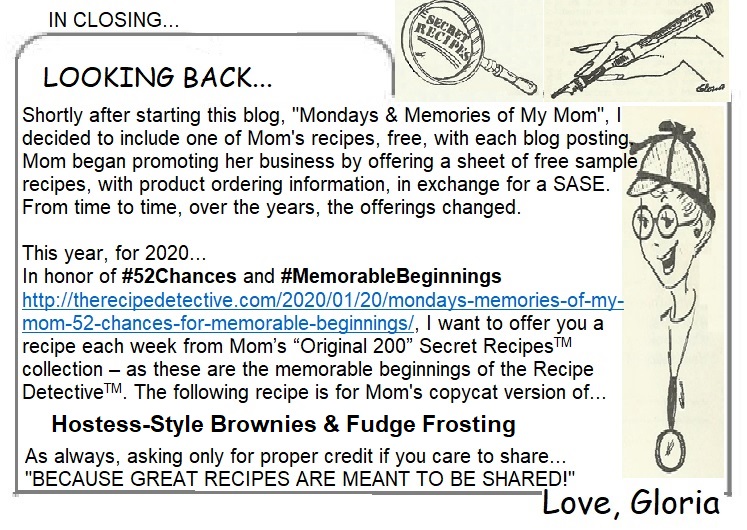 #NationalBrowniesAtBrunchMonth
In honor of August being, among other things, National Brownies At Brunch Month; here are two of Mom's famous copycat recipes… Hostess-Style Brownies & Fudge Frosting, as seen in her cookbook, The Original 200 Plus Recipes Book (Secret Recipes, Marysville, MI; June 1997, pages 14 & 53). How's that for some chocolate-covered happiness? Happy baking!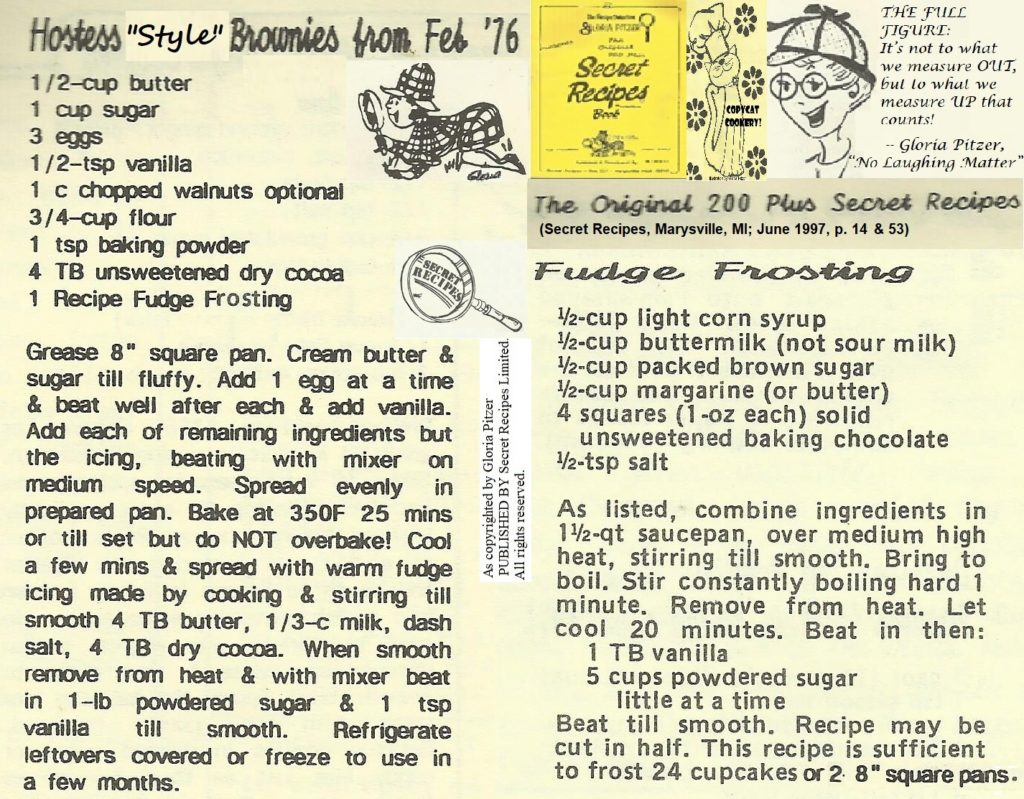 P.S. Food-for-thought until we meet again, next Monday…
Find some time to enjoy the many national celebrations going on today, this week, and all month long…
For International Clown Week, this week, here is one of Mom's "Food for Thought" articles; about a small businesses that disappeared…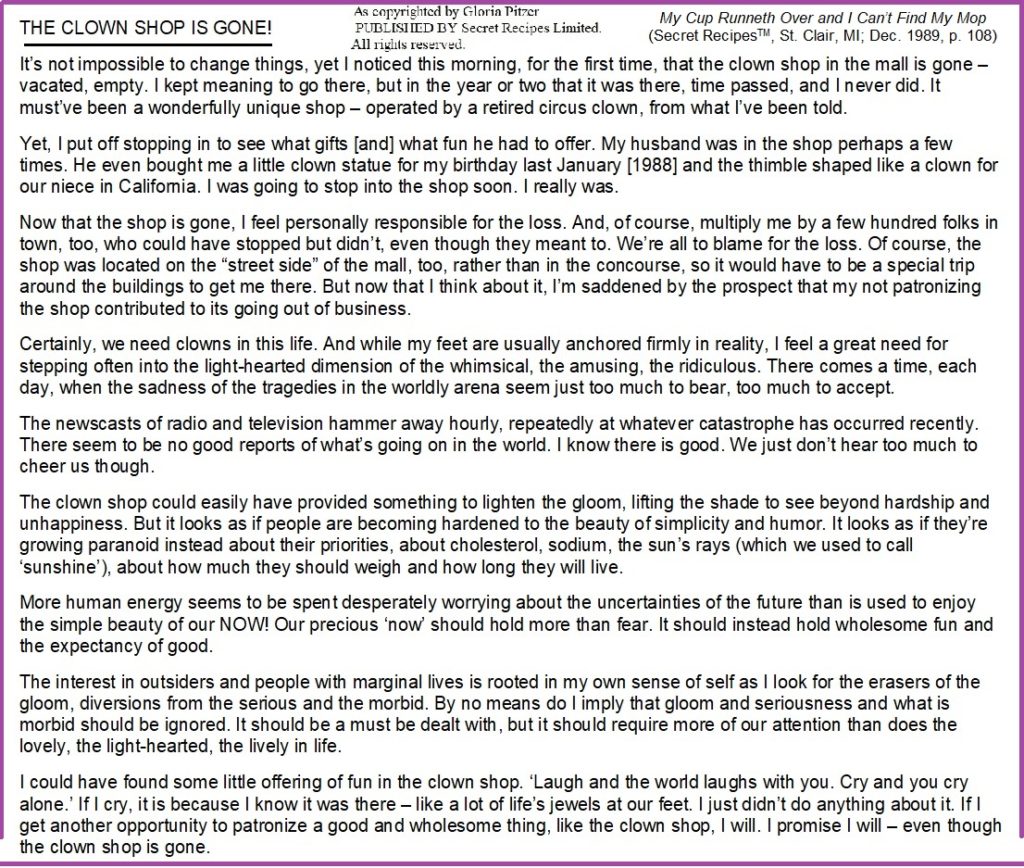 …31 down, 21 to go!