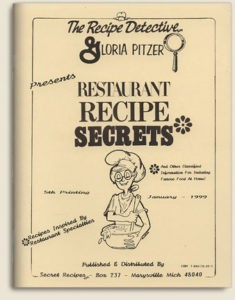 1997 – Gloria Pitzer Presents Restaurant Recipe Secrets was written, illustrated and published by Gloria Pitzer (Secret Recipes, St. Clair, MI). NO LONGER IN PRINT – this cookbook, having 60 pages and an 8.5" x 11" format, includes "Our Story" & information about our family, The Donahue Show phenomena (pgs. 16-17)… plus, imitations of products and dishes from Kraft, LA Choy, Cracker Barrel, Bob Evans and Ponderosa…ingredient substitutions as well.
In the old days, chefs were flattered when asked to share a recipe. But, now, they can't afford to give out the secrets that make their dishes special and unique. That's where Gloria comes in, as she attempts to figure it out, following her hunches on which ingredients will probably produce an identical flavor or similar texture to the famous product or dish.
Fun Facts:
Sub-Titles: "And Other Classified Information for Imitating Famous Food at Home!" and "Recipes Inspired by Restaurant Specialties"
Printings: 7+
Years: Jun 1996 – May 2001+
Recipes: 268 listed in the 3rd printing (Jan 1997)
Pages: 60
Size: 8.5″ x 11″
Original Price: $8.75, sold for $9.75 in Nov 2000
Used copies on eBay: $11
Used copies on Amazon: $16.61
ISBN: 1-8861-38-09-5
NO LONGER IN PRINT
Comments:
4 out of 5 stars – Gloria Pitzer, The Recipe Detective – September 22, 2009 – By Dolores H Evans
I've collected many of Gloria Pitzer recipe books and bulletins since 1977. She is great and right on in duplicating many recipes. I loaned out "Sugar Free Recipes" (1987-88) book and am searching for a replacement as it is out of print. I was happy to find many of her books on the Internet. I'll keep searching.