Wow – it's 2019! Where has the time gone?
If you're new to here, my name is Laura Emerich and Gloria Pitzer, the ORIGINAL "Secret Recipe Detective", is my mom. I started this blog series in September (2018) to carry on Mom's legacy, as that is what "Secret Recipes" was to her and what it became to me, especially over the last few years of her life while I collaborated with her in re-writing her favorite cookbook, to be re-published by Balboa Press, and inspire a new generation – a digital generation!
There's always something special about celebrating a new year! It's commonly looked upon as a chance to start over and wipe the slate clean; to forgive and forget or just bury the hatchet and move on. It's a time to improve and better ourselves, so as to evolve in the human race. The beginning of a new year is a time when people want to make real and positive changes in their lives. Simply changing the calendar out seems to be a turning point that offers us up new inspiration and attitude. It's a fresh new start, a new beginning for whatever we aspire. The older I get, especially since I lost my mom almost a year ago, the more I realize that every day I wake up is a turning point in which I have to develop and grow a new and positive attitude!
In the same way as Joel Osteen was one of Mom's favorite inspirationalists, she was one of mine. What does it mean – to inspire someone? Whether it be through their words or through their actions, it's about motivating someone else from within their souls; sparking their fire in some stirring and exciting way that helps them strive for and achieve their desired successes.
"Don't go into the new year holding a grudge from last year. Leave the hurts and disappointments behind." – Joel Osteen (#25 at https://www.wow4u.com/joelosteenquotes/)
As the song goes, 'should auld acquaintance be forgot, and never brought to mind?' – it begs the question as to whether or not we should forgive and forget. If Mom could have had her way, the whole world would've been friends forever. However, even she knew that was an unrealistic hope, considering the course of human behavior and events. But, even though history tends to repeat itself, there's no reason not to start making new, inspiring history to repeat!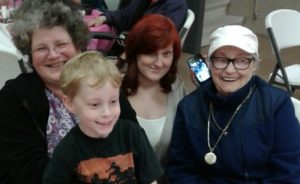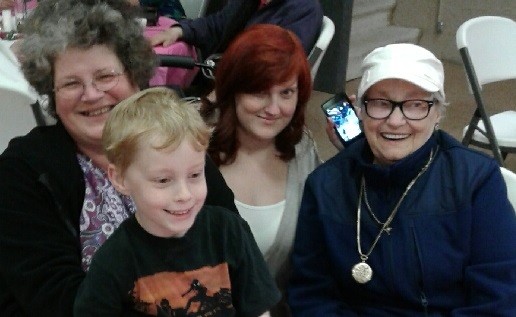 So often, people can't even find friends within the same family. Mom always felt that the family unit was so important to our troubled world, which seemed to lack any direction in which to go for comfort and relief. Nonetheless, she continued to hope – as do I. Mom often emphasized, in her writing, the importance of really caring about each other. She held a strong faith in LOVE and all the things it could overcome and yield. She found common ground for this caring attitude in the loving manner that cooks have toward the food they prepare and present to those with whom they share their tables.
'You certainly won't hear opportunity knocking at the front door, if you're in the back yard looking for four-leaf clovers.' – Gloria Pitzer ('My Cup Runneth Over – And I Can't Find My Mop', written and self-published by Gloria Pitzer, Dec. 1989; p. 4)
I grew up, as my mom did, inspired by my parents to seize opportunities (although there were many I didn't see and, thus, missed) and to always put across my best efforts in everything I do. When I can't do "Plan A", I go to "Plan B"! Everyone should have a few good examples to follow. As my mom once wrote about her mom [on page 8 of her self-published book, This is not a Cook Book (Oct. 1986)], I shall repeat for her – and this is a perfect example of inspiring history repeating itself – 'My mother is another good example I've followed. Her best gift and her greatest asset is that she's always been a patient listener and a wise advisor. She was absolutely loyal to my father…The world could turn [its] back on her children, but she would always be there for them when we needed her. She's given me an example that's going to be tough to equal.'
I've had so many good examples to follow – I'll try to be one, myself, to somebody else. – Gloria Pitzer ('This is not a Cook Book', written and self-published by Gloria Pitzer, Oct. 1986; p. 8)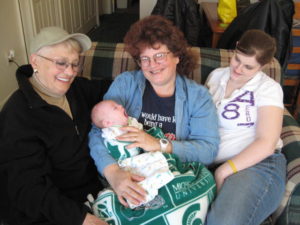 I can only hope that I have done the same with my own children, as I feel Mom did with me and my siblings; as her mom did with her and her siblings as well! James Keller once said, "A candle loses nothing in lighting another candle." Mom embellished on it a bit by adding that if you can't be a lighthouse, be a candle!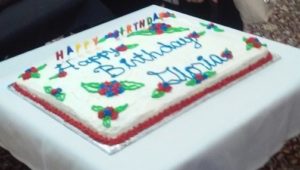 Happy birthday, Mom! (1/7/1936)
As with my pervious blogs, I'd like to share with you one of Mom's make-alike recipes that appeared on her "Free Recipes/Information" sheet (2000), which she used to give out in exchange for a self-addressed, stamped envelope – this is her Red Lobster-Style Cheese Biscuit, which she calls "Glad Lobster Cheese Biscuits" – asking only for proper credit if you care to share it.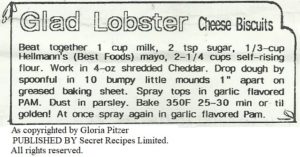 Note: this particular biscuit recipe was not included in Mom's last cookbook, Gloria Pitzer's Cookbook – The Best of the Recipe Detective, published by Balboa Press (January 2018, 1st Printing) – a re-write by me, Laura Emerich, of her famous, self-published book, Gloria Pitzer's Better Cookery Cookbook (May 1983, 3rd Printing). However, many other wonderful bread-type recipes and humorous stories can be found in the "Breads" chapter or section of this book on pages 141-182.
I'd also like to give a shout-out to Crouton Crackerjacks, who did a wonderful YouTube video, making Mom's version of Cracker Barrel's Buttermilk Biscuits, which the guy in the video says tastes nothing like Cracker Barrel's biscuit even though it is an excellent biscuit. Keep in mind that some restaurants change their recipes over the years and, even in a chain like Cracker Barrel, not every restaurant across the country makes every dish exactly the same. All-in-all, it's an excellent video to check out at https://youtu.be/CLc0Hkbwz7c and, like the guy in the video claims, it is an excellent biscuit recipe that my mom developed – regardless of what restaurant inspired it.
In closing, I wish a very happy New Year to everyone! Be determined and decided to have a splendid and awe-inspiring year!