PAN PIZZA CRUST
By Gloria Pitzer
This easy pizza crust recipe is from one of Mom's "free recipes and ordering information" sheets, given out in the late 1980s, and has only 3 ingredients – just stir & spread! A similar version to it can be found on page 54 of Mom's self-published cookbook, The Best of Gloria Pitzer's Better Cookery Cookbook (Secret RecipesTM, St. Clair, MI; Feb. 1990)
Ingredients:
12-oz beer (or Club Soda)
2 TB oil
2 ½ cups self-rising flour
Instructions:
Stir beer (or Club Soda) and oil together with a sturdy mixing spoon in a large bowl. Add flour and beat vigorously until smooth and moist. Dump dough into middle of Pam-sprayed, 12- or 13-inch, round pizza pan. Spread dough evenly with back of a large, wet spoon. (Note: Dipping spoon into cold water keeps the dough from sticking.) Use the spoon to patch any holes in the dough.
Bake the crust, empty, for 10 minutes at 400°-F; then, remove and, immediately, add your favorite sauce while it's warm. Top with cheese and other favorite garnishments. Return to oven to bake for another 20-30 minutes or until toppings are bubbly, the cheese is melted, and the crust appears golden brown around its rim.
Cut to serve 4 – or one teenager!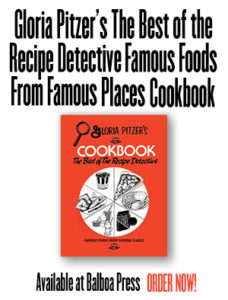 Gloria Pitzer's Cookbook – The Best of the Recipe Detective is available, for sale, at $20.99 each through the publisher, Balboa Press, at https://www.balboapress.com/Bookstore/BookDetail.aspx?BookId=SKU-001062252; eBooks are also available for $3.99 at https://www.balboapress.com/Bookstore/BookDetail.aspx?BookId=SKU-001062253