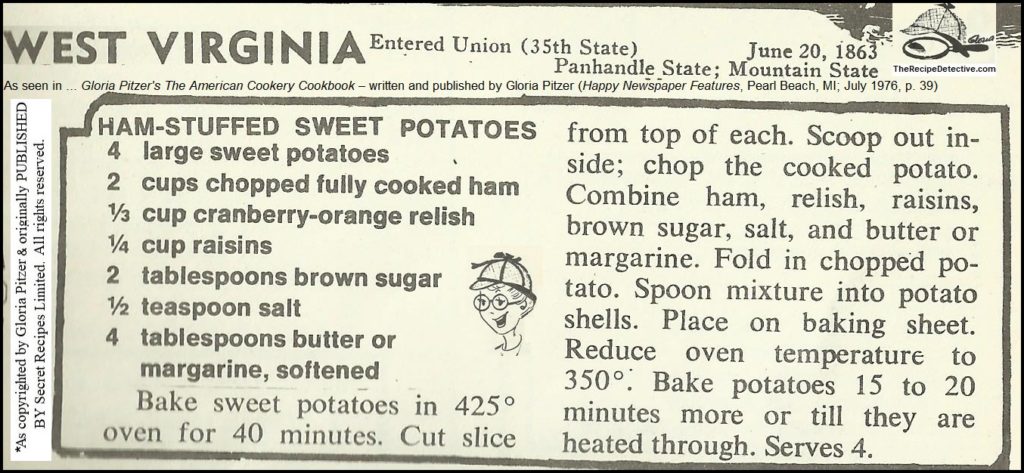 HAM-STUFFED SWEET POTATOES, West Virginia-Style
By Gloria Pitzer, as seen in… Gloria Pitzer's The American Cookery Cookbook – written and published by Gloria Pitzer (Happy Newspaper Features, Pearl Beach, MI; July 1976, p. 39)
INGREDIENTS:
4 large, sweet potatoes
2 cups fully cooked ham, chopped
1/3 cup cranberry-orange relish
¼ cup raisins
2 TB brown sugar
½ tsp salt
4 TB butter or margarine, softened
INSTRUCTIONS:
Bake potatoes at 425°F for 40 minutes. Cut a slice [lengthwise] from the "top" of each potato and scoop out the insides. [Set the shells aside.]
Chop the potato [meat]. Combine [the rest of the ingredients]. Fold in the chopped potato. Spoon mixture into the potato shells. Place stuffed potatoes on baking sheet.
Reduce oven temperature to 350°F. Bake potatoes for 15 to 20 minutes more, or until they are heated through. Serves 4.
See also…