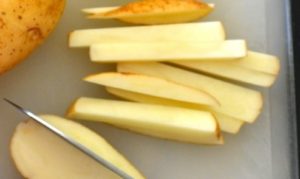 FRENCH FRIES
By Gloria Pitzer
As seen in Gloria Pitzer's Cookbook – The Best of the Recipe Detective (Balboa Press; Jan. 2018, p. 16)
'NOBODY DOES IT LIKE McDONALD's CAN' – [was] the popular television jingle that advertised some of the best French-fried shoestring potatoes to come down the pike in a long while. The French did not invent French fries – American fur trappers did. Potatoes were not well-thought of in the early days of this country. But, fur trappers would melt down bear grease in large open kettles over their campfires and, when the grease began to bubble, they'd spear chunks of their dressed game meat, roots and potatoes on the end of a sharply pointed stick, setting them in the hot grease to cook to the individual's liking and then eat off the stick – much like modern-day shish kabobs or fondue.
TO MAKE FRENCH FRIES at home – long, white Russets work best! Peel and cut in half lengthwise. Place cut sides on a cutting board and remove a thin slice from each end, as well as from the rounded long-sides. You now have sort of rectangle blocks to work with. Slice these into 1/4-inch thick strips and place in a deep refrigerator container. Mix 1-quart water with ½ cup vinegar and pour over potatoes, repeating this process until you have enough to cover the potatoes. Cover and chill for several hours to draw out the starch that makes a fried potato hold the grease and become limp.
After chilling, drain them well on paper towels. Drop a few at a time, using a French-frying basket, into 425°F oil that's at least 4" deep. A good combination is 1-pint corn oil to 1 cup Crisco, using as much as is needed for the amount you are preparing, keeping it 4 inches deep; and, if the oil is not hot enough, the fries will turn out greasy. Let the potatoes "Blanche" in the oil rather than fry completely, removing them after just one minute. Drop them on a cookie sheet and put in your freezer for 10 minutes. Return them to the oil to fry until golden brown and drain them well on paper towels. Salt them as you wish, which also helps to evaporate any excess grease on the finished potatoes. Most of the salt will fall off when the fries are transferred to serving plates.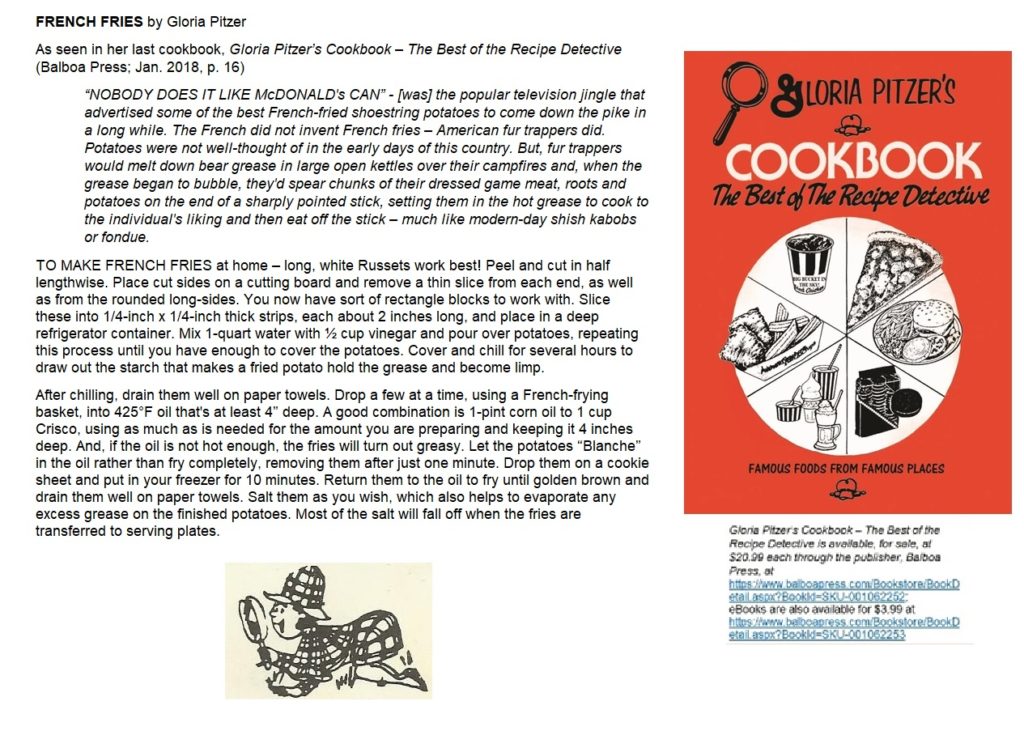 Gloria Pitzer's Cookbook – The Best of the Recipe Detective is available, for sale, at $20.99 each through the publisher, Balboa Press, at https://www.balboapress.com/Bookstore/BookDetail.aspx?BookId=SKU-001062252; eBooks are also available for $3.99 at https://www.balboapress.com/Bookstore/BookDetail.aspx?BookId=SKU-001062253
Mondays & Memories of My Mom – How to Have a Yard Sale in One Easy Breakdown