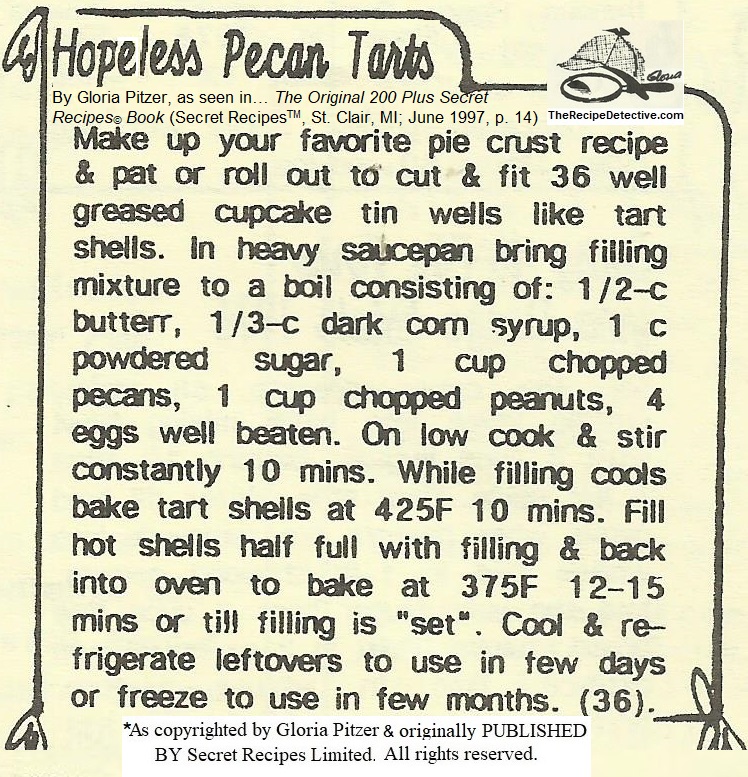 HOPELESS PECAN TARTS
By Gloria Pitzer, as seen in… The Original 200 Plus Secret Recipes© Book (Secret RecipesTM, St. Clair, MI; June 1997, p. 14)
FILLING – INGREDIENTS:
Homemade (or store-bought) pie crust dough
½ C. butter
1/3 C. dark corn syrup
1 C. powdered sugar
1 C. chopped pecans
1 C. chopped peanuts
4 eggs, well-beaten
INSTRUCTIONS:
Make up your favorite pie crust recipe [or use store-bought dough), enough to roll out and cut to fit 36 well-greased cupcake tin wells, like tart shells.
In a heavy saucepan, mix rest of ingredients and bring to a boil. On low, cook and stir constantly for 10 minutes.
While filling cools, bake tart shells at 425°F for 10 minutes. Remove and fill hot shells half-full with filling. Put back in oven to bake at 375°F for 12-15 minutes or until filling is "set".
Cool and refrigerate leftovers to use in a few days or freeze to use in a few months. Makes 36 tarts.