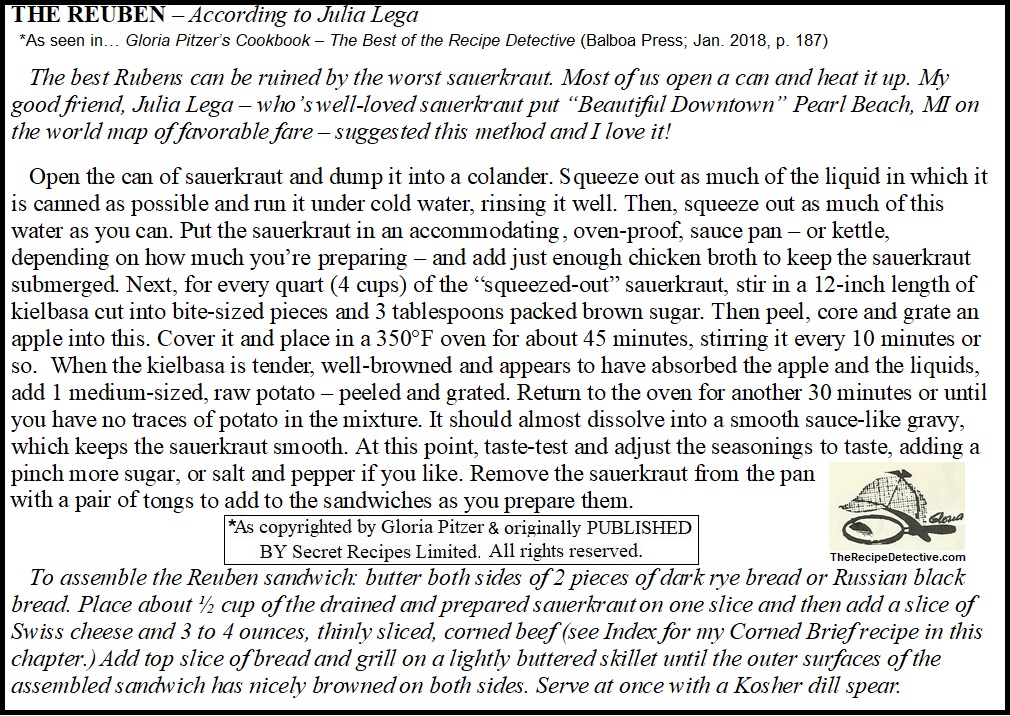 THE REUBEN – According to Julia Lega
As seen in… Gloria Pitzer's Cookbook – The Best of the Recipe Detective (Balboa Press; Jan. 2018, p. 187)
The best Rubens can be ruined by the worst sauerkraut. Most of us open a can and heat it up. My good friend, Julia Lega – who's well-loved sauerkraut put 'Beautiful Downtown' Pearl Beach, MI on the world map of favorable fare – suggested this method and I love it!
Open a large can or jar of sauerkraut and dump it into a colander. Squeeze out as much of the liquid, in which it is canned, as possible and run it under cold water, rinsing it well. Then, squeeze out as much of this water as you can. Put the sauerkraut in an accommodating, oven-proof, sauce pan – or kettle, depending on how much you're preparing – and add just enough chicken broth to keep the sauerkraut submerged.
Next, for every quart (4 cups) of the "squeezed-out" sauerkraut, stir in a 12-inch length of kielbasa cut into bite-sized pieces and 3 tablespoons packed brown sugar.
Then peel, core and grate an apple into this. Cover it and place in a 350°F oven for about 45 minutes, stirring it every 10 minutes or so.  When the kielbasa is tender, well-browned and appears to have absorbed the apple and the liquids, add 1 medium-sized, raw potato – peeled and grated.
Return pan to oven for another 30 minutes or until you have no traces of potato in the mixture. It should almost dissolve into a smooth sauce-like gravy, which keeps the sauerkraut smooth.
At this point, taste-test and adjust the seasonings to taste, adding a pinch more sugar, or salt and pepper if you like. Remove the sauerkraut from the pan with a pair of tongs to add to the sandwiches as you prepare them.
To assemble the Reuben sandwich: butter BOTH sides of 2 pieces of dark rye bread or Russian black bread. Place about ½ cup of the drained and prepared sauerkraut on one slice and then add a slice of Swiss cheese and 3 to 4 ounces, thinly sliced, corned beef. Add top slice of bread and grill on a lightly buttered skillet until the outer surfaces of the assembled sandwich has nicely browned on both sides. Serve at once with a Kosher dill spear.
Mondays & Memories of My Mom – Spring Forward To Healthy Cleaning