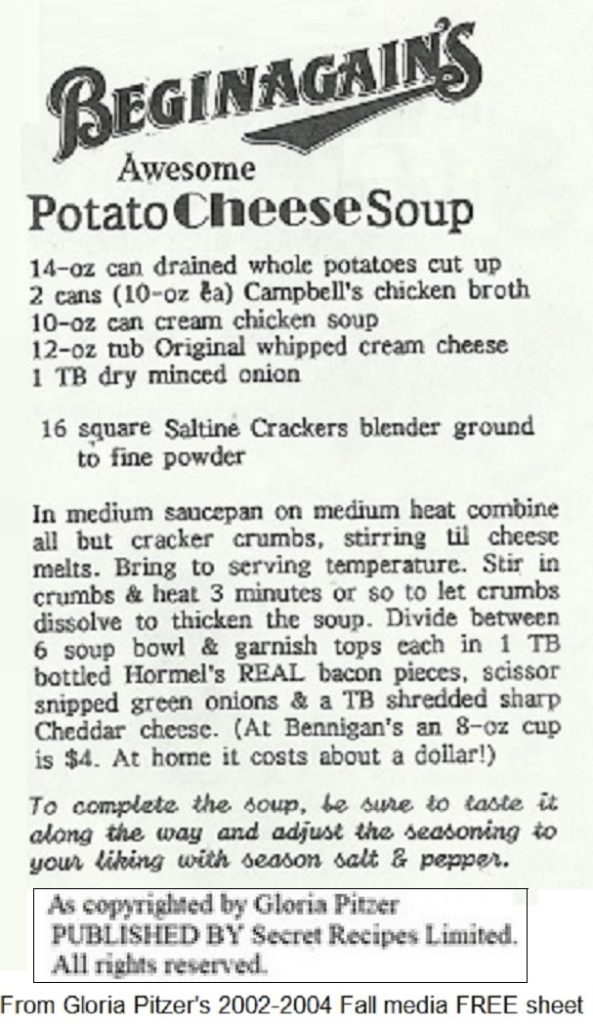 Beginagain's Awesome Potato Cheese Soup
By Gloria Pitzer,  as seen on her Fall Media Free Offer sheet (2002-2004)
Ingredients:
14-oz. can drained, whole potatoes (cut up)
2 cans (10-oz. each) Campbell's Chicken Broth
10-oz. can cream of chicken soup
12-oz. tub whipped cream cheese (original)
1 TB dry minced onion
16 square saltine crackers, blender-ground to fine powder
season salt and pepper, to taste
Instructions:
In medium sauce pan, on medium heat, combine all but the cracker crumbs, stirring until cheese melts. Bring to serving temperature, then stir in cracker powder and heat for 3 minutes or so to let crumbs dissolve to thicken the soup. Add season salt and pepper, to taste. Divide between 6 soup bowls and garnish the top of each with 1 TB Hormel's Real Bacon Pieces, scissor-snipped green onions and 1 TB shredded sharp cheddar cheese.