Kneaded Fudge, Inspired by Disney World's
By Gloria Pitzer, The Original 200 Plus Secret Recipes Book (Secret RecipesTM, St. Clair, MI; June 1997, p. 9)
[*The ingredients of this fudge are similar to those of traditional penuche.]
Ingredients:
1 cup butter
2 ounces baking chocolate
1 cup brown sugar, well-packed
3 cups granulated sugar
1 cup milk
1/2 cup light cream
1/4 cup honey
Dash of salt
1 tsp. vinegar
1 tsp. vanilla
Instructions:
In an accommodating saucepan, melt butter and chocolate.
Stir in the next 6 ingredients, as listed, and bring just to a boil. Immediately, reduce heat, stirring and cooking at just below boiling point for 10 minutes. Then, cook without stirring, on simmer, for 2 more minutes or until it's reached the soft ball stage (when a little fudge, from tip of spoon, dropped into cup of cold water, forms a soft ball.)
Remove from heat, stirring in vinegar and vanilla.
Let it cool for 1 hour, then, beat until it can be kneaded to a smooth consistency.
Shape into rolls, about 2 inches in diameter (or flatten into 2×2-inch "logs". Wrap in wax paper and chill 12 hours before slicing.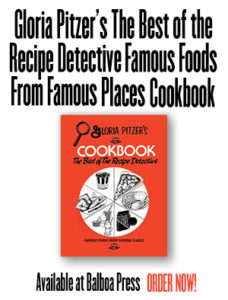 Gloria Pitzer's Cookbook – The Best of the Recipe Detective is available, for sale, at $20.99 each through the publisher, Balboa Press, at https://www.balboapress.com/Bookstore/BookDetail.aspx?BookId=SKU-001062252; eBooks are also available for $3.99 at https://www.balboapress.com/Bookstore/BookDetail.aspx?BookId=SKU-001062253