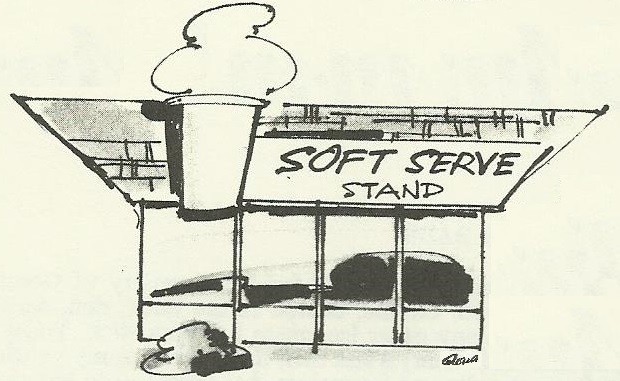 DREARY QUEEN FROZEN CUSTARD
By Gloria Pitzer
As seen in Gloria Pitzer's Cookbook – The Best of the Recipe Detective (Balboa Press; Jan. 2018, p. 257)
Here is an at-home imitation of the very popular soft-serve custard ice cream product that has made many restaurant names famous [since the 1950s]!
Ingredients:
3 1/8-ounce package vanilla pudding (NOT instant)
1 2/3 cup milk
1 egg yolk
2 tablespoons butter
½ pint whipping cream
a dash of salt
1 teaspoon vanilla
1/3 cup powdered sugar
2 egg whites
3 tablespoons corn syrup
Instructions:
Prepare pudding with milk and egg yolk beaten into it.
Stir mixture in medium saucepan over medium-high heat until smooth and mixture "just" comes to a boil.
Remove from heat at once and stir in butter until melted and smooth.
Chill pudding in freezer for about 45 minutes.
Beat together whipping cream, salt, vanilla and powdered sugar until very thick and stiff.
Beat chilled pudding with an electric mixer for 1 minute. Don't mind the darkened coating on top of the pudding – that blends right back in when you beat it well.
Then, thoroughly STIR (do NOT beat) the whipped cream mix into the smooth pudding.
Transfer to a 6-cup freezer container and freeze until firm.
Break it up in a chilled, stainless steel or aluminum mixing bowl, using chilled beaters on an electric hand-mixer.
Beat egg whites, in a small bowl, until stiff but not dry; adding the corn syrup.
Set aside and beat the whipping cream mixture until smooth and creamy.
Fold egg white mixture into that, using lowest speed of mixer.
Freeze until firm enough to scoop. Makes 1 ½ quarts. Freezes up to 6 months.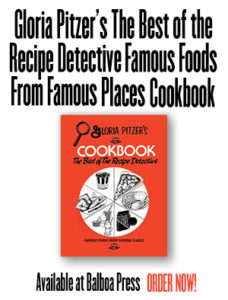 Gloria Pitzer's Cookbook – The Best of the Recipe Detective is available, for sale, at $20.99 each through the publisher, Balboa Press, at https://www.balboapress.com/Bookstore/BookDetail.aspx?BookId=SKU-001062252; eBooks are also available for $3.99 at https://www.balboapress.com/Bookstore/BookDetail.aspx?BookId=SKU-001062253